Paradise Visitor Guide
Learn and Explore
Winter Recreation
Winter comes early to the mountain! The mountain receives abundant snowfall and the scenery is spectacular. Winter recreation also brings unique hazards, as snow obscures the landscape. Be prepared to hike on snow. 
Learn and Explore
Go on a Hike
Paradise provides access to a network of trails suitable for every ability. The weather can change quickly to winter conditions, with snow, wind, and cold temperatures. Make sure to check the trail status map below to see current snow conditions on trails. If you are not prepared to hike on snow, try a lower elevation hike at Longmire or Ohanapecosh. Just because you start off on a snow-free trail at a lower elevation, that doesn't mean the entire trail will be snow-free.

Please stay on trails! It may be tempting to skirt patches of snow that are covering trails. However, by going off trail you are walking on and damaging the wildflowers that you may be coming to see! It is better to stay on the trail even if that means crossing snow, particularly in the high-visitation meadows around Paradise. 
Hiking on Snow Safety
The deep mantle of snow covering the slopes of Mount Rainier will take longer than usual to melt this year due to last winter's heavier than normal snowfall. Some hiking trails will remain snow-covered well into the summer. Hikers expecting dry trails may encounter challenging conditions and other hazards due to lingering patches of snow. Trails that would otherwise be considered easy may be too difficult or unsafe to navigate.
Choose to turn around instead of crossing steep, snow–covered slopes. A fall could be disastrous. Comet Falls and Pinnacle Peak trails often have hazardous slopes. Take an ice axe if you know how to use it.
Falling through thin snow bridges is a hazard anywhere streams remain snow-covered. Listen for the muffled sound of running water under the snow.
Avoid the Myrtle Falls area until snow-free. Several hazards exist at Myrtle Fall including punching through snow, snow cornices, and steep, icy slopes.
Avoid stepping onto snow cornices (ledges of snow that overhang an edge, ridgeline, etc.) as they may collapse under your weight.
You may need reliable map and compass to traverse snow-covered trails, which can be difficult to follow, particularly in backcountry areas. Panhandle Gap, Spray Park, and Seattle Park are frequent problem areas.
Beware of avalanches! Unstable snow may slide at any time...not just in winter!
Falling into snow moats around trees (tree wells), and adjacent to logs and rocks, can cause injury. Avoid getting too close.
Avoid stepping on wet, slippery rocks, especially near rivers and waterfalls. Common hazard areas are Narada Falls and Silver Falls.
Before starting your hike, stop by a Wilderness Information Center or visitor center for the latest trail conditions.
Paradise Trail Status
Hiking Safety

The interactive map below shows current conditions of trails in the Paradise Area and is updated weekly. Click on any section of trail in the map to see details.
Learn and Explore
Tour the historic Paradise area
Paradise is a National Historic Landmark District. The Paradise Inn, built in 1917, is also a historic landmark. In addition to the Paradise Inn, view other historic buildings in the area. Or, learn more about the Paradise Area. 
Hours of Operation
Last Updated: October 18, 2021
Following guidance from the CDC and recommendations from state and local public health authorities in consultation with NPS Public Health Service Officers, the following facilities and services are available.
Henry M. Jackson Visitor Center

Restrooms in vestibule open weekends only.
Visitor Center interior (lobby & exhibits) remains closed.
Rangers staff an outside information table:
October 12 - April 1: 10:00 am - 4:15 pm weekends & holidays

Paradise Camp Deli is closed for the season. There are no food options available in the Paradise area. The National Park Inn in Longmire is open with to go food options.

Plaza (Slate) Restrooms

OPEN, 24 hours a day
Located adjacent from visitor center in the upper parking lot plaza.

Paradise Inn

CLOSED for the season.
For additional information, visit mtrainierguestservices.com or call 360-569-2275 or 855-755-2275.

Paradise Wilderness Information Center

CLOSED for the season.
Climbers self-register at the Old Paradise Ranger Station.

Wilderness Permits are required for all overnight camping. NOTE: The Jackson Visitor Center does NOT register wilderness permits.

Paradise Picnic Area & Restrooms

OPEN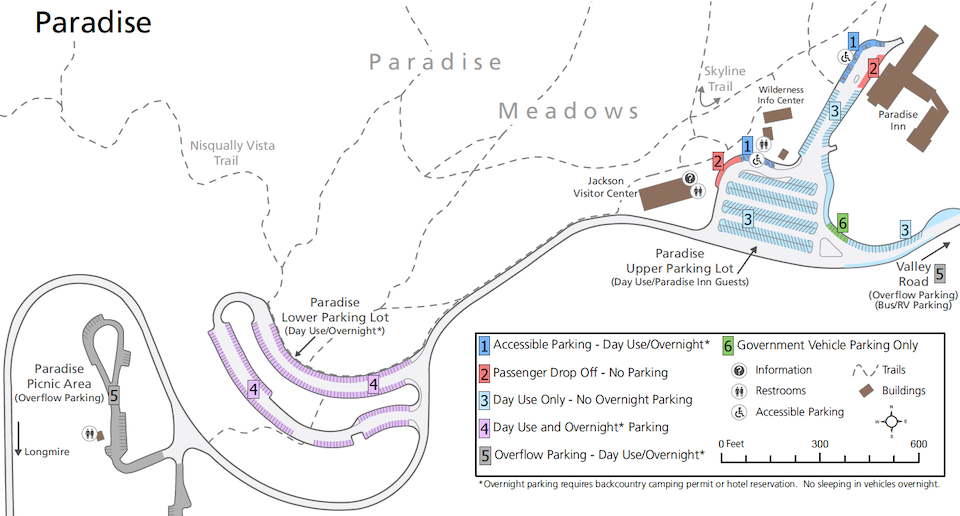 Paradise Parking Map
Designated parking at Paradise includes:
Accessible Parking - Day Use & Overnight Parking*
Located along the north side of the upper lot or by the Paradise Inn.
Drop Off Zones - Passenger Drop Off only - No Parking
Located along the Paradise Plaza on the northwest side of the upper lot and in front of Paradise Inn.
Paradise Upper Parking Lot - Day Use Only - No Overnight Parking
Paradise Lower Parking Lot - Day Use & Overnight Parking*
Overflow Parking: Paradise Picnic Area - Day Use & Overnight Parking*; Paradise Valley Road - Overflow Parking or Bus/RV Parking. CLOSED during the winter.
*Note that overnight parking requires a backcountry camping permit or hotel reservation. No sleeping in vehicles overnight.

Know Before You Go
Check the weather, make a plan, leave your itinerary with someone at home, and pack accordingly. Don't forget the 10 Essentials. If you do not have the right gear — don't go.

Play It Safe
Know your limits, only attempt activities that are within your skill level, and be prepared to turn back if necessary to reduce the risk of injury. The mountain will always be here for you to explore.

Finding Your Way
Carry and know how to use a good map and compass, and actively use them. For best coverage beneath a forest canopy supplement, your map and compass with an external-antenna GPS.

Pet Pals
Your leashed pets are welcome in campgrounds, parking lots, and on roads open to the public. Pets are not allowed on trails (service animals excepted).

Leave No Trace
No matter how you recreate at Mount Rainier, whether in the park's backcountry or on a day trip, pack out trash, do not feed or approach wildlife, and leave natural and cultural objects where you found them.

Preserve Meadows
Meadows are delicate and see increased visitation every year. Please stay on the trail to protect these unique ecosystems.
Last updated: November 23, 2021