Paradise Visitor Guide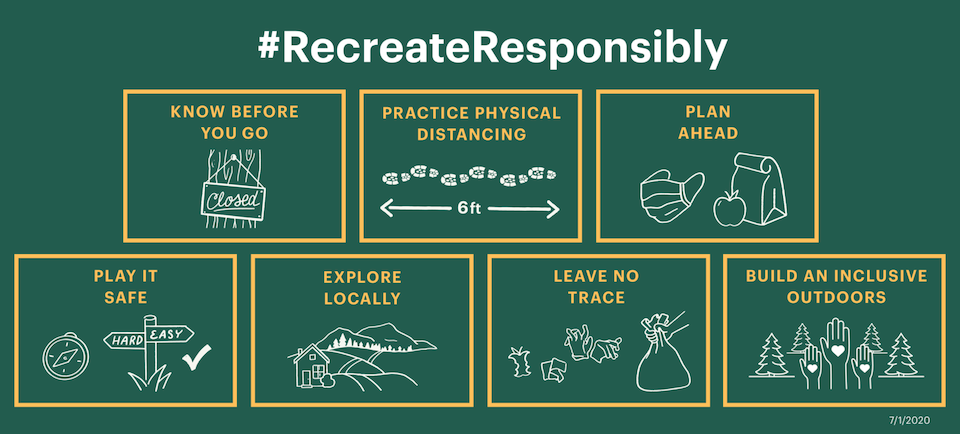 Help protect yourself, protect others, and protect Mount Rainier National Park by recreating responsibly!
Know Before You Go - Check the status of the place you want to visit. If it's crowded, have a Plan B.
Plan Ahead - Prepare for facilites to be closed, pack lunch and bring essentials like hand sanitzer and a face covering.
Practice Physical Distancing - Keep your group size small. Be prepared to cover your nose and mouth and give others space. If you are sick, stay home.
Play It Safe - Slow down and choose lower-risk activities to reduce your risk of injury. Search and rescue operations and health care resources are both strained.
Explore Locally - Limit long-distance travel and make use of local parks, trails, and public spaces. Be mindful of your impact on the communities you visit.
Leave No Trace - Respect public lands and communities and take all of your garbage with you.
Build an Inclusive Outdoors - Be an active part of making our nation's parks and public lands safe and welcoming for all identities and abilities.
Learn and Explore
Go on a Hike
Paradise provides access to a network of trails suitable for every ability. In spring and early summer, these trails may still be covered in snow. Popular winter recreation includes snowshoeing and skiing. NOTE: The Paradise Snow Play/Sledding area has closed for the year. Make sure to check the trail status map below to see current snow conditions on trails. If you are not prepared to hike on snow, try a lower elevation hike at Longmire or Ohanapecosh. 

Please stay on trails! As snow melts away, it may be tempting to skirt remaining patches of snow that are covering trails. However, by going off trail you are walking on and damaging the wildflowers that you may be coming to see! It is better to stay on the trail even if that means crossing snow, particularly in the high-visitation meadows around Paradise. 
Paradise Trail Status
Hiking Safety

The interactive map below shows current conditions of trails in the Paradise Area and is updated weekly. Click on any section of trail in the map to see details.
Learn and Explore
Tour the historic Paradise area
Paradise is a National Historic Landmark District. The Paradise Inn, built in 1917, is also a historic landmark. The Paradise Inn is currently closed, but the exterior can be viewed along with other historic buildings in the area. Or, learn more about the Paradise Area. 
Hours of Operation
Last Updated: September 14, 2020
Following guidance from the CDC and recommendations from state and local public health authorities in consultation with NPS Public Health Service Officers, the following facilities and services are available.
Henry M. Jackson Visitor Center

Restrooms in vestibule open daily from 9:30 am - 5:00 pm.
Visitor Center interior remains closed.

Paradise Camp Deli - OPEN until October 12
Located inside the Jackson Visitor Center. Gifts and grab & go food options available.
11:00 am - 5:00 pm Thurs - Mon
Closed Tues - Wed

Plaza (Slate) Restrooms

OPEN 24 hours a day
Located adjacent from visitor center in the upper parking lot plaza.

Paradise Inn & Tatoosh Cafe

CLOSED for the 2020 season. The National Park Inn in Longmire is open with to go food options.
For additional information, visit mtrainierguestservices.com or call 360-569-2275 or 855-755-2275.

Paradise Wilderness Information Center

CLOSED
This year, permits will only be issued by advance request until further notice. Permits will not be issued at Ranger Stations. You can obtain a permit by following the instructions on the Wilderness Permit page.

Paradise Picnic Area & Restrooms

OPEN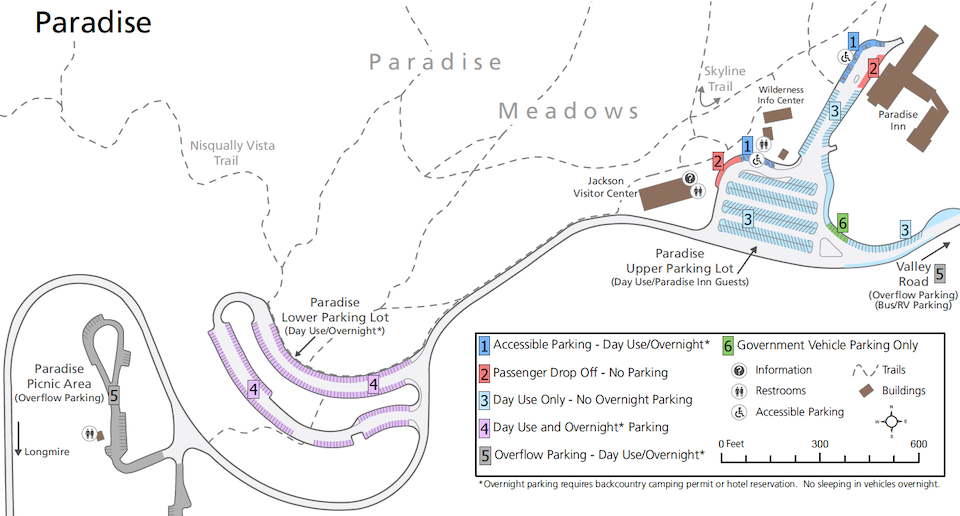 Paradise Parking Map
Designated parking at Paradise includes:
Accessible Parking - Day Use & Overnight Parking*
Located along the north side of the upper lot or by the Paradise Inn.
Drop Off Zones - Passenger Drop Off only - No Parking
Located along the Paradise Plaza on the northwest side of the upper lot and in front of Paradise Inn.
Paradise Upper Parking Lot - Day Use Only - No Overnight Parking
Paradise Lower Parking Lot - Day Use & Overnight Parking*
Overflow Parking: Paradise Picnic Area - Day Use & Overnight Parking*; Paradise Valley Road - Overflow Parking or Bus/RV Parking
*Note that overnight parking requires a backcountry camping permit or hotel reservation. No sleeping in vehicles overnight.
Learn and Explore
View Wildflowers
Mount Rainer's renowned wildflowers bloom for a limited amount of time every year. The "peak" bloom for wildflowers is heavily dependent on weather and precipitation patterns, but in most years, many flowers will be blooming by mid-July, and by the first of August the meadows should be very impressive.

Please stay on trails! There are plenty of opportunities for the perfect mountain + wildflower photo from the trails. No need to step off trail and crush other flowers in your quest for the perfect shot.
Last updated: September 14, 2020