Winter Camping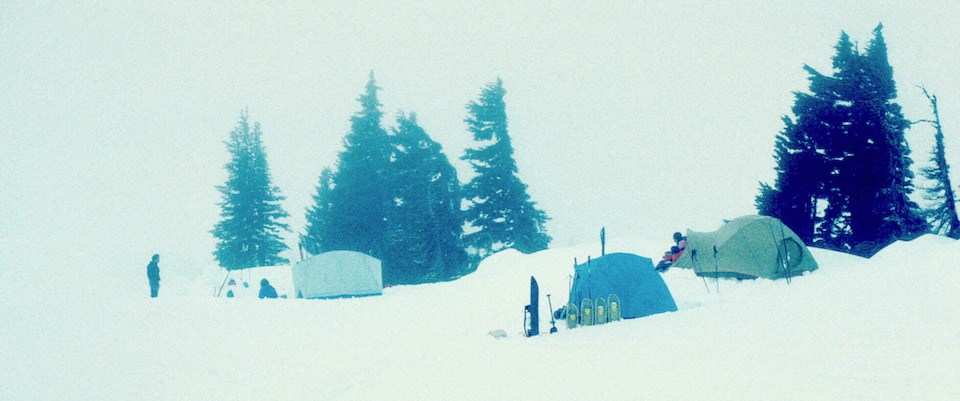 Winter Camping Status
Update 9/19/2023: Winter camping is CLOSED and has not opened for the 2023/2024 season. Camping on snow is allowed almost anywhere in the park with a permit once snow depth is sufficient (typically starting in January). The Paradise area requires at least five feet of snow before camping is allowed. Mazama Ridge, Reflection Lakes, and other areas require at least two feet of snow. Winter camping ends for the season on May 15 every year.
During the winter, the Longmire-Paradise Road closes nightly. The road may open late, close early, or remain closed the entire day due to weather conditions or staffing. Check Alerts for road updates and closures. More about winter travel in the park.

Cougar Rock Campground Winter Camping – Available only for Paradise overflow camping. No snow caves permitted. Restrooms are not available in winter. Sites are not reservable.
Longmire Stewardship Campground Camping – No winter camping.
Longmire Area – No winter camping. Not zoned for camping.

The Winter Camping brochure provides information for those wishing to camp at Paradise. The brochure includes a map of the Paradise area marking out avalanche hazards zones and the Paradise Water Supply No Camping Zone.
Winter group permits (13 or more people) can be obtained in advance on Recreation.gov as soon as there is the required five feet of snow in the Paradise area. Permits for parties of 12 or fewer can be obtained in person on the day your trip starts or one day prior.
A snow depth of eight feet is recommended before constructing snow caves at Paradise.
In selecting your campsite, choose a location that is a minimum of 300 feet from plowed roads and parking areas (to avoid being buried by snowplows), marked routes, trails, and buildings and at least 100 feet from water.
Permits are required for all overnight camping. Register for a wilderness permit.
Route finding and hazard assessment skills are needed in the Paradise area when snow-covered. Most trails are unmarked and many cross through areas of avalanche risk. Learn more about winter safety, including safety tips for snow caves.
Camping in the Backcountry
Backcountry wilderness permits are required year-round. If you plan to winter camp in the backcountry, permits are available the day of arrival at:
Longmire Museum - 9:00 am to 4:00 pm daily
Carbon River Ranger Station - 8:30 am to 4:00 pm daily
Self-register at the closed entrances on the east side of the park.
In selecting your campsite, choose a location that is a minimum of 300 feet from plowed roads and parking areas, marked routes, trails and buildings, and at least 100 feet from water.
Blue Bags
Blue bags, for human waste, can be obtained from the ranger station or visitor center. Using blue bags keeps water clean, protects fragile vegetation from digging, and allows more people to use the area without leaving impacts. A blue bag barrel is available in the tunnel to the restrooms in the Paradise upper parking lot for disposal of used blue bags. Please dispose of bags properly.
Regulations
Pets are not allowed on trails or snow. Service dogs allowed. Pets are permitted in parking lots only.
Remember to pack out all trash. Trash left behind melts out in early summer.
To protect the park's resources and visitor facilities, the following are prohibited:
Cutting vegetation (tree boughs, etc.).
Collecting or gathering of wood, rocks, plants or other park resources.
Campfires of any type. Stoves are permitted.
Drying clothing and gear in restrooms or the visitor center.
Camping or cooking in any building or in the restroom tunnel.
Learn more about laws and policies.
Food Storage
Habituated Cascade foxes and other wildlife have been obtaining winter campers' food throughout the Paradise/Reflection Lakes/Tatoosh area. This has resulted in damage to camping equipment and increasingly persistent and aggressive wildlife behavior.

Proper food storage is required at all times when camping. All campers must hang food, garbage and scented items to keep them out of reach of wildlife, or secure them in an approved hard-sided container (5-gallon plastic buckets with tight-fitting lids, or manufactured wildlife resistant food containers). Hung food should also be stored inside a container to prevent habituated jays and ravens from obtaining food out of stuff sacks.

Hard-sided containers are REQUIRED in all Paradise area winter camping zones (Paradise, Mazama Ridge, Reflection Lakes, Tatoosh). Wildlife - resistant food containers are available for loan; ask a ranger when obtaining your camping permit.

Campers in the immediate Paradise area are requested to place food items inside their vehicles at night and when unattended during the day. Hard-sided, lockable containers may also be utilized on site.

Please do not feed wildlife. Report any habituated wildlife encounters to a ranger.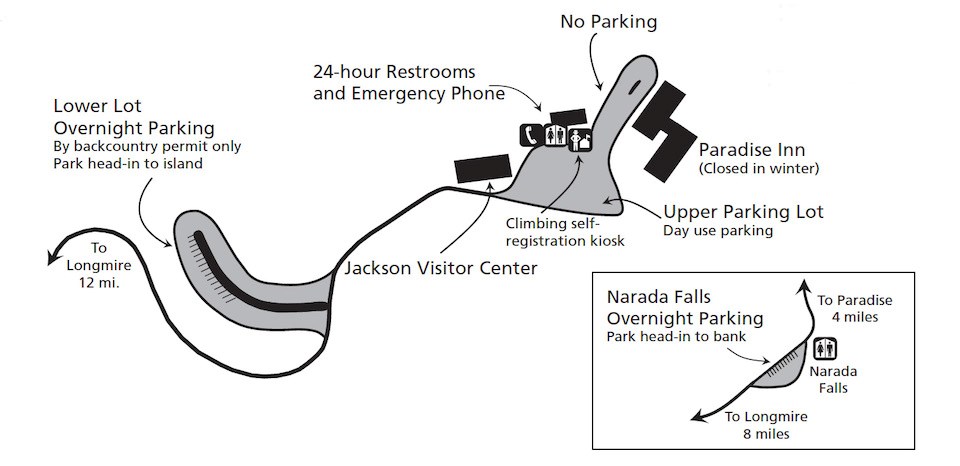 Parking for Winter Camping
Vehicles must be parked in the overnight parking areas at Paradise, Narada Falls, or Longmire. If designated areas are full, contact a park ranger. Parking outside these areas impedes snow removal operations. If possible, avoid setting your parking brake––it may freeze and become unable to release. The road between Longmire and Paradise closes nightly in winter and reopens once the road has been plowed. The road may close early or remain closed during the entire day due to poor road conditions or severe weather. It is unsafe to drive on roads and parking lots until morning snowplow operations are complete. Plows routinely operate on the wrong side of the road when it is closed. Call 360-569-2211 or check Alerts to find out when the road is open for travel and for information on road and weather conditions. Learn more about winter travel in the park.
Last updated: September 19, 2023