Fees & Passes
Entrance Fees
Save time at the entrance and pay your entry fee before you come by purchasing a digital pass through Recreation.gov!
Type

Current Fee

Mount Rainier Annual Pass

Grants unlimited entry for one year to pass owner and passengers in the same car

$55

Mount Rainier Single Vehicle Fee

Grants unlimited entry for one vehicle and passengers for seven consecutive days

Vehicle must be private, noncommercial, and with a seating capacity of 15 or less

$30

Mount Rainier "Per Person" Fee

Walk-up or single bicycle fee

Grants unlimited entry for seven consecutive days

$15

Mount Rainier Motorcycle Fee

Grants unlimited entry for one motorcycle and passenger for seven consecutive days

$25

Campground Fees - Camping Information

$20

Campground Fees - Groups

Groups sites, nightly

Accommodates 25 to 40 people

$60
NOTE: Entrances are guaranteed to be staffed during daylight hours, though may be staffed earlier or later. If entering the park outside of daylight hours, purchase an online pass in advance, or at the next available staffed entrance. Inside the park, passes can be purchased online using wifi at the Jackson Visitor Center at Paradise. Printed vouchers are preferred, but digital vouchers will be accepted for the standard entry fee only: the Single Vehicle 1-7 day pass. If you have purchased any type of Annual Pass or want to upgrade a Single Vehicle pass, a printed copy of the voucher is required.
Entrance fees are waived on the following days:

Digital Passes Available Through Recreation.gov
Purchase park entrance passes from Recreation.gov at no additional cost. Once purchased, passes for Mount Rainier National Park must be printed prior to use. While in the park, the paper copy is presented at entrance stations and displayed on the vehicle dashboard, particularly when the vehicle is parked at trailheads, campgrounds, and park inns. Connectivity is limited or non-existent in the park, therefore printing the permit in advance is required. The pass will be accepted at all park entrance stations.

The following Mount Rainier passes are available on Recreation.gov:
Private Vehicle ($30, valid for seven days)
Motorcycle ($25, valid for seven days)
Individual/Bicycle ($15, valid for seven days)
Mount Rainier Annual Pass ($55 valid for one year from month of purchase)
The federal interagency annual pass, the America the Beautiful – The National Parks and Federal Recreation Lands Pass Series, is not available at this site, but is available for purchase at Mount Rainier National Park and online through USGS.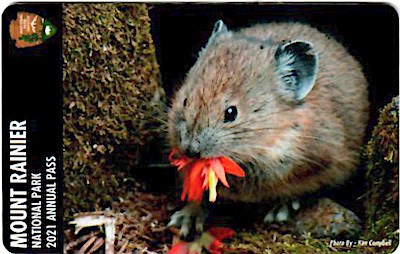 Mount Rainier Annual Pass
The annual park pass covers entrance fees for the pass holder and accompanying passengers in a single, private, non-commercial vehicle at Mount Rainier National Park. This pass does not cover camping fees and is non-transferable and non-refundable. This pass can be purchased at any entrance to Mount Rainier.

NOTE: The Discover Pass is for Washington State Parks only and does not cover Mount Rainier National Park.
Note regarding Military Pass: Available for current US military members and their dependents in the Army, Navy, Air Force, Marines, and Coast Guard, as well as most members of the US Reserves and National Guard. Proper military ID required (CAC Card or DoD Form 1173).
Commercial Tour Fees
These fees are charged only to commercial organizations, such as tour companies. This fee is determined by the seating capacity of the vehicle:
Sedan with 1 to 6 seats = $30 + $15 per client
Van with 7 to 15 seats = $75
Minibus with 16 to 25 seats = $100
Motor Coach with 26 or more seats = $200
NOTE: There are no current road restrictions for unmodified motor coaches of the standard length in the park. However, be aware that roads in the park are steep, narrow, and winding. In particular, it is recommended that RVs and vehicles with trailers longer than 25 feet LOA not travel up the Sunrise Road beyond the White River Campground intersection.
Education Fee Waiver
Groups from qualified education institutions are eligible for a fee waiver if they are coming to study park resources.
Fee waivers must be applied for at least one month prior to your planned visit.

Complete an Education Fee Waiver application and email to mora_fee_waiver@nps.gov. Applications accepted by email ONLY; no fax or mail-in applications.
Other Fees & Permits
Campgrounds - Learn more about camping reservations, regulations, and fees.
Permits & Reservations
Information about Special Use Permits, Wilderness Reservation Permit, Climbing Pass, and Scientific Research & Collecting Permit.
---
Please read this
legal notice
regarding payment of fees by check.
Last updated: March 8, 2023