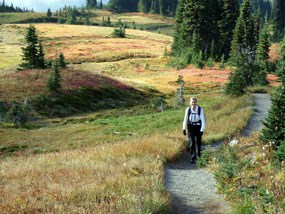 Mount Rainier National Park offers over 260 miles of maintained trails for your enjoyment. Trails lead through the peacefulness of the old-growth forest of the river valleys and the high subalpine meadows on the flanks of Mount Rainier. From the trails you can explore and experience the forests, lakes, and streams and view the fields of wildflowers and network of glaciers. Pets and bicycles are not permitted on any park trails.
The park recommends that day hikers limit their party size to no more than 12 people per group. Day hikers are also encouraged to stay on designated trails throughout the park, and are required to do so in the heavily used Paradise, Sunrise, and Tipsoo Lake meadows. Please choose a spot for a lunch stop carefully. Avoid fragile flower fields and stream and lake banks.
Day hikers are advised to keep hiking plans flexible because some trailhead parking lots may be full. Overflow parking is not permitted in order to avoid impeding traffic and to provide a less crowded, higher quality experience for hikers. Alternative trailheads may have space available.
For more information on trail conditions, see Trails and Backcountry Camp Conditions. For descriptions of longer day hikes, overnight or multi-day hikes, visit the Trails page.
If you're looking for easy and enjoyable trails that the whole family can experience together, see the trails listed below.