Climbing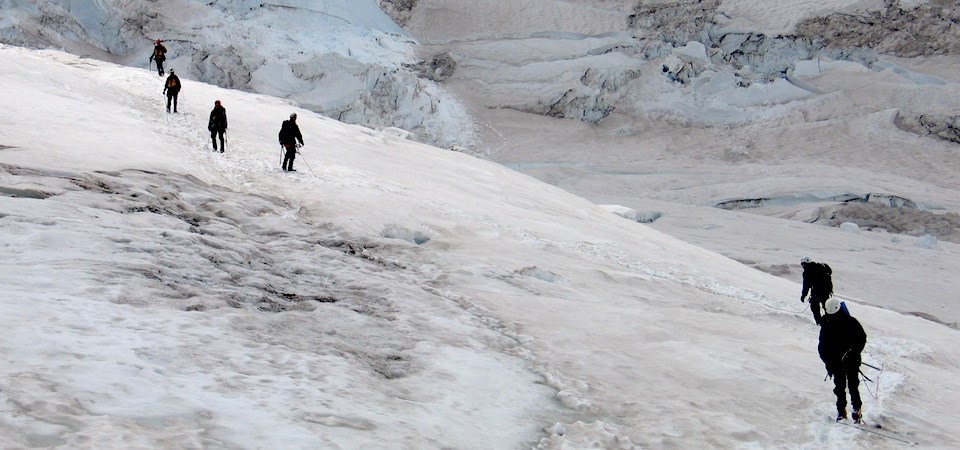 Mount Rainier, the most heavily glaciated peak in the contiguous United States, offers an exciting challenge to the mountaineer. Each year thousands of people successfully climb this 14,410 foot active volcano.
Reaching the summit requires a vertical elevation gain of more than 9,000 feet over a distance of eight or more miles. Climbers must be in good physical condition and well prepared. Proper physical conditioning can offset the effects of fatigue that lead to mistakes and injuries.
Weather, snow, and route conditions can change rapidly, making the difference between a pleasant and rewarding experience or a tragedy. Before beginning a climb, obtain a current weather forecast. During your climb, turn back if weather conditions deteriorate. Severe winter-like storms on the mountain are not uncommon during the summer.

Official In-Depth Route Descriptions
Use the Route Briefs to familarize yourself with these two routes. Produced by park climbing rangers, they contain the latest information needed for planning your climb.

Plan Your Climb - Minimum Requirements

Two things are required to climb Mount Rainier:
Each individual must pay the Climbing Cost Recovery Fee (good for the calendar year). You must pay this BEFORE coming to the park.
You must obtain a Climbing Permit for your climb (one per party, one per climb).
Climbing Cost Recovery Fee
A new climbing fee payment system is now in effect. Physical climbing passes will NO longer be issued. Climbing passes were the little business card-sized vouchers that had been in use since 1995.
You must pay for the fee at home before you arrive at the park. Payments are processed on Pay.gov.
Please do not send any more fax purchase forms in! The old purchase forms are no longer accepted.
Please keep your receipt and either save it to your PDF viewer on your phone, bookmark your email verification, or print it so you can show us later. Before your climb you must still register in person. At that time we will check to see if you have paid your fee. While we can check your payment through Pay.gov, it will save time if you can show us your receipt. Anyone climbing on glaciers, or above 10,000 feet, must register and pay the climbing fee. All climbers must also check out upon their return.
The fee is:
$48 for adults (25yo and older)
$34 for youth (24yo and younger)
Climbing Permit
After you pay the fee, you will need to obtain a climbing permit. Climbing permits are free. You can obtain a climbing permit at:
Longmire Wilderness Information Center
Paradise Climbing Information Center
White River Wilderness Information Center
Carbon River Ranger Station
Jackson Visitor Center in Paradise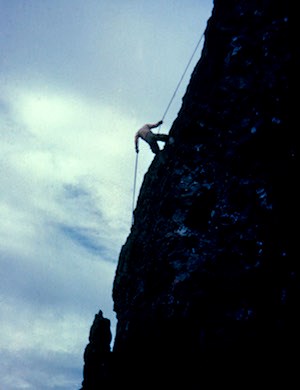 Reservations, Guide Services, Solo Permits, and Minimum Age
Reservations
All wilderness camping zones, including the alpine zones that contain Camp Muir and Camp Schurman, have a limit on the total number of people who can stay there each night. 60% of camping spots can be reserved, 40% are always available as first-come, first-served permits. If you need the security of knowing you have a spot, may arrive late, or are climbing between June 15 and August 15, a reservation is a good idea. Reservations cost $20 and are accepted starting March 15. For a reservation, go to the wilderness permits page.
Guided Climbs
Climbing instruction, multi-day summit climbs, multi-day climbing seminars, and private climbs are available through:
There are also 15 single trip guide services authorized to perform only one guided trip per year. Check the list of Commercial Use Authorizations for approved guide service companies. Engaging in any business in park areas except in accordance with the provisions of a permit, contract, or other written agreement is prohibited. Leading or participating in an unauthorized guided climb of Mount Rainier is illegal (Title 36, Code of Federal Regulations).
Solo Permit
Solo travel above high camps or anywhere on glaciers is not permitted except with prior written permission from the Superintendent. You may submit a Solo Climb Request Form or you may request this form by writing: Superintendent, Mount Rainier National Park, 55210 238th Avenue East, Ashford, WA 98304.
Commercial Non-Profit Climb
Some guided climbs qualify as charities. This type of climb is allowed, but requires a Special Use Permit. Paying the climbing fee is still required.
Age Limit
A climber must be at least 18 years old to climb Mount Rainier. Anyone younger than 18 years of age must have the permission of a parent or legal guardian before climbing above normal high camps. Permission must be provided upon registration the day of your climb. Please have the necessary note signed and ready for us to include in our records.
Climbing Resources
Route Conditions - Up-to-date route conditions are posted on the Mount Rainier climbing blog.
Avalanche Information (pdf)
Climbing Site Bulletin (pdf)
Mountaineering Reports & Statistics - Further information on Mount Rainier's climbing program, including search-and-rescue (SAR) reports.
Summit Register Request Form (pdf) - Use to request a copy of a summit register page from 2004 to the present only. Summit registers prior to 2004 are stored at the National Archives and Records Administration in Seattle. NOTE: Registers come down from the summit when they are full, so it may take a year or two before a register makes it into the park archives. Not all summit registers make it to the archives due to the weather conditions at the summit. In addition, many of those that do make it have missing pages. We will do our best to locate your entry but may not be able to if the register was not received or the page is missing from the register.
If you would like more information, contact Mount Rainier Climbing Rangers at (360) 569-6641.
Last updated: November 28, 2018