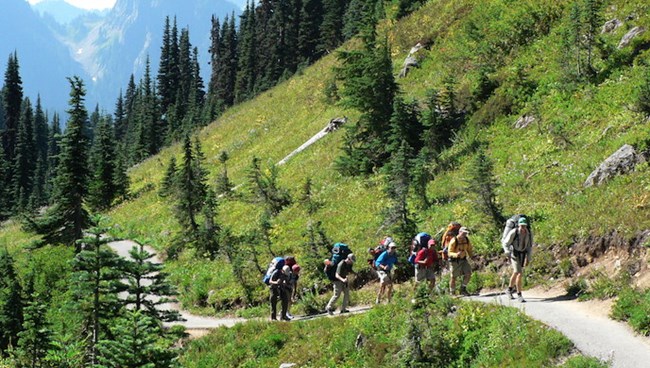 Hiking at Mount Rainier National Park can mean adventure, exploration, learning, or just plain having fun! The secret to a great hike? Staying safe!
Hikers need to emphasize personal safety as they journey by foot through the backcountry and along many of the popular trails. For trail conditions and information, talk with a ranger at any visitor center or wilderness information center. Be prepared for encounters with wildlife. Use the following tips to keep your journey safe.
Use Common Sense
Protect yourself by wearing appropriate outdoor clothing including footwear.

Always tell someone of your travel plans so they can notify the park if you fail to return.

Do not travel alone. If visibility is poor, do not travel at all.
Pay Attention To The Weather
At Mount Rainier, the weather can change rapidly. Hikers who aren't prepared for weather conditions increase their risk of becoming lost or injured. Avoid problems by planning and preparing for Mount Rainier's changeable weather. For more information on weather, including current forecasts, go to our weather page.
Hiking in Geohazard Zones
As a volcano topped with glaciers, the landscape of Mount Rainier can change suddenly and unexpectedly. Potential geohazards include glacier outburst floods and debris flows. Learn the signs and know how to get to safety.