Wilderness Permits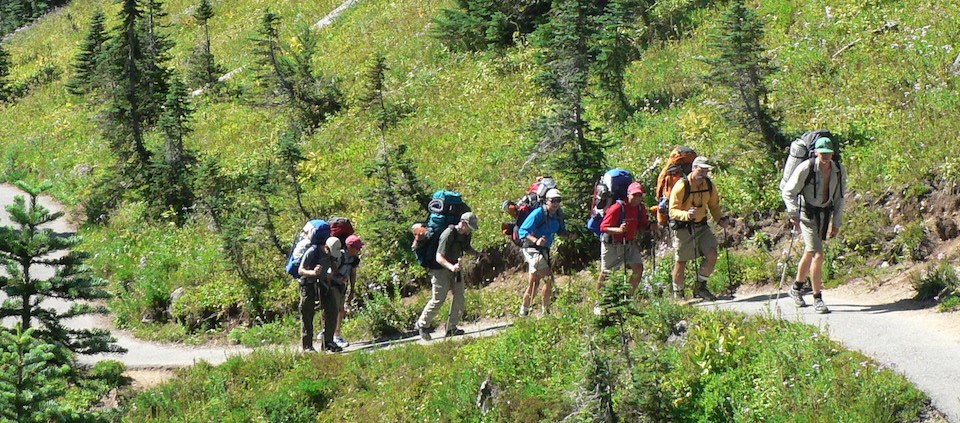 Get Your Permit
A permit is required year-round for all overnight stays in the backcountry. A wilderness permit allows the permit holder and their group to camp in a designated camp or area. A climbing permit is required for travel above 10,000 feet or on glaciers. Permits must be obtained in person at a wilderness information center or visitor center. Advance reservations are available for peak season (June-September) on Recreation.gov.
Register for Permits During the Winter and Spring Season
Winter Camping Permits
Backpackers may pick up permits at the Longmire Museum beginning October 11, 2022.
Climbers can self register at the Paradise Old Station.
Permits for overnight camping in the backcountry are required year-round.
From October 11, 2022 - May 26, 2023, permits can be obtained at the Carbon River Ranger Station and at the Longmire Museum.
For trips starting in the northeast (SR410) or southeast (SR123) corners of the park, permits can be obtained by self-registration at the Crystal Lakes trailhead and the White River WIC for trips in the northeast corner of the park and at the Southeast entrance archway for trips in the southeast corner of the park.
Winter group permits (13 or more people) can be obtained in advance on Recreation.gov as soon as there is the required five feet of consolidated snow on the ground at Paradise. Permits for parties of 12 or fewer can be obtained in person the day your trip starts of one day prior.
Climbers
October-April climbers can self-register at the Paradise Old Ranger Station. The Annual Climbing Fee is required for each climber before self-registration. Details on paying the Annual Climbing Fee online are available on the Climbing webpage.
Learn more about winter recreation.
Reservations
Reservations are encouraged but not required. Approximately two thirds of summer season (June-September) backpacking and climbing permits are made available for advance reservation. Reservations must be made at least two days in advance of the trip start. The remaining one third of permits are issued at park Wilderness Information Centers on a first-come, first-served basis and can be requested a maximum of one day before your trip start date.
Early Access Lottery
Because demand for trips on the Wonderland Trail and high-use climbing routes exceeds capacity during peak periods, an optional early-access lottery is available. This lottery limits the number of users competing simultaneously for multi-night itineraries, which allows for more complete itineraries overall.

Successful applicants are granted early access to reservations, with the earliest access offering the most options to build a complete Wonderland Trail circuit or secure permits for the most desirable dates.

Lottery participants with later access might not have access to their preferred itinerary, but can create an alternate trip using available camps.

The early access lottery will start on February 21, 2023, at 7:00 am PST and end on March 7, 2023, at 9:00 pm PST. Successful applicants will be provided a date and time that their individual access window opens, falling between March 21 and April 19. Applicants can create a reservation at any time after their access window opened. Lottery participants are limited to making a single reservation during the early access period, but may create additional reservations after April 25. Full list of important dates is available on Recreation.gov.

Have questions about the early access lottery? Please review the Wilderness Permit Frequently Asked Questions.
General On-Sale
All remaining reservable inventory becomes available on Recreation.gov starting April 25. Camps may be reserved for dates that fall between June 1 and October 10 when there are reservable spots available.
How to Apply for a Wilderness Permit Reservation During the Summer Season
To plan your trip, download a copy of the Wilderness Trip Planner. Check the Wilderness Alerts page.
Review the Wilderness Permit Frequently Asked Questions and download the 2023 Wilderness and Climbing Permits Information Summary.
Navigate to Recreation.gov.
Backpackers who are interested in completing the Wonderland Trail are encouraged to apply for the early access lottery. It is unlikely that visitors will be able to create a full Wonderland Trail itinerary during or afer the general on-sale. Visitors can still try to create a Wonderland Trail itinerary on a walk-up basis.
Confirmed reservations cost $26 per trip (up to 13 consecutive nights/14 days).
After paying the reservation fee, no additional wilderness permit fee is due, other than the Climbing Cost Recovery Fee, if applicable.
The permit is not effective until it is activated. See below for next steps once you have secured your reservation.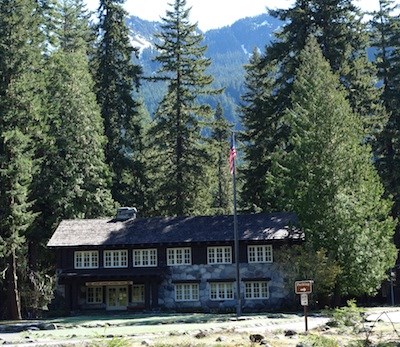 Activating your Permit
After you secure a reservation, the person named on the reservation must come into a ranger station to get the permit. The ranger will confirm:
The reservation holder's photo ID
An emergency contact phone number for a friend or family member not on your trip

The color, make, model, and license plate number of any vehicle being left overnight in the park

Current safety, food storage, and route information
You will then receive a printed copy of your permit and a list of permit conditions. You must carry it with you on your trip. Rangers in the field may request to verify your permit during your trip.

Please note that your reservation will be canceled by the park if you do not show up by 12:00 pm on the day your trip begins. If you will be later that 12:00 pm, you need to let the park know in advance. Once canceled, the camps you had reserved become part of the first-come, first-served pool of permits that other hikers will have the opportunity to use. You can pick up your permit one day before the the day of the scheduled departure, but no sooner than one day.
How to Acquire a Walk-up Permit
Approximately one third of campsites are not reservable in advance and are issued on a first-come, first-served basis.
Walk-up permits can be obtained on the same day your trip starts or up to one day before your trip starts, but no sooner than one day.
The only way to acquire a walk-up permit is by coming to a Wilderness Information Center in the park and attempting to get the permit. Permits for specific sites are subject to availability.
Walk-up permits cannot be issued over the phone.
There is a non-refundable $6 fee for all walk-up backpacking and climbing permits. Payment is accepted by credit/debit only, NO CASH.
Visitors attempting to obtain walk-up permits for the entire Wonderland Trail should review the Wilderness Permit Frequently Asked Questions.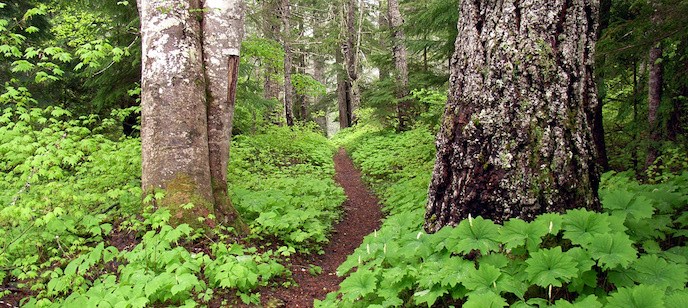 Find a Ranger Station
In the summer, ranger stations where you can acquire permits and information are:
The Longmire Wilderness Information Center at Longmire.
The Paradise Wilderness Information Center (formerly the Climbing Information Center) at Paradise. Note: The Jackson Visitor Center will not process wilderness permits.
The White River Wilderness Information Center at the White River Entrance. During the winter, self-register at the SR410 entrance arch at the park's north boundary.
The Carbon River Ranger Station located 2.5 miles before the Carbon River Entrance. Note: There is no ranger station at Mowich Lake or Ipsut Creek. The closest ranger station is the Carbon River Ranger Station.
Most ranger stations are open seasonally, so make sure to check their hours of operation.

For any further questions, please call 360-569-6650.
Last updated: February 7, 2023