Wilderness Permits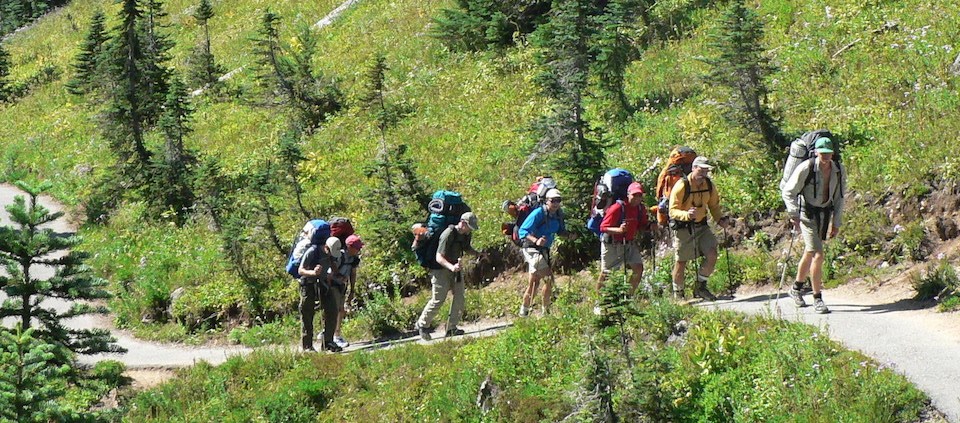 Get Your Permit
A wilderness permit is required for all overnight camping in the wilderness of Mount Rainier National Park. Start planning your wilderness trip using the Wilderness Trip Planner.

Please Note: Those wishing to climb above 10,000 feet or onto any glaciers must pay the climbing cost recovery fee. Climbers who wish to camp overnight must also get a Wilderness Permit in order to acquire a camp site.
It is recommended that you make a reservation to secure a wilderness permit. Your wilderness permit reserves you a specific wilderness camping site for the night you want to stay. Mount Rainier National Park has thousands of visitors during the peak summer months and backcountry camping sites can fill up quickly. About 70 percent of the available wilderness permits can be reserved while the remaining 30 percent are issued on a first-come, first-served basis.
Reservations are NOT accepted after September 28, and all permits after that date are first-come, first-serve. Reservations for the 2018 summer season will be accepted starting on March 15: News Release, 2/12/18.
How to Reserve a Wilderness Permit
Updated: February 22, 2018
First, download a copy of the Wilderness Trip Planner. Then, you will need to fill out a reservation request form. The form will be available online on March 15th.
The park starts accepting reservation requests on March 15th each year. A link to the reservation request form will appear on this page on March 15.
We do not accept reservations for trips starting after September 28. If your hike or climb starts after September 28, you must show up in the park in person and attempt to acquire a first-come, first-served permit.
Reservation requests will only be accepted through the online reservation request form. The park will not accept requests by standard mail, fax, phone, or other delivery methods. Reservation requests can be made in person at the Longmire Wilderness Information Center only (once it opens to the public in late May).
Reservations must by made by 4:00 pm at least 2 days in advance of the trip start date. The reservation system will close on September 28 because reservations are not accepted for trips starting after September 30.
Applicants will receive a confirmation of their electronic submission within one business day.
Park rangers will begin processing reservation requests on April 1. All requests received between March 15 and March 31 will be processed in random order. As in past years, Wonderland Trail reservation requests may not be accepted after April 1 depending on the number of reservation requests received for the Wonderland Trail in this initial two week period.
Reservation request applications cost $20 per party (1-12 people) per trip (up to 14 consecutive nights). Applicants must pay the non-refundable application fee and obtain a confirmation code before submitting a reservation request. Payments are made online through a secure government portal at Pay.gov. Process for paying the application fee:

Submit your application fee at Pay.gov. The Pay.gov link will be on the reservation application form.
Check your email for a message with "Pay.gov Payment Confirmation" in the title.
Locate the "Pay.gov Tracking ID" and record that 8-character alphanumeric code in the Pay.gov Tracking ID field on the reservation form.
All payments are non-refundable. Each Pay.gov Tracking ID can be used only once. Your trip will be denied if a duplicate ID has been used.

The $20 application fee is charged whether or not you receive a wilderness reservation. The revenue will support the operations of the park's three Wilderness Information Centers and the ongoing development of a new reservation system.
If the reservation is confirmed, no additional wilderness reservation fee is due.
Any requests to camp above 10,000 feet also require payment of the annual Mount Rainier Climbing Fee.
The park will review only one full-circuit Wonderland Trail trip request per person. Each request allows applicants to submit several trip alternatives. If the park receives more than one full-circuit Wonderland trail request from the same person, staff will only review the first request received. Applicants can still apply for more than one wilderness permit for destinations other than the Wonderland Trail.
Requests received in March, April, and May could take up to six weeks from the day received to process because of the large number of applications. During this initial two week period (March 15-31) the park receives thousands of reservation requests. Calls asking for status updates often keep our rangers from processing requests. Processing does not being until April 1; please give up to six weeks, or mid-May, to respond with the status of your request. Once rangers complete the initial review, the park tries to maintain a 1-2 day response time for reservation requests.

If your reservation request is successfully processed you will receive an approval email that shows your itinerary. Please note that this approval email is NOT your permit. You must come into a Ranger Station to get your permit. If we are not able to process your request you will receive an email stating why, and what your options are.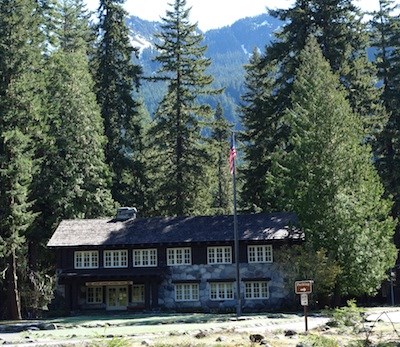 What you need to pick up your permit
After a visitor gets a reservation, the person named on the reservation must come into a Ranger Station to get the permit. Be sure to have the following information:
An emergency contact phone number

The license plate number of any vehicle being left overnight in the park

The make, model, and color of the vehicle
Also, please note that your reservations will be canceled by the park if you do not show up by 10:00 am on the day your trip begins. If you will be later than 10:00 am, you need to let the park know in advance. Once canceled, the camps you had reserved become part of the first-come, first-served pool of permits that other hikers will have the opportunity to use. You can pick up your permit one day before the day of scheduled departure, but no sooner than one day.
How to Acquire a First-come, First-served Permit

These permits can be issued the same day your trip starts, or up to one day before your trip starts, but no sooner than one day.
The only way to acquire a first-come, first-served permit is by coming to a Ranger Station in the park and attempting to get the permit, which is subject to availability.
Remember to bring:

An emergency contact phone number
The license plate number of any vehicle being left behind in the park
The make, model, and color of the vehicle

First-come, first-served permits cannot be issued over the phone.
There is no fee for a first-come, first-served permit.
The first-come, first-served permit was not available when I tried to get it.
I want to get a first-come, first-served permit for Summerland on July 15, but when I get to the Ranger Station they tell me there are no more permits for that night. How is this possible?
Scenario 1: Other parties may have gotten the permits before you that very same day (or one day before) from any Ranger Station in the park.
Scenario 2: Let's say you want Summerland on the night of July 15. You show up at a Ranger Station that has the earliest opening hours only to find the permits are gone. How is this possible?
A party may have come into the Ranger Station on July 13 to get a first-come, first-served permit to do a four day hike. Their permit looks like this:
July 13 Sunrise Camp
July 14 Glacier Basin Camp
July 15 Summerland Camp
July 16 Indian Bar
Summerland Camp has been obtained by this party for the night of July 15, the same night you are attempting to get that campsite.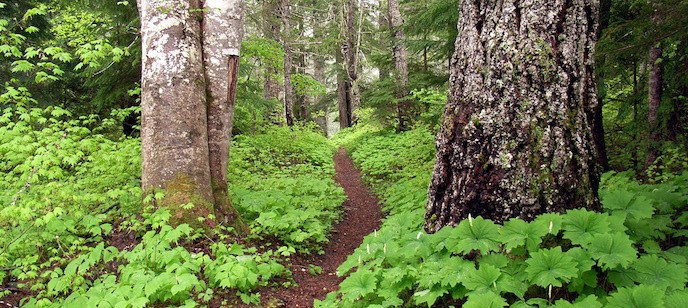 Find a Ranger Station
In the summer, Ranger Stations where you can acquire permits are:
The Longmire Wilderness Information Center at Longmire.
The Jackson Visitor Center at Paradise.
The White River Wilderness Information Center at the White River Entrance.
Note: The Visitor Center at Sunrise does not process permits. The closest location to get a permit is the White River Wilderness Information Center.
The Carbon River Ranger Station located 2.5 miles before the Carbon River Entrance.
Note: There is no Ranger Station at Mowich Lake or Ipsut Creek. The closest Ranger Station is the Carbon River Ranger Station.
In the winter, permits are available at the Longmire Information Center every day and the Jackson Visitor Center on weekends. Self-registration is available at the Carbon River Ranger Station, Ohanapecosh Ranger Station, and at the Highway 410 entrance arch at the park's north boundary. Learn more about winter recreation.
Most Ranger Stations are open seasonally, so make sure to check their hours of operation.
Transcript
Tips for Getting a First-come, First-served Wilderness Camping Permit - Transcript
(music)
Hi, I'm Daniel, and I'm a backcountry ranger at Mount Rainier National Park and I wanted to share a little information with you about the process of attempting to get walk-up permits this summer here at Mount Rainier. So the first thing you really need to do is start your work at home. It's best to come into the ranger station with your ideal itinerary written out on paper. It works better that way because if you wait until you come into the ranger station there is a lot more pressure, it's a lot more hectic, and at home it allows you to take the time to actually think about what it is that you want to do. The things that will really help you in the end is flexibility. You'll need to let the ranger know whether or not you'll consider hiking the trip in a clockwise or counter clockwise direction. Whether you'll consider starting at different locations if necessary. For example, the ranger might tell you that this won't work if you start at Longmire, but if you start at White River this will work. The other thing is, you need to consider the possibility of having alternate camps, because not every camp will be available necessarily for your trip. These are the kind of things that will really make your attempts to get a permit more successful this summer. Now having said that, in the end we may not be able to book your dream trip. It might be that there's even not the complete trip - it may be a partial trip. If that's the case, you need to decide really now whether or not you can live with that. In most cases though we are able to get something to work out for everyone who comes in to get a permit. Thanks for your time and have a great visit here at Mount Rainier this summer.
Visit our keyboard shortcuts docs for details
Duration:

1 minute, 44 seconds
A wilderness permit is required in order to camp in the backcountry or wilderness of Mount Rainier National Park. About 30% of wilderness permits are available on a first-come, first-served basis. Ranger Daniel explains some tips to make your attempt to get a wilderness camping permit successful.
Last updated: February 23, 2018