Day Hiking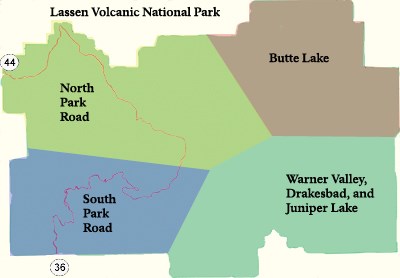 Lassen Volcanic National Park offers over 150 miles of hiking trails for visitors of levels of ability. Discover the devastation of Lassen Peak's last eruption on the accessible trail at the Devastated Area, explore Lassen's largest hydrothermal area on the Bumpass Hell trail, or spend the day climbing Brokeoff Mountain and enjoy its spectacular panoramic views. Please note that winter conditions often persist late into the summer months, and many trails are not snow free until June or July. View current trail conditions below or call (530) 595-4480 for the most up-to-date information.
Take the Reach Higher Trail Challenge!
Pick up a participation brochure at a visitor station and start hiking to burn calories and earn a free commemorative bandana (while supplies last)!

Day Hike Guide (pdf, 89KB)
Trail Notes
Bear-Resistant Storage Required for Backpackers
Overnight backcountry users must use a container certified by the Interagency Grizzly Bear Committee (IGBC) to store food and scented items. View more information on the
backpacking permit page
.
Hydrothermal Area Danger
For your safety, stay on established trails and boardwalks. Ground in hydrothermal areas can look solid but may actually be a thin crust hiding pools of acidic boiling water or mud. Traveling off-trail in these areas may result in severe injury.
Read more about exploring the park hydrothermal areas
.
Day Hiking in Winter and Early Spring
Most hiking trails are not accessible during winter and early spring. When hiking in the winter or early spring, you'll be hiking on snow and will most likely need snowshoes, skis, and/or shoe traction-devices. We don't plow or shovel snow from hiking trails. The main park road is not plowed during the winter, so popular trailheads that you can easily access in the summer (like Bumpass Hell or Lassen Peak) are not reachable via car. Most hiking trails are snow-covered until late May or early June. Depending on the snow year, some hiking trails won't be snow-free until later in the summer. However, as the road is plowed in the spring, sections open to walking, hiking, and biking, which makes for a very enjoyable experience. Find out what Lassen Volcanic National Park is like if you're
Visiting in Spring
or
Visiting in Winter
.
Trail Conditions
NOTE: Please refresh your browser (F5) to ensure that you are viewing the most current data. Many browsers will cache data from web pages you have viewed before, and therefore displaying out-of-date information.
Difficulty ratings: * Easy | ** Moderate | *** Strenuous
Last updated November 30, 2019 -
This page will not be updated until late spring, once snow begins to melt and locations beecome accessible.
Trail
Difficulty
Miles (RT)
Condition
PCT
(17 miles through the park)
18.3
Snow-covered
Southwest Area | Elevations range from 6,700 feet to 10,457 feet
Bumpass Hell
**
3.0
Snow-covered
Brokeoff Mountain
***
7.0
Snow-covered
Cold Boiling and Crumbaugh Lakes
**
2.6
Snow-covered
Kings Creek Falls
**
3.0
Snow-covered
Sifford Lakes
**
Snow-covered
Lassen Peak
***
5.0
Snow-covered Learn more about lightning safety
Mill Creek Falls
**
3.8
Snow-covered
Ridge Lakes
***
2.0
Snow-covered
Terrace, Shadow, and Cliff Lakes
**
4.0
Snow-covered
Northwest Area | Elevations range from 5,900 feet to 7,200 feet
Summit Lake to Cluster/Twin Lakes Loop
**
11
Snow-covered. Trail passes through the 2012 Reading Fire. Dead standing trees can fall without warning. Use caution.
Crags Lake
**
4.2
Snow-covered
Devastated Area Interpretive Loop
*
0.25
Snow-covered
Echo Lake
**
4.4
Snow-covered
Lily Pond Nature Trail Loop
*
0.5
Snow-covered
Hat Lake to Paradise Meadow
**
2.8
Snow-covered
Manzanita Creek
**
7.0
Snow-covered
Manzanita Lake
*
1.8
Snow-covered
Nobles Emigrant Trail
*
3.5
Snow-covered
Butte Lake Area | Elevations range from 6,100 feet to 8,300 feet
Bathtub Lake Loop
**
0.8
Snow-covered
Cinder Cone
**(*)
4.0
Snow-covered
Learn more about lightning safety
Prospect Peak
***
6.6
Snow-covered
Butte Lake to Widow Lake
4.5
Snow-covered
Snag Lake Loop
13
Snow-covered
Warner Valley and Juniper Lake Areas | Elevations range from 5,600 feet to 8,000 feet

Boiling Springs Lake
**
3.0
Snow-covered
Devils Kitchen
**
4.4
Snow-covered
Drake Lake
**
4
Snow-covered
Dream Lake Basin
*
1
Snow-covered
Terminal Geyser
**
5.8
Snow-covered
Horseshoe Lake
*
2.8
Snow-covered
Inspiration Point
**
1.4
Snow-covered
Mount Harkness
**
3.8
Snow-covered - Learn more about lightning safety.


Last updated: February 15, 2020