Day Hiking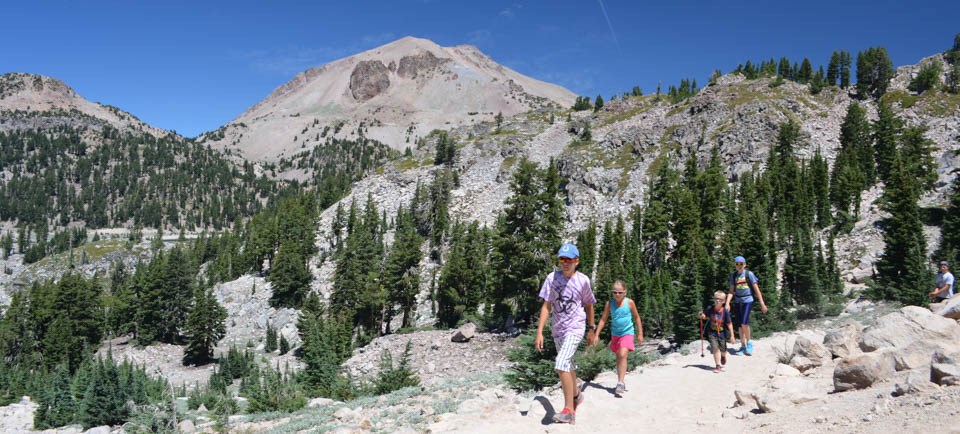 More than 150 miles of hiking trails provide access to a wide-variety of park features including hydrothermal areas, volcanic peaks, alpine lakes, and mountain meadows. Hiking is the best way to explore Lassen Volcanic Wilderness, a designation afforded to just five percent of America's public lands. You can enjoy and preserve these wild areas by practicing Leave No Trace (LNT) principles and not contributing to recreation-related impacts in the park including litter, erosion, social trail creation, and food-conditioned wildlife.
Please practice Leave No Trace principles, avoid unnecessary risk, and select less popular trails or hiking at non-peak times (e.g. holidays, weekends).
Plan Your Hike
CAUTION: The Dixie Fire is currently impacting park operations. Air quality is unhealthy in the park and we do not recommend strenuous outdoor activities. Consider alternate hiking and backpacking destinations. Please visit InciWeb for more infomation about the Dixie Fire.

Hiking season generally occurs between June through October. The park receives up to 30 feet of snow each winter. Hiking trails can remain snow-covered into June and sometimes July. Trails are not plowed or shoveled during the winter, and most likely will require snowshoes or skis. Learn more about hiking and over-snow travel in the winter or early spring.
1. Choose a Trail
2. Prepare for Your Hike