Safety
Protect Yourself—Protect the Park
Visitors to Lassen Volcanic National Park are the park's most important guardians. Visitors also play the most important role in ensuring their own safety. During your visit to Lassen Volcanic, visitors may intentionally or unintentionally harm park resources or endanger themselves or others. Please contact a park official if you see any of the following illegal acts:
Feeding wildlife (includes littering)
Traveling or camping too close to hydrothermal areas
Taking pets on trails/routes, including over the snow or in a carrier
Launching, landing, or operating an unmanned aircraft (drone)
Camping outside of designated campgrounds or overnight parking areas (not in the backcountry)
Collecting plants (including pine cones and wildflowers)
Snowmobiling within park boundaries
Carrying a firearm into park buildings
Possessing or using marijuana, including medical marijuana
Hunting animalsIf you see activities that could harm people or park resources, jot down any descriptions or a vehicle license plate number and contact a member of park staff; if someone's life is in danger, call 911. View the Superintendent's Compendium for a complete list of park regulations.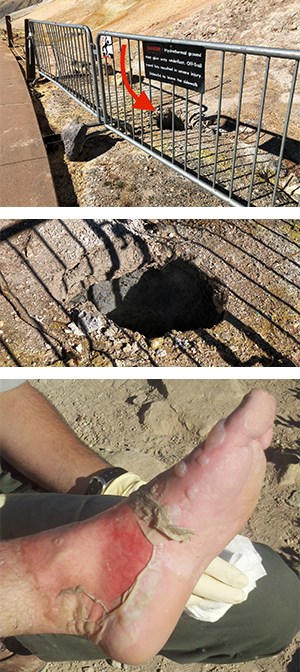 Hydrothermal Area Danger
Hydrothermal or hot water areas are intriguing and spark our curiosity about the wonders of our natural world. You may feel tempted to explore thermal features up close by walking beyond established trails and walkways. However, a venture to satisfy curiosity may land you in the hospital with severe burns. Improve your safety in hydrothermal areas:
Heed posted warnings—they are there for your safety.
Do not assume that the ground is solid in thermal areas.
Note that footprints are not evidence that ground is solid (only evidence someone took unnecessary risk.)
Set a good example! If you see someone attempting to walk in a closed area, remind them of the risk they are taking or inform park staff.
Keep close watch of young children—do not let them roam about freely.
Visitors Have Been Burned While Traveling Off-Trail
A visitor was severely burned in the summer of 2010 after he traveled off trail in the Devils Kitchen hydrothermal area. He stated that "It feels like I put my leg in a flame."

On May 5, 2012 a visitor was airlifted to a regional burn unit after stepping off the sidewalk at Sulphur Works. The ground appeared solid, but she easily broke through the one-inch crust, exposing her foot and ankle to boiling acidic water and mud.
Keep Wild Animals Wild
Never Feed Wildlife. Your choices improve your safety and theirs.
Bad for Wildlife:

Wildlife that has been fed can become dependent on people and forget how to forage for food on their own.
Wild animals can become unhealthy or die from eating human food instead of their natural food.
Fed animals hang around parking lots and roads and could be hit and killed by cars.
Animals that are fed can become nuisances or aggressive and may have to be relocated or euthanized.

Bad for You:

Small rodents and birds can and will bite the hand that feeds them, transmitting a variety of diseases.
Animals may carry rabies and you will have to get shots if bitten.
Larger animals, such as deer, have been known to buck or kick suddenly and cause serious injuries.
Wildlife may carry diseases that your pets are not protected from.
Safe Viewing Distances
Maintain a safe viewing distance from all animals. Any animal can be dangerous if it feels threatened, surprised, or concerned by your presence. When on foot:
Black Bears: Stay 100 yards or more away
Other wildlife (e.g. Mule deer, foxes, raptor nests): Stay 25 yards or more away
Learn more about black bear or mountain lion safety.
Pets
Why Are Dogs Limited to Paved Areas?
All dogs leave behind a territorial scent that disrupts the behavior of native animals like the Sierra Nevada red fox.

Dogs are predators that could chase, scare, kill, and transmit diseases to wild animals.

Wild animals can transmit diseases including plague to pets (and then to humans).
Learn more about visiting the park with pets.
Explore Safely
Dial 9-1-1 in Case of Emergency
Be prepared to give your location as Lassen Volcanic National Park. Call to report accidents, fires, or life threatening incidents. Cell phone coverage is very limited within the park. If no phone service is available, emergencies should be reported to park rangers, campground hosts, or staff at the Kohm Yah-mah-nee Visitor Center or Loomis Museum.
Hiking in Lassen Volcanic involves risk. The best way to ensure your safety is to be prepared.
Winter travel in Lassen Volcanic backcountry (outside of established winter routes) requires entering avalanche terrain. Backcountry users should be avalanche aware, carry avalanche gear, and know how to use it.
Lightning
Summer is the peak season for this serious danger that is best mitigated by one key action: When Thunder Roars, Go Indoors. Visitors should be prepared for lightning on high ridge lines and exposed areas at elevation in the park such as Lassen Peak, Brokeoff Mountain, Cinder Cone, and Mt. Harkness Trails. Learn more about lightning safety.
It is possible that you could be exposed to a vector-borne disease while visiting Lassen Volcanic. Learn more about vector-borne diseases present in the park as well as other public health issues in the park.

Manzanita Closure Due to River Otter Danger
All of Manzanita Lake is Closed to:
Swimming
Wading
Use of soft-sided floation devicesHard-sided boats permitted on the lake except in area closed to all use (see map at right).
View the complete emergency closure.
Protect Yourself and Park Wildlife
A visitor was injured by a river otter while swimming in the area highlighed in red on 6/25.
A female is naturally protecting its three pups with aggression.
Please report any river otter incidents, especially aggressive behavior, to a park employee or at a visitor center.
Last updated: September 15, 2020