Visiting in Winter
Plan a Winter Visit: December - March
Winter is a season of snow and solitude. Vehicle access is limited, but over-the-snow adventure is seemingly endless. View current conditions.
View or print the Visitor Guide for the winter/spring season to view information about areas to visit, things to do, and winter routes, services, and wildlife.
Areas to Visit
The Manzanita Lake and Southwest Areas of the park are accessible throughout the winter season. Be prepared for winter driving by carrying tire chains and keeping a full tank of gas (the nearest station is 30 miles away).
Southwest Area
Located five miles north of the SR-36 and SR-89 junction. Steep slopes and sweeping vistas abound in the Southwest Area of the park. Beginning at 6,700 feet elevation, this area receives the most snow. The year-round visitor center here is an excellent first stop for new winter explorers.

Sulphur Works is the only hydrothermal area accessible in the winter season and is accessed via a two-mile, over-snow route from the Kohm Yah-mah-nee Visitor Center. The highway into Southwest Area may close temporarily due to severe weather/heavy snowfall.

Manzanita Lake Area
Located two miles south of the SR-44 and SR-89 junction in the northwest corner of the park. The Manzanita Lake Area (5,800 elevation) consists of gentle slopes and scenic lakes. It offers the easiest routes for snowshoeing and cross-country skiing in the park.
For those prepared for winter recreation, opportunities include sledding, snowplay, snowshoeing, cross-country skiing, backcountry skiing/snowboarding. *ranger-led snowshoe walk are cancelled for 2022. Typically, walks are offered on weekends January through March. Plan on leaving your pet at home or in your vehicle, as pets are not permitted on trails or snow-covered routes (including the park highway). Learn more about visiting the park with pets.

*Snowshoe walks will not be offered for winter of 2021-2022 due to COVID-19 response and Dixie Fire safety considerations.
The Kohm Yah-mah-ee Visitor Center is open 9 am to 5 pm year-round. The center is open Wednesday through Sunday November through April. The visitor center may close at any time due to inclement weather. The Loomis Museum is closed through the winter.
Weather
The park receives up to 30 feet of snowfall in the winter/spring snow season (approximately November through May). Sunny skies are common between short (1 to 3 day) snow storms. Winter/spring temperatures in the Southwest Area (6,700 feet elevation) range from highs of 50°F to 61°F to lows of 13°F to 23°F. Temperatures in the Manzanita Lake Area (5,800 feet elevation) run about 5° warmer. Expect a 5° temperature decrease for every 1,000 foot increase in elevation. View the weather forecast for each area prior to your visit. Lassen Volcanic's snowpack often lasts more than half of the year. View current snow depths or learn about how and why park snowpack is measured.
Services
Winter services are available in the Southwest Area of the park. The Southwest Campground is open year-round. Parking, restrooms, and water are available in the Loomis Plaza in the Manzanita Lake Area. Equipment rentals are not available in the park. Snowshoe and/or ski rentals may be available in Mineral, Chester, Redding, Susanville, or Chico. View the table below for more information.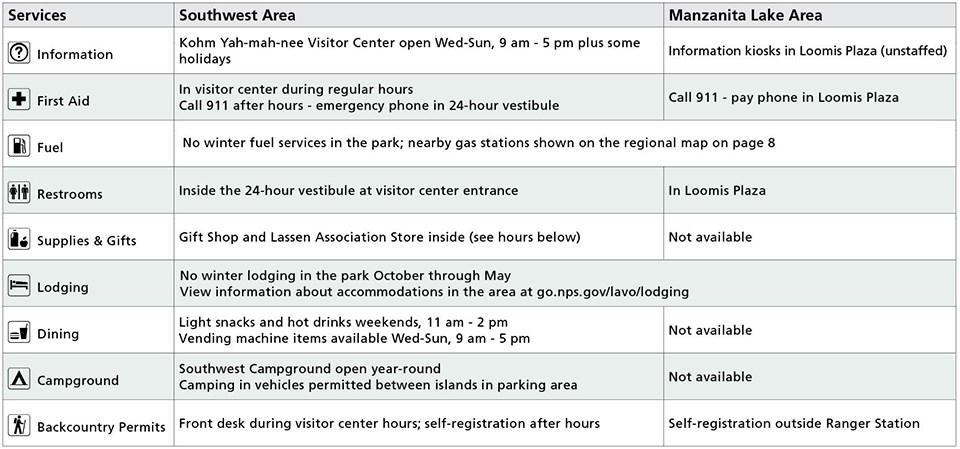 Last updated: February 2, 2022