Thing to Do
Walk Devastated Area Interpretive Trail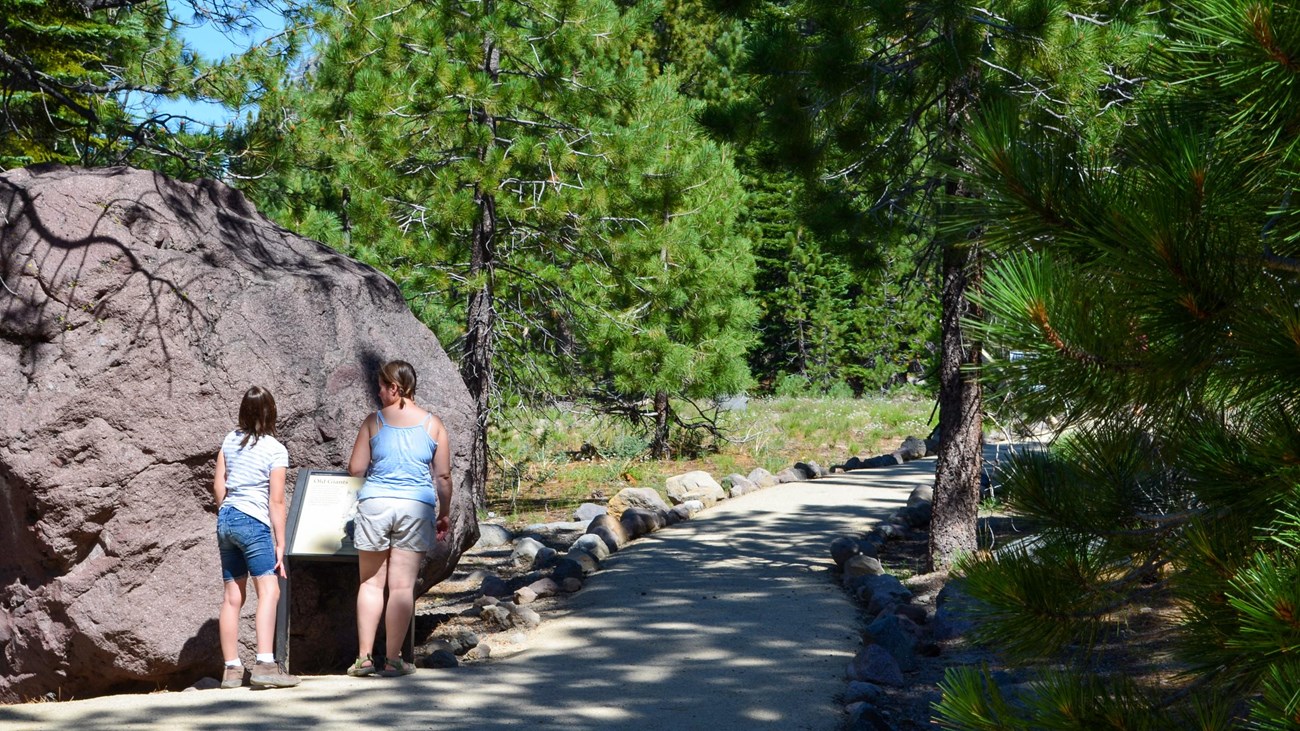 Start: Devastated parking area, 10 miles from the Northwest Entrance
Loop Distance: 0.2 miles
Time: 15 minutes
Terrain: Slightly sloped decomposed granite
Elevation: 6,446 feet
Season: Approximately June through October

The Devastated Area Interpretive Trail is a 0.2-mile loop. Trailside signs detail the area's formation during the 1915-1916 Lassen Peak eruption. Restrooms, picnic tables, and trash and recycle bins are available at the trailhead. A number of spots within the Devastated Area afford excellent views of Lassen Peak and the upper Devastated Area on its southeast slope. 
 
Activity
Self-Guided Tours - Walking
Trailside signs on this short loop provide an introduction to the 1915-1916 Lassen Peak eruption and the resulting Devastated Area. The area is also a good spot for picnicking. A few picnic tables are available near the start of the trail. A large bare area to the right of the restrooms provides ample space for picnic blankets and affords excellent views of Lassen Peak.
This walk is appropriate for all ages.
Pets are not permitted on park trails, including in a carrier. This regulation does not apply to service animals assisting a person with a disability.
There is no fee to hike the Devastated Area Trail. An 
entrance fee or valid pass
 is required to enter Lassen Volcanic National Park.
Location
Devastated Area parking area
The Devastated Area is located off Lassen Volcanic National Park, 10 miles from the Northwest Entrance. The trail begins from the center of the parking area and extends a short distance into the forest. 
There are no reservations for park entrance or to hike park trails.
The Devastated Area Trailhead is located at high elevation (6,400 feet). The park highway must be open to the Devastated Area to access the trailhead by vehicle. The park highway closes to through traffic in the winter and early spring seasons (approximately December through May) due to snow. This 10-mile section of highway is the first to be
cleared of snow in the spring
and may open to vehicles in late spring. Snow can linger on the Devastated Area Trail well into June.
Accessibility Information
The 0.2-mile loop is hardpacked, decomposed granite. Maximum trail grade is 5% with maximum 2% cross slope. Trail is 6 feet wide and 1,110 feet long. The trail is passable by wheelchair. Push buttons on each wayside trigger audio description through external speakers. Service animals assisting a person with a disability are permitted on the trail.
Last updated: February 26, 2021