Alerts & Conditions
Learn and Explore
Current Conditions
The Conditions Summary section below includes current information about about seasonal conditions, closures, fire and air quality, and other current information. 

The park is OPEN; many hiking trails were affected by the 2021 Dixie Fire.  

Reservations are not required or accepted to enter Lassen Volcanic. You may enter the park at any time, 24 hours a day. A 7-day or annual pass is required to enter; all may be purchased online.
 
Conditions Summary
View the Summer/Fall Visitor Guide (3.6 MB, PDF) and learn more about Visiting in summer.
Service/Activity

Current Conditions

Emergency Closures in Burned Areas

Some closures are in place for facilities, infrastructure (e.g. bridges, overlooks), and areas affected by the 2021 Dixie Fire. Please adhere to all closures indicated by CLOSED signs. View a map of key emergency closures. Learn more about burned area safety.

Park Roads

The park highway is open.
Juniper Lake Road is open. Be prepared for burned area hazards.
Warner Valley Road remains closed due to post-fire hazards. There is no estimated opening date for the road at this time.

Kohm Yah-mah-nee Visitor Center
(Southwest Area)

Open daily 9 am to 5 pm

Manzanita Lake Area

Loomis Museum is open Fridays - Sundays from 9 am - 5 pm. Closed Mondays - Thursdays
The Museum closes for the season on October 30.
Manzanita Lake Camper Store hours have been reduced to 9 am - 5:30 pm daily until closure on 10/16.

Some trails are affected by the Dixie Fire. Trails in the Manzanita Lake Area are unaffected by the Dixie Fire. View trail conditions.

Reservations are highly recommended at most park campgrounds.
Reservations are required at Manzanita Lake Campground through Oct. 11.
Campgrounds are beginning to close for the season. View the status and closure dates of park campgrounds.
Southwest Walk-in and Warner Valley campgrounds are closed for due to Dixie Fire hazards and for repair efforts.
Camping in self-contained vehicles, such as motorhomes and trailers, is permitted in the Southwest parking area. Large trailers and RVs must park in appropriate marked spaces. Do not take additional parking space.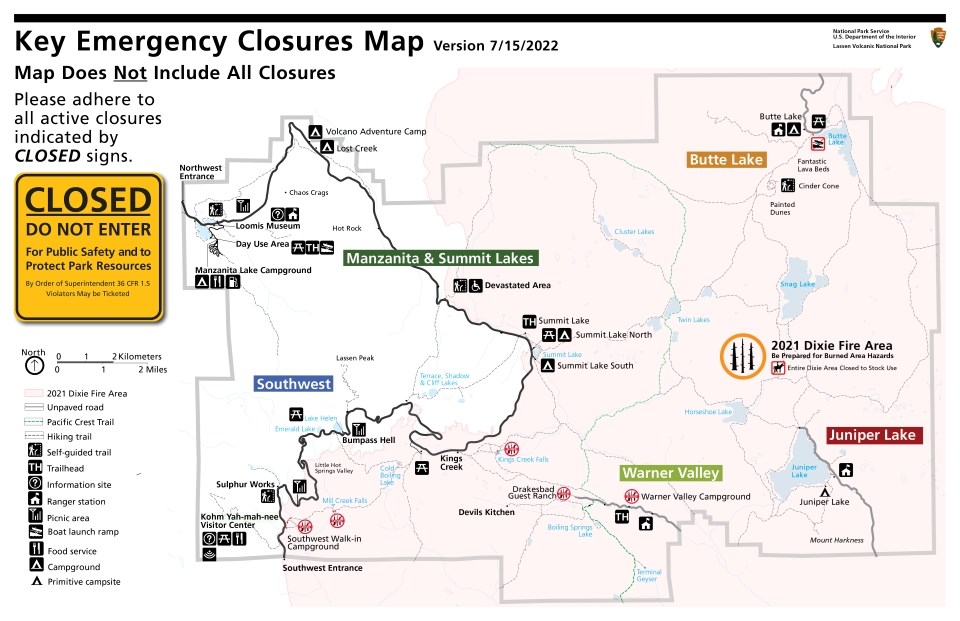 Map of key emergency closures version 7/15/2022. This map does not include all closures. Please adhere to all closures indicated by CLOSED signs within the park. Learn more about the 2021 Dixie Fire. Click on map to view larger version.
Weather, Webcams & Snow Depths
Snow depths are updated when there is a significant change. Learn more about Lassen's snowpack and snowpack surveys.
There are no regular patrols into the interior of the park in the winter; information is provided only for the Manzanita Lake and Southwest Areas.

Last updated - September 22, 2022
Status of Roads in the Park
Lassen Volcanic National Park Highway and other park roads are closed for the winter snow season, typically November through May.

Refresh your browser (hit F5) to view the most recent information.
Road Section

Status

Detail

Lassen National Park Highway
A 30-mile section of Highway 89 between Highway 36 and Highway 44.

Open

The park highway is open.

When open: the park highway connects the northwest and southwest entrance of the park. Vehicles over 45 feet and commercial vehicles are not allowed.

Butte Lake Road

Open


Campground is open.

This 6-mile road is unpaved/gravel passable by all vehicles. It starts at the junction of Hwy 44 and dead ends at Butte Lake Area.

Warner Valley Road (access to Drakesbad Guest Ranch)

Closed

Road and area is closed for Dixie Fire repair.

Road is not recommended for RVs, trailers, and low clearance vehicles. The 17-mile-long remote road begins off of Hwy 36 in Chester. The last 3-mile section is unpaved/dirt.

Juniper Lake Road

Open

Be alert in burned areas. Learn more about burned area hazards.

This remote road travels no from from Chester (Hwy 36E). It is paved for the first 6 miles. The remaining 7 miles are rough gravel and rock. A section of the county road just before the park boundary has large rocks and hazards and is recommended only for high-clearance vehicles. Road is generally not advised for RVs, trailers or vehicles with very low clearance.
Roads to the Park
Check conditions for area roads (map of the area) on the CalTrans QuickMap or Highway Conditions lookup page; or view current conditions on CalTrans webcams. The park does not determine chain control restrictions - this is determined by CalTrans. Please go to the CalTrans website for area chain control information.
State Route (SR) 44/89 provides access to the Northwest Entrance/Manzanita Lake Area
State Route (SR) 36/89 provides access to the Southwest Entrance / Kohm Yah-mah-nee Visitor Center

COVID-19 Response
The National Park Service (NPS) is working service-wide with federal, state, and local public health authorities to closely monitor the COVID-19 pandemic. COVID-19 related modifications to park facilities are listed in the Conditions Summary section above. We will continue to monitor all park functions to ensure that operations and services adhere to CDC guidance and take any additional steps necessary to protect public health. View the NPS Public Health Update webpage for additional information about COVID-19 response.
Last updated: October 1, 2022