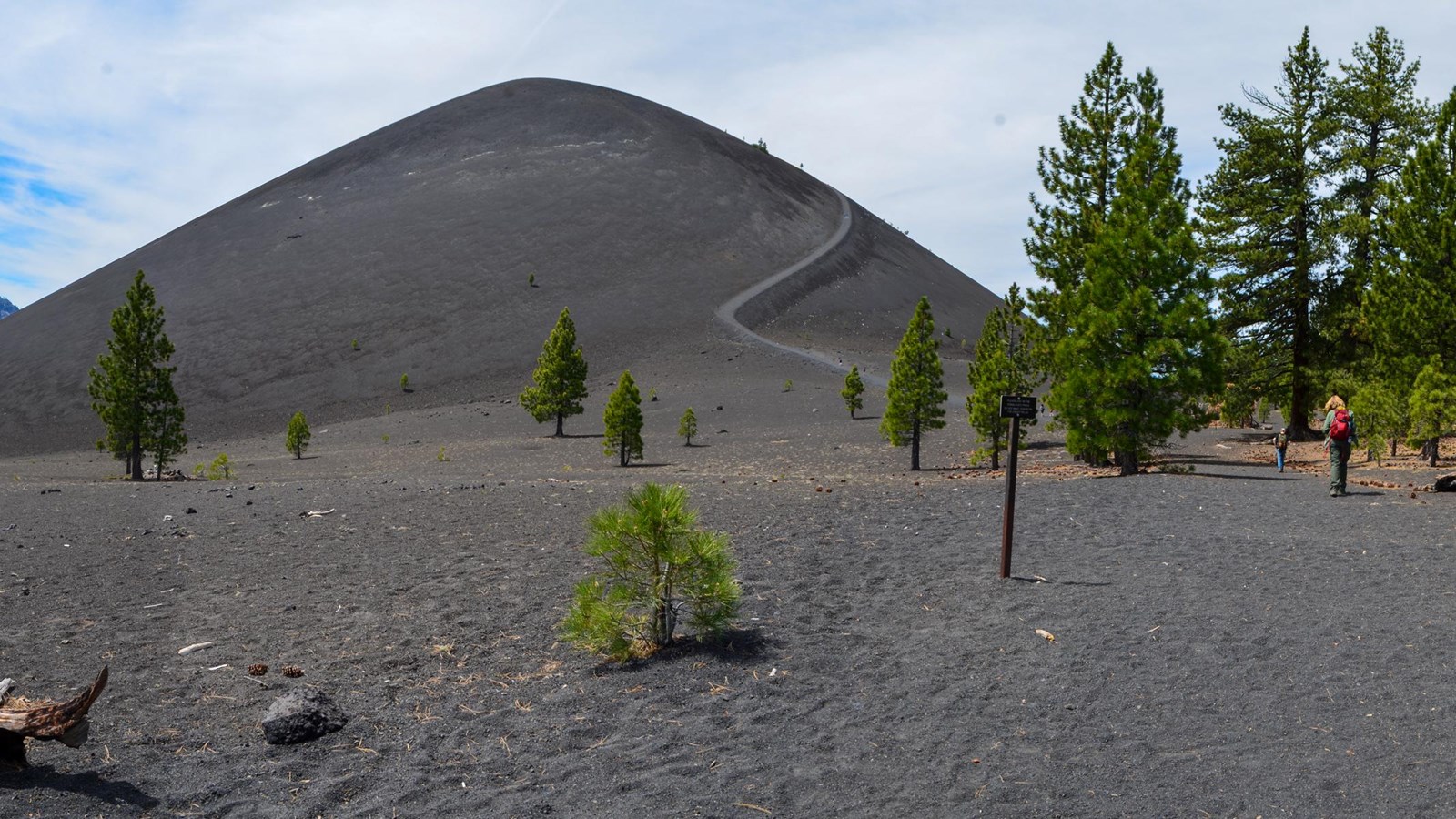 Location:
Butte Lake Area
Significance:
Scenic Trail
Historical/Interpretive Information/Exhibits, Information Kiosk/Bulletin Board, Parking - Auto, Parking - Boat Trailer, Parking - Bus/RV, Restroom, Restroom - Accessible, Restroom - Seasonal, Scenic View/Photo Spot, Trailhead, Trash/Litter Receptacles, Water - Drinking/Potable
Start: Butte Lake parking area
Round-Trip Distance to Base: 2.4 miles
Round Trip Distance to Summit: 4 miles
Round-Trip Time: 3 hours
Elevation Change: 846 ft
Elevation: 6,061 - 6,907 feet
Trail Surface: Cinders (similar to course sand)
Season: Approximately June through November
 
Hike to the base or summit of the dramatic Cinder Cone volcano via this popular trail in the Butte Lake Area. The sand-like cinders on this trail make the hike challenging, especially when climbing the steep 200-foot ascent to the summit. However, hikers are afforded with fantastic views of the dramatic cinder cone, its lava flow called the Fantastic Lava Beds, and the colorful Painted Dunes. A handout is available at the park visitor centers and the trailhead with stops that correspond to numbered posts highlighting various features along the trail.

At 1.2 miles, the trail reaches a fork at the base of Cinder Cone. Look to your left (south) here for the first views of the colorful Painted Dunes. Please stay on the trail to avoid scarring the landscape with footprints. Be sure to take a break in the shade of the surrounding Jeffrey pines before beginning the heart-pumping climb to the top of the cone. Lassen Peak comes into view as the trail slowly circles around to the south side of the cone. The summit affords panoramic views in all directions. Prospect Peak, Lassen Peak, Snag Lake, the Fantastic Lava Beds and the Painted Dunes are all clearly visible. An additional trail continues down into the crater of Cinder Cone.
Cinder Cone Trail follows a portion of the Nobles Emigrant Trail, which is part of the California National Historic Trail. The Nobles Emigrant Trail was one two routes used by emigrants to travel across what is now Lassen Volcanic National Park.
Getting There
Cinder Cone Trailhead is located near the boat ramp in the Butte Lake Day Use Area in the northeast corner of the park. This remote area is accessed via a 6-mile dirt road off of Highway 44, approximately 24 miles east of the park's Northwest Entrance. View directions to Butte Lake. Drinking water is available when the Butte Lake Campground is open. There are no other services in this area.
Last updated: March 24, 2022