Thing to Do
Hike to Bumpass Hell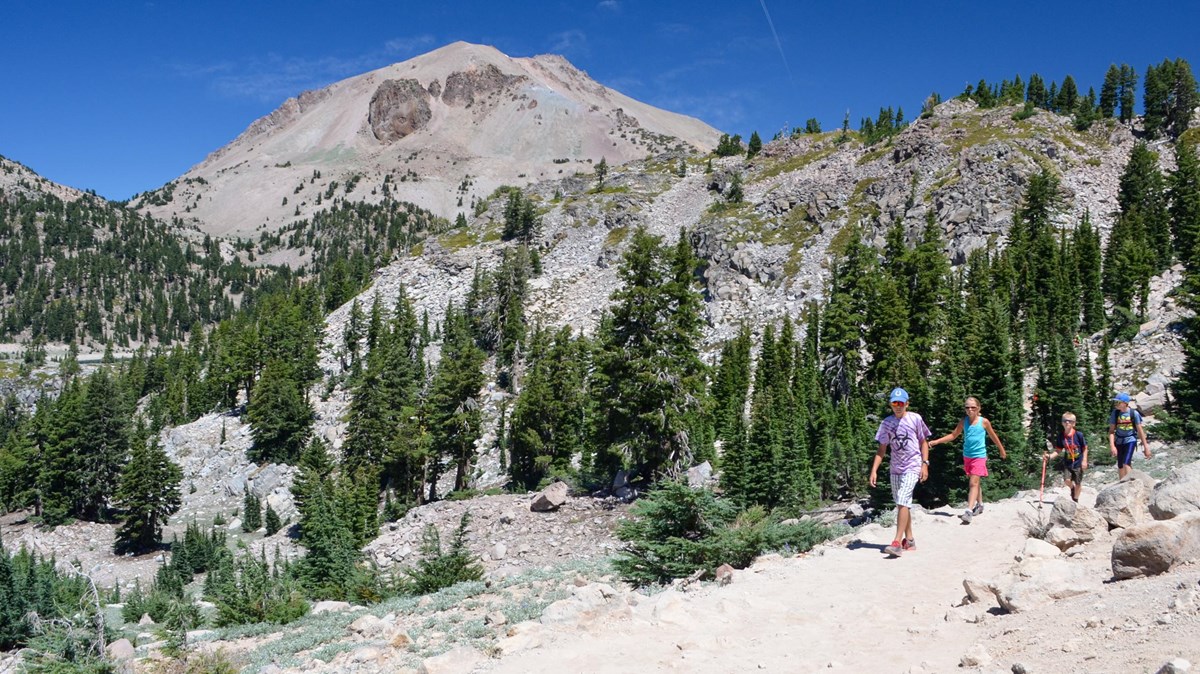 Start: Bumpass Hell parking area, 7 miles from the Southwest Entrance
Round-trip Distance: 3 miles
Round-trip Time: 2 hours
Terrain: Gradual climb first mile then 200-foot descent into basin
Elevation: 8,200 - 8,400 feet
Trail Surface: Packed gravel
Width: 48" to basin overlook; trails into basin are narrow
Season: Approximately June through October
360-degree photos of the basin
Bumpass Hell Trail provides access to the largest hydrothermal area in the park. The trail is open in the summer and fall only. Learn more about the winter/spring closure. Parking for this popular trail is limited and is often full mid-morning to early afternoon, especially on weekends. The three-mile, round-trip hike is easy to moderate in difficulty and is popular with hikers of all ages. Vault toilets are available only at the trailhead, there are no restrooms on the trail or in the basin. Pets are not permitted on any park trails.
How to Hike This Trail Safely
Hiking the Bumpass Hell Trail involves risk. Learn more about general hiking safely in this high-elevation and remote park. Special considerations for this trail include:
Shade is limited on this trail. Hikers are encouraged to wear or bring a hat and carry water.
Winter conditions can persist through the summer months, especially in the forested sections of the trail. Wear proper footwear (good tread, ankle support, closed toe) and consider using trekking poles to help maintain balance. Knee and ankle injuries are the most common visitor injury in the park.
Stay on established trails and boardwalks in/around the basin. Ground in hydrothermal areas can look solid but may actually be a thin crust hiding pools of acidic boiling water or mud. Visitors have been severely injured by traveling off-trail in these areas. 
Water and mud in hydrothermal areas is acidic. Do not put water or mud from park hydrothermal areas on your skin. Even water that is cool to the touch is acidic and can irritate or burn your skin with prolonged exposure.
Hiking at high elevation can aggravate preexisting medical conditions. Know the effects of altitude. Carry plenty of water, take often, and do not exceed your abilities.
Accessibility Information
The Bumpass Hell Trail is hardpacked dirt and rock. Most of the first mile is four feet wide, with minimal slope. The last half mile descends 300 feet into the basin and includes some rock steeps and steeper slopes. Service animals assisting a person with a disability are permitted on the trail.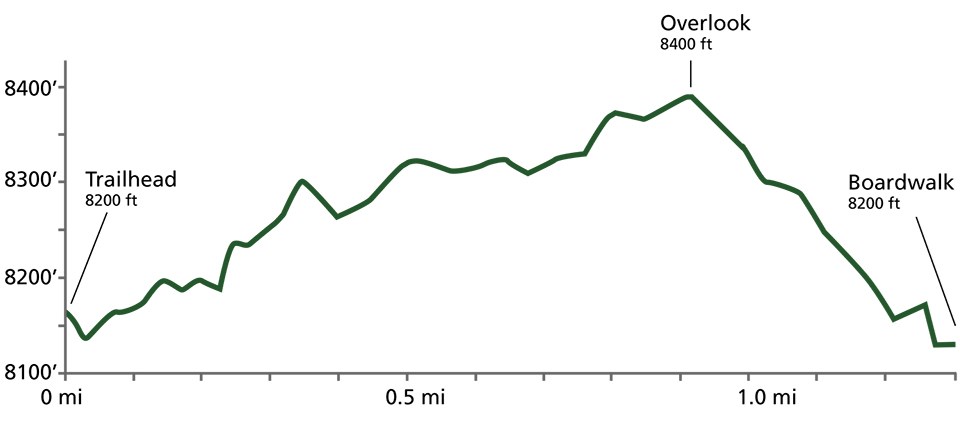 Bumpass Hell Trail Spring Closure
The trail to reach Bumpass Hell is at a high elevation and receives significant snowpack. The Bumpass Hell Trail is closed throughout spring and often into early summer due to severe winter hazards. On average, it opens by Fourth of July weekend, however actual opening dates vary with each year's snowpack. View alternatives during closure below.
Previous Opening Dates
| | | |
| --- | --- | --- |
| Year | Date Opened | April 1 Snow Depth* |
| 2011 | July 13 | 242" / 20.2' |
| 2012 | June 29 | 145" / 12.1' |
| 2013 | June 25 | 140" / 11.7' |
| 2014 | June 11 | 122" / 10.2' |
| 2015 | June 7 | 91" / 7.6' |
| 2016 | July 9 | 199" / 16.6' |
| 2017 | August 22 | 243" / 20.3' |
| 2018** | Closed | 131" / 11' |
| 2019** | September 13 | 238" / 19.8' |
| 2020 | July 2 | 119" / 10' |
| 2021 | June 16 | 114.5" / 9.5' |
| 2021 | July 1 | 96" / 8' |
*Snow depth manually recorded at Lake Helen (8,200' elevation) provides an annual comparison of snow depth near the end of the winter season.
**Closure and delayed opening for rehabilitation project.
Alternatives to Bumpass Hell Trail
Consider one of these alternatives if Bumpass Hell Trail is closed, too crowded, or you are just looking for something new:
Stop by Sulphur Works hydrothermal area, the most easily accessed hydrothermal area in the park.
Take a day trip to the Warner Valley Area and enjoy an easy or moderate hike to one or more hydrothermal areas including (distances are round-trip): Boiling Springs Lake (3.0 mi), Devils Kitchen (4.4 mi), and Terminal Geyser (5.8 mi).
Access Bumpass Hell basin via the Cold Boiling Lake Trail (5.2 mi). Note that this is a longer and more challenging hike than the Bumpass Hell Trail. You can also expect snow on this trail through June or sometimes July. If the Kings Creek Picnic Area and trailhead is not yet open for the season due to snow, you may park in a pullout along the highway and walk in (be prepared for significant snowpack).
Last updated: July 7, 2022