Hiking Safety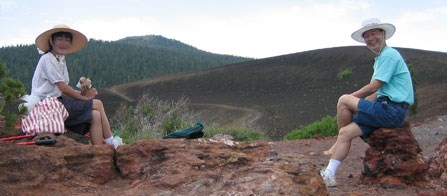 Explore Safely
Hiking in Lassen Volcanic National Park involves risk. Lassen's continually changing landscape, high elevation, and dramatic seasons present numerous considerations for hikers. From climbing rocky slopes, crossing swift streams, and traversing spring snow patches, the best way to ensure your safety is to be prepared.
To improve your safety when hiking at Lassen consider the following: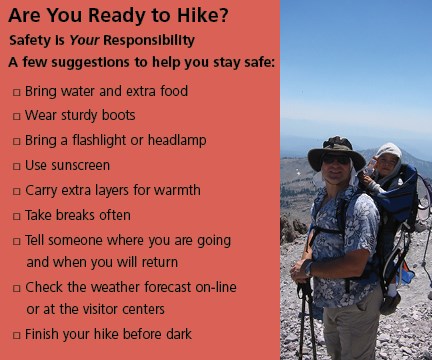 Visitor-Identified Safety Measures
Visitors like you have identified a number of measures that can help improve safety while hiking. Note that the type of risk and safety concerns vary greatly with the wide variety of terrain, elevation, and features found at Lassen.
Carry sunscreen, bug repellant, extra layers, plenty of water, and food
Wear appropriate footwear (good tread, ankle support, closed toe)
Know your abilities: take brakes often, slow down on hills, plan your time, pay attention to how you feel
Stay on trail in hydrothermal areas: watch children, note when handrails are absent, maintain a safe distance
Consider special considerations for hiking with children: pay close attention in hydrothermal areas and around lakes, creeks, waterfalls, and bridges; share route plans in case they get lost; know each individual's abilities
Let someone know where you are going and when you will return: hiker logs at visitor centers, messages on social media, voicemail, e-mail, etc.
Be aware of and prepared for wildlife and act appropriately: watch out for bees and bears, do not feed animals, do not approach wildlife
Yield to uphill hikers: step off the side of the trail to let others pass
Be aware of weather conditions: check conditions before you start your hike, be mindful of items blowing off windy peaks, watch for sudden changes in weather, descend immediately at signs of a storm, know what to do in case of lightning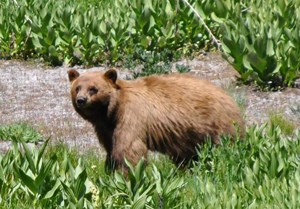 Be Bear Aware
Black bears have been sighted frequently in this area. Avoid potential bear encounters on the trail by making noise to make your presence known. Be particularly careful near streams, and when vegetation or terrain limits visibility. Learn more about what to do in the event of a bear encounter below or in the downloadable bear safety handout (pdf, 3.3MB).
If You Encounter a Bear
Do not run! Bears can easily outrun you. Running may cause an otherwise non-aggressive bear to attack.
If the bear is aware of you but has not acted aggressively, slowly back away.
If the bear is unaware of you, keep out of sight and detour behind or downwind of the bear.
Stay calm and remember that most bears do not want to attack you, they usually just want to be left alone.
Pick up small children immediately and stay in a group.
Do not drop your pack! This teaches the bears how to obtain human food and often results in the death of a bear.
Do not climb a tree. All black bears can climb trees.
If a Bear Approaches or Charges You
Do not run! Most bear attacks result from surprise encounters when the bear is defending their young or a food source, such as a carcass.
Bear experts generally recommend standing still until the bear stops and then slowly backing away.
If you are attacked, do not play dead – fight back. Concentrate your kicks and blows on the bear's face and muzzle. If you have bear spray, aim directly at the bear's face.
Stay calm. Bears may bluff their way out of an encounter by charging, and then turning away at the last second. Bears may also act defensively by woofing, growling, snapping their jaws or laying their ears back.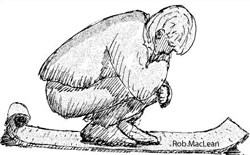 Lightning Safety
Summer is the peak season for one of the nation's deadliest weather phenomena - lightning. In the United States, an average of 54 people are reported killed each year by lightning. Lightning is a serious danger that is best mitigated by one key action: When Thunder Roars, Go Indoors! Unfortunately for day hikers and backpackers, seeking shelter is not always possible. Here are a few tips to increase your safety while outdoors:
Time visits to avoid severe weather - know the forecast.
Immediately seek a safer area if you hear thunder.
Avoid hiking on high ridge lines or exposed areas at elevation if thunderstorms are in the area (e.g. Lassen Peak, Brokeoff, Cinder Cone, and Mt. Harkness trails.)
If caught in the open, do not shelter in/under trees, bushes, or other tall objects.
Spread a hiking group out at least 50 feet between people.
Look for ravines or depressions and assume the lightning position (squat down on the soles of your shoes) in one of the depressions.
Do NOT lay on the ground, rather crouch on your feet.
If a member of your party is struck by lightning, prompt rescue breathing is often very successful in reviving an injured person. Call 911 and seek immediate medical attention.
Learn more about lightning safety at http://www.lightningsafety.noaa.gov.
Last updated: May 10, 2019