Backcountry Camping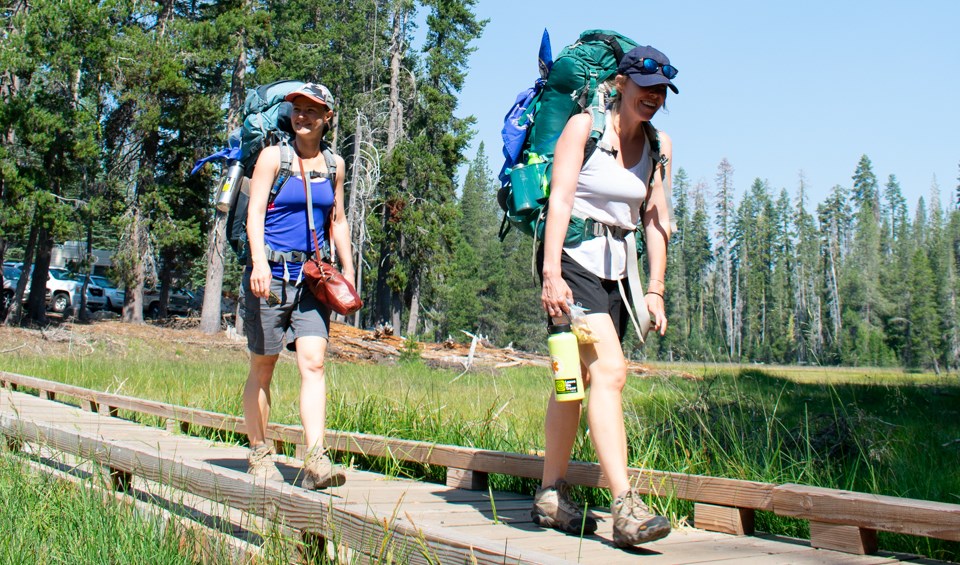 Visitors to Lassen Volcanic Wilderness Are Its Most Important Guardians
The majority of Lassen Volcanic National Park is designated Wilderness, a status afforded to just five percent of America's public lands. You can enjoy and preserve these wild places by not contributing to recreation-related impacts including: litter, erosion, social trail creation, food-conditioned wildlife, and backcountry campsite widening. Please adhere to regulations and practice Leave No Trace (LNT) principles to help preserve natural conditions and minimize human influence.
COVID-19 Modification: Please Recreate Responsibly by practicing Leave No Trace principles, avoiding unnecessary risk, and selecting less popular trails or hiking at non-peak times (e.g. holidays, weekends).
Plan Your Backpacking Trip
A backpacking trip in Lassen Volcanic National Park can be an exciting and rewarding experience! But you must be prepared. The following resources can help you plan a backpacking trip in the park:
Hiking books and printed topographic maps such as these items offered through our partner the Lassen Association.
List and short descriptions of common backpacking trailheads in the park.
Maps of the park including trail distances, topography, and georeferenced PDFs for use with free map reader mobile apps such as Avenza mobile app.
Current trail conditions: these are generally limited to day hiking, but may provide an idea of what to expect in specific areas of the park.
Rangers are not able to assist with trip planning. It is your responsibility to select a route that is suitable to your group's interest and abilities.
Rangers are able to assist with questions regarding permitting, regulations, closures, conditions (when available), and safety. If you have general questions about backpacking or permits, please email us.
Backcountry Camping Closure on East Side of Park
A temporary closure is in place east of Lassen Volcanic National Park Highway, Hat Creek, and Kings Creek (see map below). The expansion of the previous Twin and Rainbow Lakes area closure is in response to one or more black bears obtaining food from backpackers.

Learn more about alternative destinations in and and around the park below.
Learned Behavior Caused by Improper Storage
At least one bear has obtained food and/or scented items that hikers had not stored in bear-resistant containers. After multiple incidents, the bear has learned to associate humans and their equipment with a food reward.

Bear Has Been Unresponsive to Hazing
A black bear has boldly searched campsites and gear even as backpackers yelled and made loud noises.

Protect Yourself—Protect Wildlife
The temporary closure is necessary to reduce negative human and bear interaction and provide the bear(s) a period to return to normal foraging behavior. Learn more about the emergency closure, bear safety, and bear-resistant containers.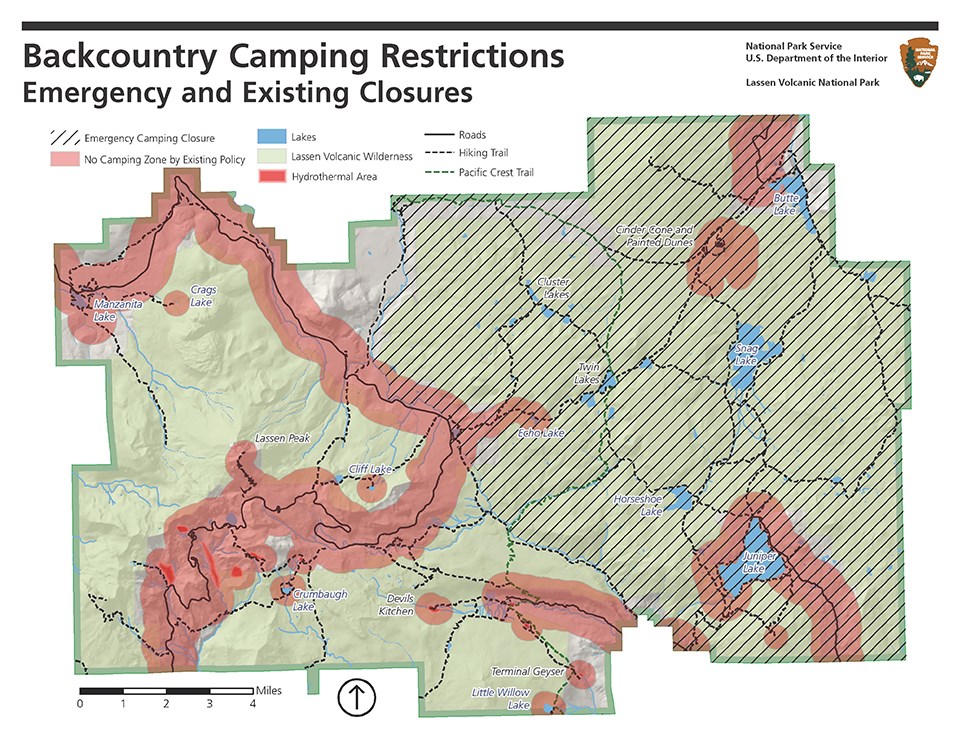 Alternative Backpacking Destinations During Temporary Closure
West Side of Lassen Volcanic
A limited number of trails in the Manzanita Lake and Southwest Areas provide access to shorter routes that can be good for a quick trip or first-time backpackers. Miles are round-trip.
Manzanita Creek Trail (7 mi) - Trailhead at the entrance of the Manzanita Campground D Loop

Ridge Lakes (2 mi)
Shadow Lake (3.2 mi)
Twin (6.6) or Conard (4.2) Meadows via Kings Creek Picnic Area Trailhead
Spencer Meadow via the Lassen National Forest Spencer Meadow Trail (8.5)
Conard Meadow via Mill Creek Falls Trail
Sifford Lakes via Kings Creek Trailhead (up to 6 mi)
Drake Lake via Warner Valley Trailhead (5 mi)
Lassen National Forest
Lassen Volcanic National Park is surrounded by Lassen National Forest (LNF). View backpacking areas in LNF including areas within Hat Creek Ranger District (north of the park), Almanor Ranger District (south and east of the park), and Eagle Lake Ranger District (east of the park). LNF contains many spectacular resources, similar to those found within the park including volcanic peaks, alpine lakes and meadows, and flora and fauna.
Other Nearby National Forests
Shasta-Trinity National Forest is located northwest of the park.
Plumas National Forest is located southeast of the park.

Backcountry Camping Permit Required
A free permit is required to camp in park backcountry (outside of park campgrounds). A permit is not required for day hiking and is not required if you are staying in an established park campground. There are no designated backcountry campsites or quotas in the park.

COVID-19 Modification: Backcountry camping permits must be obtained via self-registration stations when you arrive to the park. We are not accepting or processing permits by email/mail through the 2020 fall season.
How to Obtain a Backcountry Permit
Review the park backcountry camping regulations.
Gather information about your trip and party including entry and exit trailheads, approximate campsite location for each night, emergency contact information, and vehicle make, model, and license number. See all information required for the permit below.
Fill out a permit at an in-park, self-registration station.
Attach the permit to a backpack and display throughout the duration of your trip.
Self-registration Stations
If permits are out of stock please leave your contact information, a brief itinerary, and an emergency contact. All self-registration stations are available 24 hours a day. If you need assistance with self-registration, rangers are available to assist with permit completion at the Loomis Plaza (summer only) or Kohm Yah-mah-nee Visitor Center.
Loomis Ranger Station (across from the Loomis Museum)
Kohm Yah-mah-nee Visitor Center (in the visitor center vestibule)
Butte Lake Ranger Station (not staffed) - permits not available to due backcountry closure
Warner Valley Ranger Station (occasionally staffed)
Juniper Lake Ranger Station (not staffed) - permits not available to due backcountry closure
Backcountry Permit Instructions
Only one permit is required for each group of up to 10 people.
Review Lassen Volcanic National Park backcountry camping regulations.
Fill out the permit completely. Please note the following:

Primary Method of Travel - enter foot or stock

Campsite - write the nearest natural feature at your planned campsite (e.g. lake, peak, meadow). There are no developed campsites in the backcountry. Leave Zone/Site# blank.

Below campsite information - write an emergency contact name and number and make, model, and license plate of vehicle(s) at trailhead

Sign and date the permit in the space provided. By signing the permit you acknowledge that you have read and will abide by the park backcountry regulations.
Separate the white (top) copy of the permit and attach it to your backpack. Place the remaining copies in the permit box.
Fill out a Backcountry Parking Slip and place it on the dash of your vehicle so it is visible. It will be used to locate your permit in case of an emergency or late return).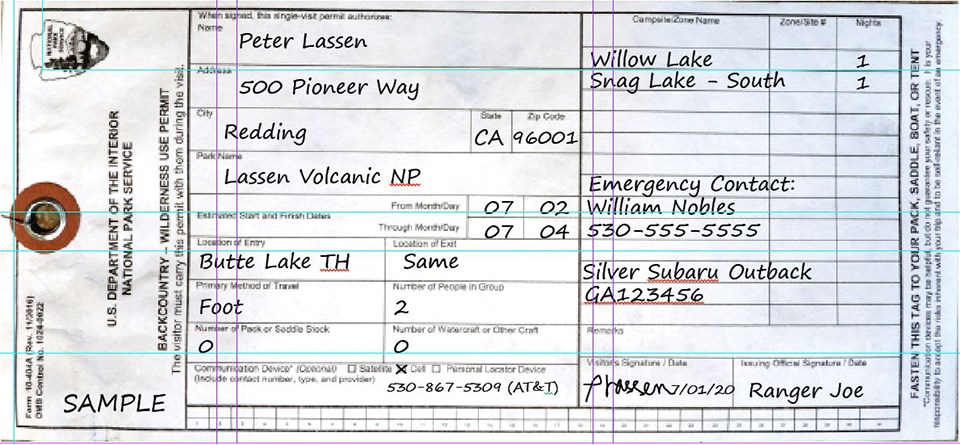 Backpacking Trailheads
The largest network of trails is located in the eastern half of the park and are accessed via four primary backpacking trailheads: Warner Valley, Butte Lake, Juniper Lake, and Summit Lake.

Short Route Trailheads
Ridge Lakes, Hat Lake, Brokeoff Mountain, and Manzanita Creek trailheads provide access to shorter routes that may be good for quick trips or first-time backpackers.

Kings Creek Picnic Area TH
Located one mile from the Kings Creek Trailhead, this trailhead provides access to limited destinations including Twin, Spencer, and Conard Meadows.
Areas East of Hat Lake, the Park Highway, and Kings Creek Are

Closed to Backcountry Camping

Warner Valley TH
Backpacking routes are fairly limited from Warner Valley due to the numerous hydrothermal areas where camping is prohibited. You can travel north or south on the Pacific Crest Trail from here or climb Flatiron Ridge to access trails near Kings Creek. Black bears are sighted frequently in the Warner Valley Area.

Butte Lake TH
The parking area is open to day use and overnight users. The trail past Cinder Cone to Snag Lake is composed of sand-like cinders. The shore of Snag Lake offers numerous places to camp. The area also provides a good base camp for day trips to Juniper Lake or Rainbow Lake. Bears have obtained improperly stored food in this area.

Juniper Lake TH
The parking area is open to day use and overnight users and is located at the end of the Juniper Lake Road. There is no drinking water at Juniper Lake, you can treat lake/stream water or bring your own.

Summit Lake TH
The is the most popular and congested trailhead for backcountry camping. We highly recommend beginning your trip at another trailhead to help reduce impact and to make the most of your Wilderness experience.

Kings Creek TH
Parking at this trailhead is extremely limited. Please consider parking at a pullout near the meadow and hiking a short distance to the trailhead. Smaller loops from this trailhead provide good options for short trips or first-time backpackers. Black bears are frequently sighted in the Kings Creek area.


Last updated: November 6, 2020