Backcountry Camping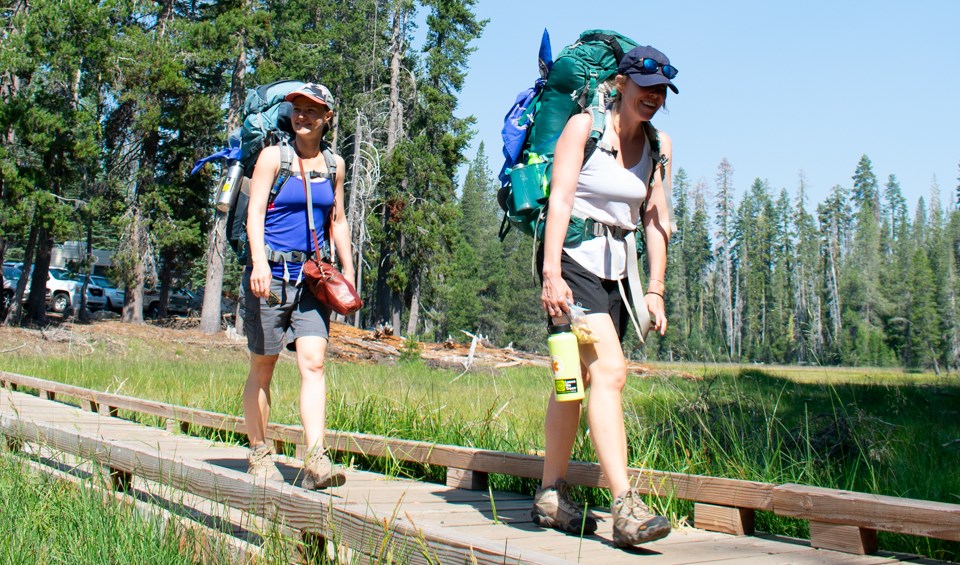 Keep Lassen Wild
The majority of Lassen Volcanic National Park is designated Wilderness, a status afforded to just five percent of America's public lands. You can enjoy and preserve these wild places by not contributing to recreation-related impacts including: litter, erosion, social trail creation, food-conditioned wildlife, and backcountry campsite widening. Please adhere to regulations and practice Leave No Trace (LNT) principles to help preserve natural conditions and minimize human influence.
Plan Your Backpacking Trip
A backpacking trip in Lassen Volcanic National Park can be an exciting and rewarding experience if you are prepared.
1. Choose Your Route and Research Your Trip
Rangers are not able to assist with planning a backcountry trip. We recommend the following steps to help you to select a route that is suitable to your group's interest and abilities.
Read the backcountry camping regulations. There are no designated backcountry campsites or trail quotas in the park. Wilderness permits are required for backcountry camping and are only obtained online through Recreation.gov. Wilderness permits are no longer available from the park directly.

New! View the 2021 Dixie Fire vegetation burn severity map to inform your route and camp locations. Learn more about burned area safety.

Check current conditions to find out about weather forecasts, closures, advisories, snow levels, etc.

Check trail conditions for day hikes. The park does not provide conditions for all park trails. Trails are generally snow-free in June/July.

View backpacking trailheads in the park. The list includes short descriptions of starting points.

View maps or guidebooks. View park maps that include distances and some topography. Geo-referenced PDFs are available for use with free map reader such as Avenza. Hiking books and maps are offered at the park store online and in park visitor centers.
Looking to camp before or after your backpacking trip?
If staying in the park, you must camp within an established
park campground
before or after your trip. Sleeping in a vehicle or RV in a parking lot or pull-out is not permitted, even with a backcountry permit.
Containers are required from April 15 - October 31. Hanging food is not permitted.
3. Obtain a Wilderness Permit Online.
Wilderness permits are only available online through Recreation.gov. Permits are no longer available in person and the park does not mail permits. Permits can be reserved up to a maximum of 90 days prior to the start date.
Wilderness Permit Required
A wilderness permit is required to camp in park's backcountry (outside of park campgrounds). A permit is not required for day hiking and is not required if you are staying in an established park campground. There are no designated backcountry campsites or quotas in the park.

Permit fees required are listed as follows:
$6 per permit non-refundable Recreation.gov administration fee
$5 per-trip, per-person fee (16 years and older)
How to Obtain a Wilderness Permit
Wilderness permits for backcountry camping must be obtained prior to your visit to the park. We do not accept or process permits in person or by email/mail, all permits must be obtained through Recreation.gov. Permits can be reserved a maximum of 90 days prior to the start date. There are no quota restrictions.

Review the park backcountry camping regulations.
Gather information about your trip and party including entry and exit trailheads, approximate campsite location for each night, emergency contact information, and vehicle make, model, and license number. See posted instructions on how to fill out the permit.
Fill out a wilderness permit through Recreation.gov.
Fill out a parking slip and put that slip on the dashboard of your vehicle.
Attach a copy of the permit to a backpack and display throughout the duration of your trip.
Backpacking Trailheads
The largest network of trails is located in the eastern half of the park. These trails are accessed via four primary backpacking trailheads: Warner Valley, Butte Lake, Juniper Lake, and Summit Lake.
Short Route Trailheads
Ridge Lakes, Hat Lake, Brokeoff Mountain, and Manzanita Creek trailheads provide access to shorter routes that may be good for quick trips or first-time backpackers.
Kings Creek Picnic Area TH
Located one mile from the Kings Creek Trailhead, this trailhead provides access to limited destinations including Twin, Spencer, and Conard Meadows.
Warner Valley TH
Backpacking routes are fairly limited from Warner Valley due to the numerous hydrothermal areas where camping is prohibited. You can travel north or south on the Pacific Crest Trail from here or climb Flatiron Ridge to access trails near Kings Creek. Black bears are sighted frequently in the Warner Valley Area.
Butte Lake TH
The parking area is open to day use and overnight users. The trail past Cinder Cone to Snag Lake is composed of sand-like cinders. The shore of Snag Lake offers numerous places to camp. The area also provides a good base camp for day trips to Juniper Lake or Rainbow Lake. Bears have obtained improperly stored food in this area.
Juniper Lake TH
The parking area is open to day use and overnight users and is located at the end of the Juniper Lake Road. There is no drinking water at Juniper Lake, you can treat lake/stream water or bring your own.
Summit Lake TH
The is the most popular and congested trailhead for backcountry camping. We highly recommend beginning your trip at another trailhead to help reduce impact and to make the most of your Wilderness experience.
Kings Creek TH
Parking at this trailhead is extremely limited. Please consider parking at a pullout near the meadow and hiking a short distance to the trailhead. Smaller loops from this trailhead provide good options for short trips or first-time backpackers. Black bears are frequently sighted in the Kings Creek area.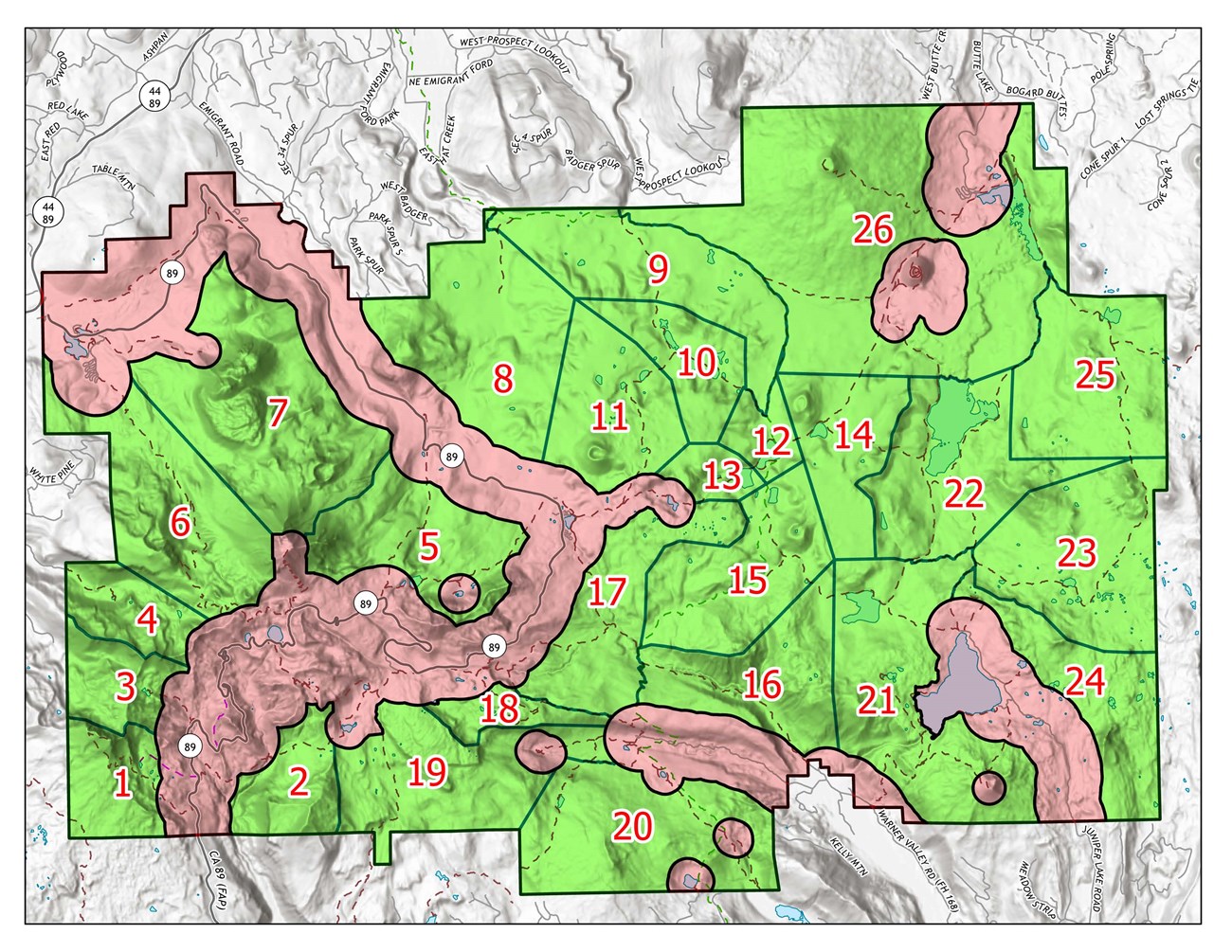 Bear-Resistant Container Required
Backcountry campers must use an approved bear-resistant container to store food and scented items. This regulation is in response to increased negative bear and human interactions in the park. Bear canisters are not required December 1 through April 15.
Stay with or Store Your Food
Bears obtaining improperly stored food has and may again result in park closures. At least one bear obtained food and/or scented items that hikers had not stored in bear-resistant containers in 2020. After multiple incidents, the bear learned to associate humans and their equipment with a food reward.

The area east of the park highway was temporarily closed to backcountry camping to protect visitors and bears. The closure has since been lifted, however there is still a potential for negative human-bear interactions. Learn about bear safety.
Bear Canister Rental
Bear-resistant food canisters are available for rent in limited quantities at park stores in the Loomis Museum and Kohm Yah-mah-nee Visitor Center during business hours. Rental is $10 for 7 days with a $95 deposit for either size canister. Canisters must be returned to the location rented. There will be a $15 charge for canisters returned dirty (not including wear/dirt from normal use).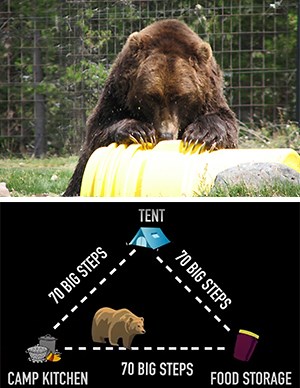 How to Use a Bear-Resistant Container
What to Put Inside
The most important part of using a bear-resistant container is what goes inside it. Make sure all food, trash, toiletries, and other scented items are inside the container. This includes but is not limited to all sealed or packaged food, sunscreen, soap, mosquito repellent, lip balm, deodorant, medications, and feminine products. As a general rule, if you put it in your mouth or on your skin, it should probably be stored in a bear-resistant container. Learn how to get the most out of and into your bear canister from sierrawild.gov.
Where to Place It
Place the container on the ground 100 feet (or 70 big steps) from both your tent and cooking area, in a place where a bear can't easily roll it away. Take care not to place it near a cliff or any water source, as a bear may knock the container around or roll it down a hill. Do not hang or attach anything to the container (ropes attached to the container enable a bear to carry it away). Watch How to Use a Bear Canister from Leave No Trace Center for Outdoor Ethics.
Keep Canisters Closed and Locked
Bear-resistant canisters work, but only when they are locked. Be sure to keep it closed and locked any time it's not in use. The Bear Vault canisters available in the park have a special latch that requires human dexterity to open. Your fingernail, a credit card, or other thin, hard tool can be helpful when opening the canister. When closing the canister, make sure to turn the lid until you hear the latch click. We recommend trying to open it by turning it counterclockwise to verify it's locked. Keep in mind that a bear may easily get to your canister, but it cannot get what is inside if it's locked.
General Questions
If you have questions about backpacking or permits, please
email
us.
Before sending an email,
please read this entire webpage, as most of your questions are likely to be answered already. Rangers are able to assist with questions regarding permitting, regulations, closures, conditions (when available), and safety. Rangers are not able to provide route suggestions.


Last updated: July 31, 2023