Visitor Center to Lower Town Trail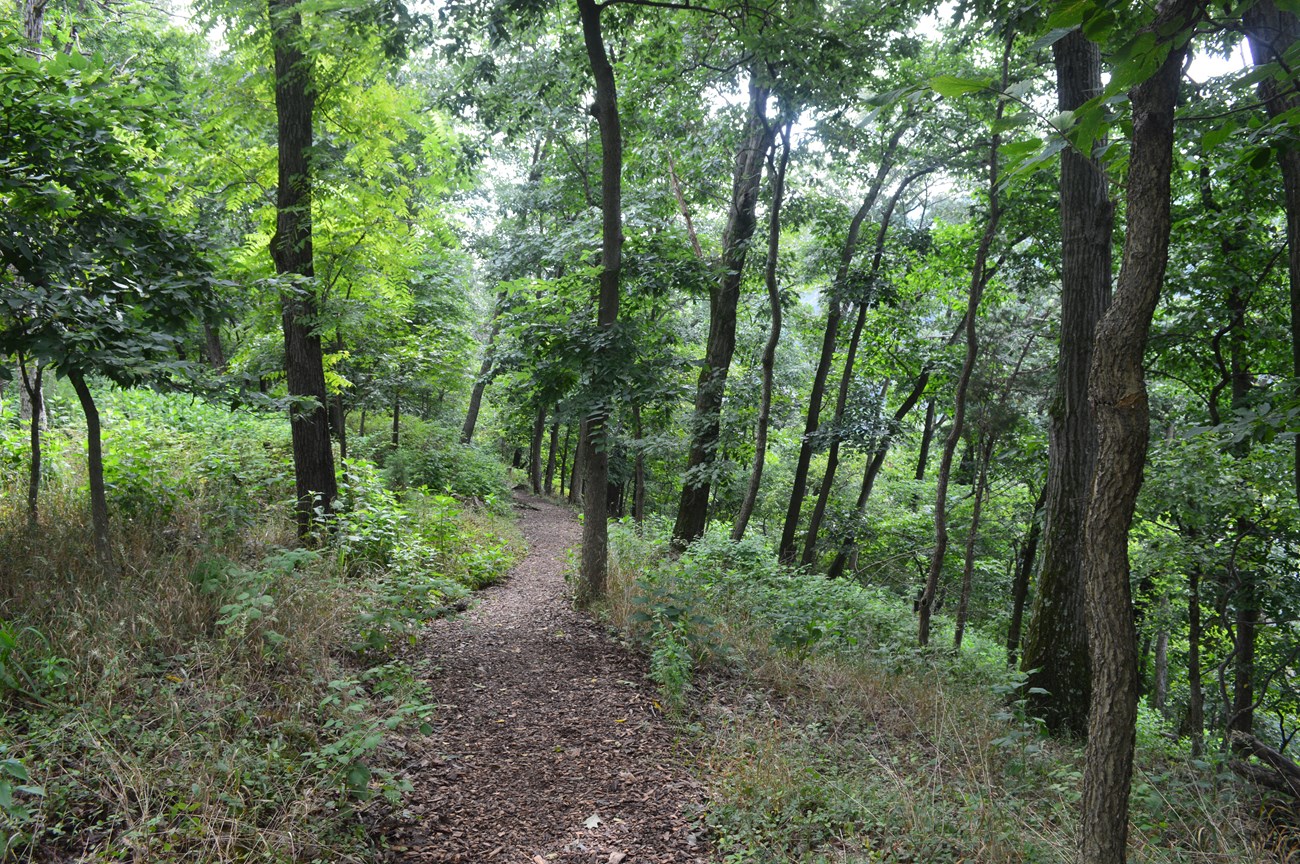 Moderate due to one steep section, 1.6 miles (2.6 km) one way, 45 min
This scenic trail offers an alternative to the shuttle bus between Lower Town and the Visitor Center, useful for visitors who have
dogs in the park
.
Trail is open during daylight hours. Closed from sunset to sunrise.
Caution: The return trip up the stone steps is strenuous. You also have the option to take the shuttle bus from Lower Town back to the Visitor Center if you are traveling without pets.
The trail starts near the center of the tree line south of the Visitor Center, at the back of the main parking area.
Hikers travel down a steep ravine with 97 stone steps, passing by small intermittent waterfalls. At the base of the ravine, the trail crosses Shoreline Drive. Cars and buses use this road. Please keep dogs and children off of the pavement. The trail parallels the road, passing by wetlands, where hikers may see herons, wood ducks, Canada geese, turtles, and occasionally a beaver or muskrat. Hikers will see the ruins of the Shenandoah Pulp Mill and a remnant of the Shenandoah Canal.
As you pass the River Access parking area, the trail merges with Shenandoah Street, and connects with trails to Virginius Island and Hall's Island, Loudoun Heights, and the Camp Hill and Appalachian Trails.
From Lower Town hikers can continue on to the Maryland Heights trail.
Drinking water is available at the Visitor Center and in Lower Town. Exterior drinking fountains are turned off during cold weather to prevent damage from freezing.
Restrooms are available at the Visitor Center and in Lower Town next to the Bookshop.
Last updated: November 21, 2022