Mount Healy Overlook Trail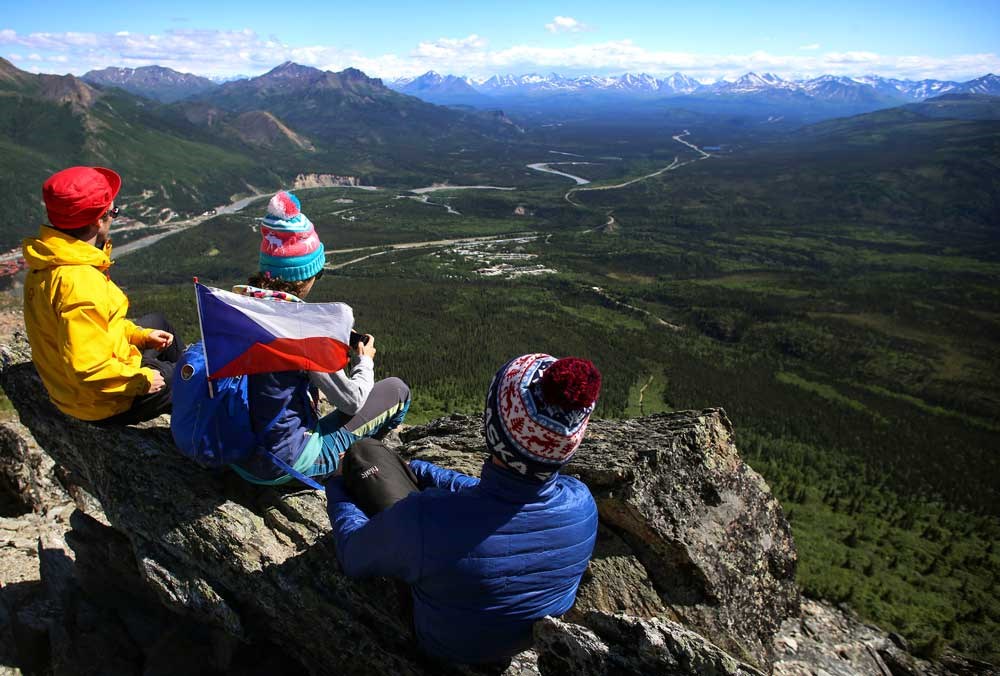 The Mount Healy Trail travels part-way up Mount Healy, a small mountain overlooking the entrance area of the park. The trail starts with a steady, mild uphill grade, eventually becoming quite steep near its finish. Intrepid hikers might choose to continue hiking the ridges of Mount Healy beyond where the trail ends. Unlike many of Denali's trails, it is not a loop.
Quick Details
Distance (one-way): 2.7 miles
Duration (one-way): Around 2 hours (uphill; likely less on the return)
Elevation change: 1,700 feet gain.
Description
This is one of the steepest trails in Denali. The trailhead is located off the Taiga Trail, not far from the Denali Visitor Center.
The trail rises steadily through spruce forest at first. Around the half-way point, it reaches some benches with a nice overlook back the way you came. After the benches, the climb becomes steeper and switchbacks are encountered as you break above tree-line. Please do not cut the switchbacks - this causes erosion problems, and the footing is less safe.
The official end of the trail is not the peak of Mount Healy, but it is an open spot with great views to the south. It is almost always windy here, so be prepared. Hiking the ridges of Mount Healy beyond the trail is permitted, but can be dangerous. People have died in falls on Mount Healy, so be cautious if you intend to hike toward the true summit, which is approximately 1,500' higher on the mountain and another 1.5 miles or so past the overlook (i.e., where the official trail ends).
How to Access This Trail
From the Denali Visitor Center, hike about half a mile on the Taiga Trail, until you reach a trail junction with the start of the Mount Healy Trail. This trail is one-way, so your return is the way you came.
Last updated: April 3, 2019