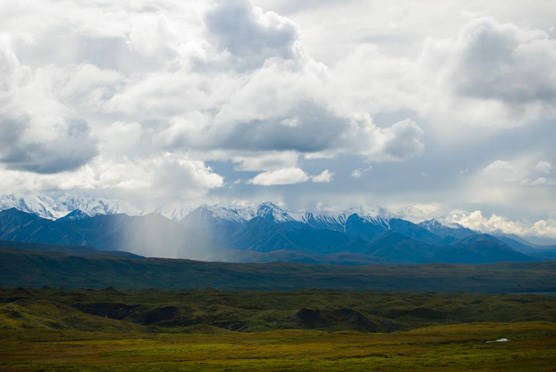 Weather in Denali is extremely variable. Changes in weather often occur without warning. Many of our rangers tell visitors to expect sun, wind, rain, and clouds, and expect them all on the same day. Snow can fall any month of the year, particularly in the mountains.


Summer
When talking about weather, "summer" generally means late May through early September.

Average summer temperatures range from 33 to 75 degrees Fahrenheit. While rare, it has been known to snow in July, so be prepared for cold weather. Wearing layers of clothing makes it easy to regulate your body temperature.

Also, you'll find that a good waterproof, hooded raincoat is invaluable. June through August are the rainiest months in Denali, although yearly variances sometimes lead to bone dry summers - Denali always keeps you guessing.

Winter
Winters can be extremely cold with temperatures ranging from -40 degrees Fahrenheit and colder, to high 20s on warm days. This kind of extreme cold typically begins by late October or early November, and runs through March.

As mentioned above, snow is possible any month of the year - although snow that falls before mid-September tends to melt quickly. Winter snow levels are not usually sufficient for skiing or other recreation until mid-October or later.

Specialized cold weather gear is necessary for mountaineering and winter visits.


The Other Two Weeks of the Year
Both spring and fall seasons are quite short. Spring weather, which might occur in late April and early May, sees highs into the 40s or 50s F, and lows near or below freezing. In extreme years, however, winter temperatures (below freezing) linger until nearly the start of summer.

Fall weather, generally occurring in September, is similar - highs well above freezing, and lows at or below freezing.