Physical / Mobility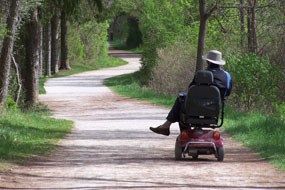 If You Have Mobility Needs
All visitor centers are accessible. Our park map shows exact locations and specific features.
Many of the park's most popular attractions are fully accessible: the Ohio & Erie Canal Towpath Trail (including the Beaver Marsh near Ira Trailhead), Canal Exploration Center, the Everett Covered Bridge, Brandywine Falls (upper boardwalk), and the heronry along Bath Road.
Begin your adventure at Boston Mill Visitor Center. Pick up our seasonal Valley Guide and check the park's calendar of events. Ranger-led program descriptions include trail surface, presence of stairs and hills, distance, and pace.
Ask a ranger at Boston Mill Visitor Center about borrowing hiking poles to use while hiking in the park. First come, first served.
We have loaner wheelchairs available at Boston Mill Visitor Center and Canal Exploration Center. The phone number to call is posted in the accessible parking spaces. Call and someone will come out with the wheelchair. First come, first served.
The Towpath Trail is bike and wheelchair friendly, we have a list of short towpath trail walks available on our website and app.
The Cuyahoga Valley Scenic Railroad has a car with a lift. To request seats in it, call 800-468-4070 ext. 1.
Our Restrooms and Drinking Water page has detailed information and photo galleries designed to help wheelchair users and others know what to expect at each location.
All children can earn a badge using the park's Junior Ranger Handbook or Junior Ranger, Jr. Activity Cards.
Horseshoe Pond has an accessible fishing pier close to the parking lot.
The picnic shelters at Octagon and Ledges are accessible rental facilities. Book them at recreation.gov. For a list of picnic areas with accessible tables click here.
The national park and its partners offer self-guided Canalway Quests. Rhyming clues tell a place's special story. Quests list mobility considerations;several are wheelchair accessible.
Stanford House offers an accessible room for overnight lodging.
E-Bikes
As of October 2019, the park began allowing the use of class 1 and 2 e-bikes where traditional bikes are allowed, except for the mountain bike trails, for all people. Under the new policy, they may be used in pedal mode only, no use of throttle.

In accordance with the Americans with Disabilities Act however, persons with disabilities may use an "Other Power Driven Mobility Device" (OPMD) such as an e-bike.
Persons with disabilities may use e-bikes rated at 1 horsepower or 750 watts (generally class 1 or 2), or similar OPMDs in areas open to pedestrian use wherever possible.

People with disabilities using OPMD may do so without needing to obtain a permit or otherwise explain the nature of their disability.
Cuyahoga Valley does have a 15 mph speed limit on all bicycle trails with a limit of 5 mph in blind curves and while crossing bridges and boardwalks.
Last updated: September 1, 2023