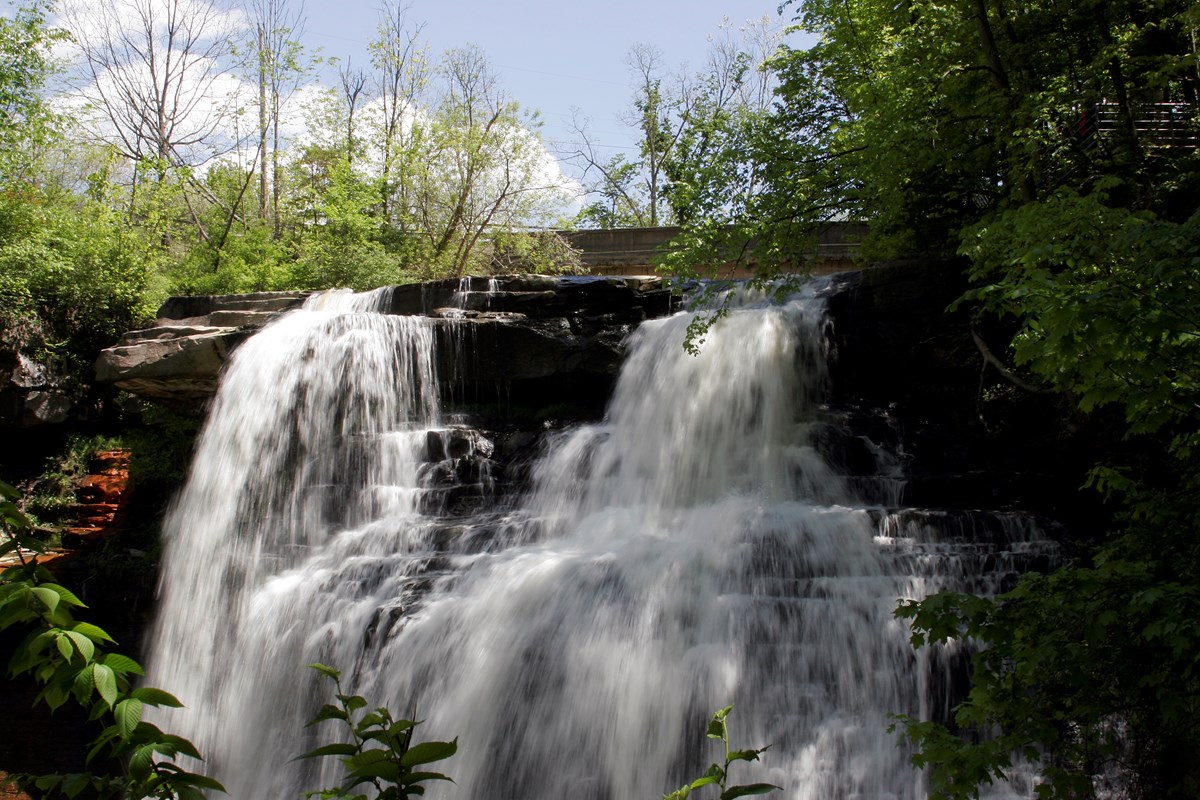 ---
Brandywine Falls is Among the Most Popular Attractions in Cuyahoga Valley National Park
Geological and Natural History
Carved by Brandywine Creek, the 65-foot falls demonstrates classic geological features of waterfalls. A layer of hard rock caps the waterfall, protecting softer layers of rock below. In this case, the top layer is Berea Sandstone. The softer layers include Bedford and Cleveland shales, soft rocks formed from mud found on the sea floor that covered this area 350-400 million years ago. Shale is thinly chunked, giving water a bridal veil appearance as it cascades down the falls.
A combination of boardwalk and steps brings you into the waterfall's gorge and lets you view the waterfall head-on (a boardwalk option without stairs is also available). The boardwalk also provides a close look at Berea Sandstone. Careful inspection will reveal the individual grains of sand that accumulated in a sea 320 million years ago. Berea Sandstone is high quality sandstone found commonly throughout this area, both in nature and as a construction material used in buildings and canal locks.
The moistness of the gorge is evident as you walk along boardwalk. The moisture invites moss to grow on the sandstone and eastern hemlocks, a type of evergreen tree, to grow along the gorge. The hemlocks contrast with the abundant red maple trees in the area, which flame with color in the fall.
Cultural History
Early settlers in the valley saw the falls, not just as an object of beauty, but as something to be used for its water power. In 1814, George Wallace built a saw mill at the top of the falls. Grist and woolen mills followed. The Village of Brandywine grew around the mills and became one of the earliest communities to emerge in the Cuyahoga Valley. Much of the village is now mostly gone, lost to the construction of nearby Interstate 271. However, the James Wallace house, built by George's son, remains and is a bed & breakfast, the Inn at Brandywine Falls.
Hiking the Trail
The 1.5-mile Brandywine Gorge Trail lets you explore beyond the waterfall. It starts near the bed & breakfast and follows the edge of the gorge, eventually taking you down to creek level. The trail is worth revisiting in the spring to view vernal pools that temporarily fill with water, attracting breeding salamanders. The views of the creek and the layers of rock it has exposed are also worth the walk.

To avoid limited parking we also recommend hiking from Stanford House to Brandywine Falls. This trail is 3.8 miles through the woods with plenty of wildflowers and scenery. Take this hike to view Brandywine Falls and return back to Stanford House.