Ohio & Erie Canal Towpath Trail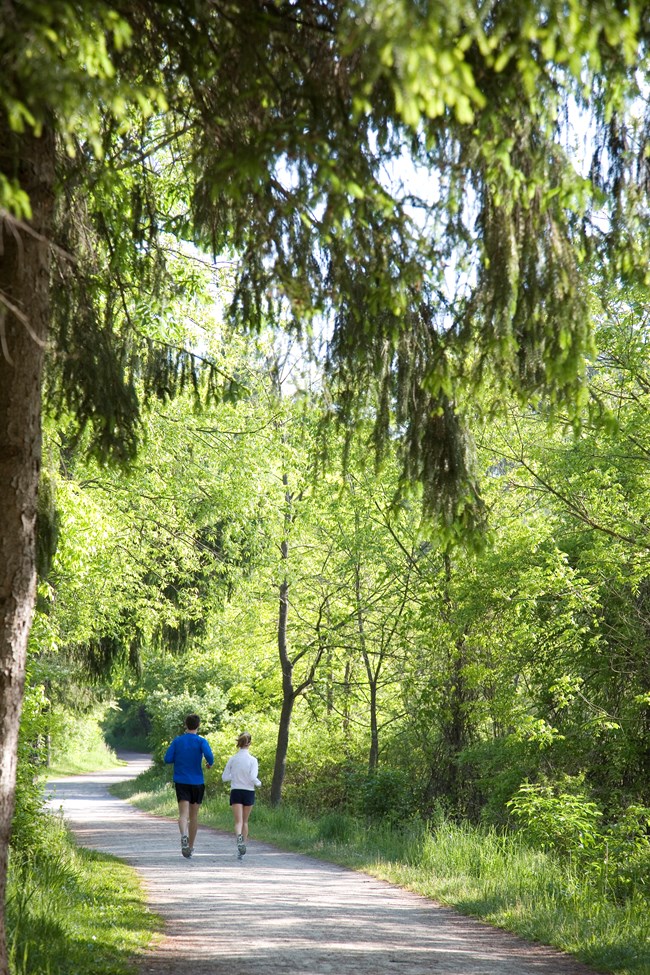 The trail is open 24 hours
Multiple access points
Wheelchair, bike, and stroller accessible
Level compacted gravel surface
Please note: If you planning a multi-day Towpath Trail ride, please contact our Communications Center at 440-546-5945 to inform staff where you parked your vehicle. This will ensure our law enforcement rangers do not tag your vehicle as "abandoned".
To check for potential towpath trail closures visit our Alerts page.
History of the Ohio & Erie Towpath Trail
The Towpath Trail follows the historic route of the Ohio & Erie Canal. Before the canal was built, Ohio was a sparsely settled wilderness where travel was difficult and getting crops to market was nearly impossible. The canal, built between 1825 and 1832, provided a successful transportation route from Cleveland, on Lake Erie, to Portsmouth, on the Ohio River. The canal opened up Ohio to the rest of the settled eastern United States. To learn more about the Towpath visit Ohioanderiecanal.com.
Bike and Hike Aboard
Bike or hike the Towpath Trail in one direction and hop on the train on your way back! The train can be flagged down at boarding stations by waving both arms over your head. Please arrive 10 minutes prior to the train's scheduled arrival, you can pay your fare when you board. For more information visit cvsr.org.
Safety on the Towpath Trail
The Towpath Trail is a shared recreational trail. This means it is open to walkers, joggers, and bicyclists, and in some sections, horse riders. To ensure an enjoyable trail experience for all users, please observe some basic trail courtesy.
Travel at a safe speed and keep to the right except to pass others.
Bicyclists yield to ALL users.
Don't risk a head injury. Always wear a helmet when cycling.
EVERYONE yields to horses. Horses can be startled by sudden movements, so use caution. Make sure the rider knows in advance that you are passing.
Give a clear warning before passing on the left.
Travel single file when passing and being passed.
Pets must be kept on a leash; please use a short leash and keep pets on the right side of the trail.
Please avoid walking in cross country ski tracks.
Move off the trail when stopped.
Learn More About the Ohio & Erie Canalway
The Ohio & Erie Canalway celebrates the 19th-century Ohio & Erie Canal and its legacy, as well as offers a place to experience trails, trains, scenic byways, canal towns, and more.
The Ohio Canal Corridor is a public interest group working on the formation of the Ohio and Erie Canal Corridor as a National Heritage Corridor, an affiliated unit of the National Park System.
Last updated: March 22, 2019