Ohio & Erie Canal Towpath Trail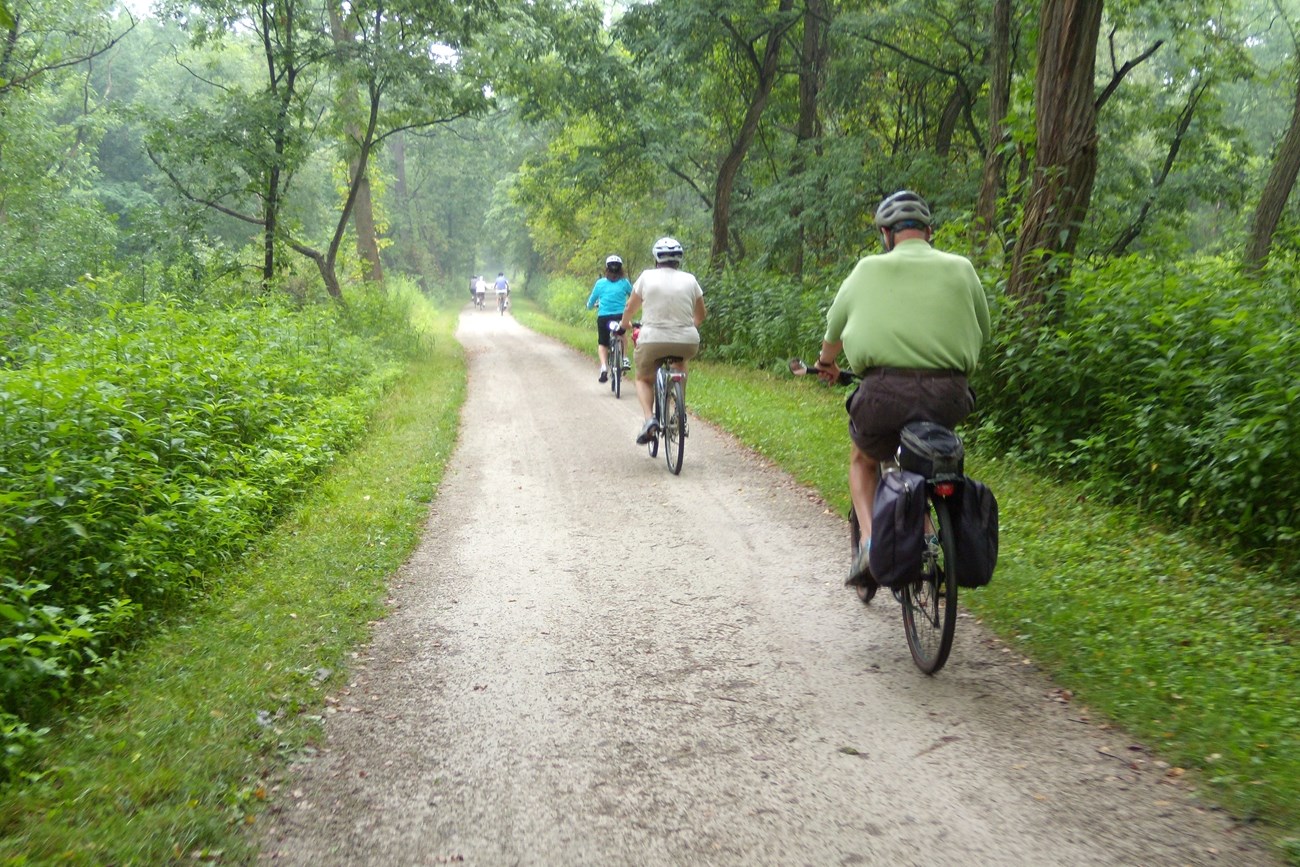 Discover the heart of Cuyahoga Valley National Park by bicycling, running, or strolling on the Towpath Trail. Here you can travel the historic route of the Ohio & Erie Canal on the same path that mules walked to tow canal boats loaded with goods and passengers. From the trail, you can make connections to many natural and historic sites, as well as to Cuyahoga Valley Scenic Railroad. Beyond the park, you can continue your journey on the Towpath Trail further along the Ohio & Erie Canalway.
History of the Towpath
The Towpath Trail follows the historic route of the Ohio & Erie Canal. Before the canal was built, Ohio was a sparsely settled wilderness where travel was difficult and getting crops to market was nearly impossible. The canal, built between 1825 and 1832, provided a successful transportation route from Cleveland, on Lake Erie, to Portsmouth, on the Ohio River. The canal opened up Ohio to the rest of the settled eastern United States. To learn more about the Towpath visit Ohio & Erie Canalway.
Bike and Hike Aboard
A ride on Cuyahoga Valley Scenic Railroad is a unique way to experience the national park. The train offers roundtrip excursions as well as a one-way shuttle service for bikers, hikers, and paddlers.The Explorer shuttle program is $5 one-way for bikers/hikers/runners and $10 for single-seater kayaks/$15 for double-seater kayaks. Arrive 10 minutes before departure and flag down the train by waving both arms over your head. Pay when boarding the train. Cash is preferred; exact change is appreciated. Make sure to have trailers detached and all items removed from bikes or kayaks before boarding.
Find detailed trip planning information and purchase tickets on the CVSR website.
For bicycle rentals in and near the park check out Century Cycles.
Safety on the Trail
The Towpath Trail is a shared recreational trail. This means it is open to walkers, joggers, and bicyclists, and in some sections, horse riders. To ensure an enjoyable trail experience for all users, please observe some basic trail courtesy.
Travel at a safe speed and keep to the right except to pass others; the speed limit for bicycles is 15 mph.

Bicyclists yield to ALL users.

Don't risk a head injury. Always wear a helmet when cycling.

EVERYONE yields to horses. Horses can be startled by sudden movements, so use caution. Make sure the rider knows in advance that you are passing.

Give a clear warning before passing on the left.

Travel single file when passing and being passed.

Pets must be kept on a leash; please use a short leash and keep pets on the right side of the trail.

Please avoid walking in cross country ski tracks.

Move off the trail when stopped.
Distance Along the Trail
The following table lists the approximate distance (in miles) between trailheads and other points of interest along the Towpath Trail in the park.
Approximate distance (in miles) between points of interest along the Towpath Trail in the park.

| | Lock 39 | Canal Expl. Ctr. | Frazee | Station Rd. | Red Lock | Boston | Peninsula | Hunt House | Beaver Marsh | Ira | Botzum |
| --- | --- | --- | --- | --- | --- | --- | --- | --- | --- | --- | --- |
| Lock 39 Trailhead | - | 1.8 | 3.6 | 6.3 | 8.8 | 10.7 | 13.1 | 16.4 | 17.5 | 17.8 | 19.8 |
| Canal Exploration Center | 1.8 | - | 1.8 | 4.5 | 7.0 | 8.9 | 11.3 | 14.6 | 15.7 | 16.0 | 18.0 |
| Frazee House | 3.6 | 1.8 | - | 2.7 | 5.2 | 7.1 | 9.5 | 12.8 | 13.9 | 14.2 | 16.2 |
| Station Road Bridge Trailhead | 6.3 | 4.5 | 2.7 | - | 2.5 | 4.4 | 6.8 | 10.1 | 11.2 | 11.5 | 13.5 |
| Red Lock Trailhead | 8.8 | 7.0 | 5.2 | 2.5 | - | 1.9 | 4.3 | 7.6 | 8.7 | 9.0 | 11.0 |
| Boston Trailhead | 10.7 | 8.9 | 7.1 | 4.4 | 1.9 | - | 2.4 | 5.7 | 6.8 | 7.1 | 9.1 |
| Peninsula: Lock 29 Trailhead | 13.1 | 11.3 | 9.5 | 6.8 | 4.3 | 2.4 | - | 3.3 | 4.4 | 4.7 | 6.7 |
| Hunt House | 16.4 | 14.6 | 12.8 | 10.1 | 7.6 | 5.7 | 3.3 | - | 1.1 | 1.4 | 3.4 |
| Beaver Marsh Viewing Area | 17.5 | 15.7 | 13.9 | 11.2 | 8.7 | 6.8 | 4.4 | 1.1 | - | 0.3 | 2.3 |
| Ira Trailhead | 17.8 | 16.0 | 14.2 | 11.5 | 9.0 | 7.1 | 4.7 | 1.4 | 0.3 | - | 2.0 |
| Botzum Trailhead | 19.8 | 18.0 | 16.2 | 13.5 | 11.0 | 9.1 | 6.7 | 3.4 | 2.3 | 2.0 | - |
Last updated: March 16, 2023