School in Everett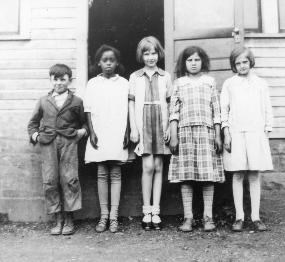 For any child in modern America, the school years define life. But can you imagine having less than ten classmates in your grade? During the 1930s, children in Everett attended a one-room school house, with one teacher teaching eight grade levels. Like most buildings in the village, the schoolhouse lacked electricity, phones, and indoor plumbing. Rain or shine, snow or sleet, students walked up the hill from their homes to their classes. The Everett school later closed and merged with a larger school in Peninsula, and the building became a private residence.
Click to read Helyn Toth's first-hand account of attending school in Everett, as well as her other memories of life in the village.

---
In Their Own Words
Click the topics to hear stories about Cuyahoga Valley life.
One-Room Schoolhouse (57 seconds)
Marjorie Osborne Morgan, who grew up in Everett during the 1930s, describes the Everett schoolhouse and the numbers of students her teacher taught.
Typical School Day (28 seconds)
Helyn Toth, who grew up in what is now Hunt House, talks about a typical school day in the 1930s.
---
Click on the links to discover more:
Last updated: December 10, 2018