Fun in Everett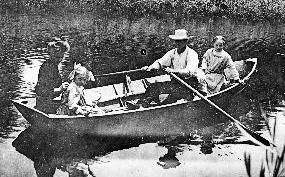 Growing up in the Cuyahoga Valley meant a life spent outdoors, entertaining yourself with what nature had to offer. Everett children enjoyed spending time outside: swimming, fishing, exploring, and collecting wildflowers. On hot days during the summer, Everett neighbors rang a bell to signal all the children to meet and go swimming in the river by the Everett Road Covered Bridge.

---
In Their Own Words
Click the topics to hear stories about Cuyahoga Valley life.
Childhood Fun (32 seconds)
Jan Thomas, who grew up in Everett, talks about her time spent outside, playing and exploring.
Swimming and Walking (25 seconds)
Irene Kusnyer, who grew up on the Szalay Farm in Everett, recalls swimming and taking walks with her friend Helyn Toth.
---
Click on the links to discover more:
Last updated: December 10, 2018