Church in Everett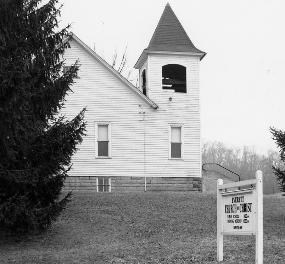 On Sundays, at the conclusion of a long week of planting, harvesting, and selling crops, Everett community members gathered together at the local church. On this day of rest, residents tended to their spiritual needs and shared fellowship with neighbors. After a fire destroyed the original church in 1908, the community found the resources and energy to re-construct the Everett Church of Christ in the same location on Everett Road (renamed The Church in the Valley in the 1990s). The original church was a simple wood-frame building with curved pews and a belfry. Even after reconstruction and additions, visitors to the church today can still see vestiges of the earlier design.

---
In Their Own Words

Click the topics to hear stories about Cuyahoga Valley life.
Click here to read the text file.

Children and Church (38 seconds)
Jan Thomas recalls how, as a child, she looked forward to eventually attending service upstairs with the adults.

Church Construction and Renovation (37 seconds)
Hazel Broughton, former Everett resident, compares the older and newer versions of the church, and describes how church members and architects worked to preserve the structure's historical integrity.
---
Click on the links to discover more:
Last updated: August 28, 2015