Everett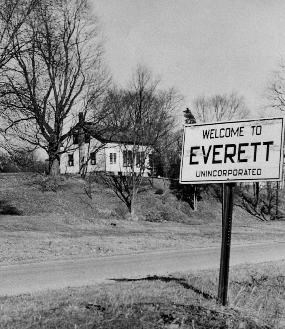 Have you ever lived in a small town where you knew all your neighbors? Nestled deep within the valley, just south of the Village of Peninsula, Everett began as a small 1820s hamlet with less than ten residents. Landowner Alanson Swan owned horses and stables for Ohio & Erie Canal operations, a business that failed by the 1870s as canal traffic declined. In 1880, the Valley Railway connected Everett to outside villages, attracting more residents and visitors.
By century's end, Everett contained about 200 residents who farmed and lived self-sufficiently within the community. Railway passengers who visited Everett in the late 19th and early 20th centuries found a blacksmith, saloon, church, cemetery, dance hall, one-room schoolhouse, and Carter's General Store. The surrounding woods and wildflowers, vegetable gardens, shrubbery, and decorative flower beds added to the picturesque village scenery.
Click the links to the left to learn more about the close-knit Everett community during the early 20th century.
In the late 20th century, the National Park Service bought many properties in Everett as part of the establishment of Cuyahoga Valley National Park. Decades later, former residents still express sadness over the loss of their family homes and sense of community.
Click on the links to discover more:
Last updated: December 5, 2021