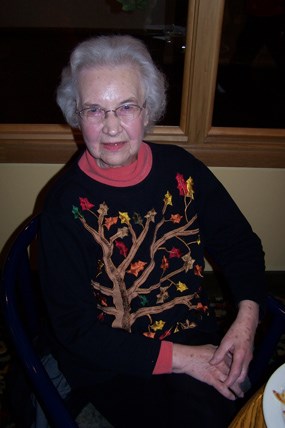 Who Is Helyn Fiedler Toth?
Helyn Fiedler was born in the Cuyahoga Valley in 1920. She grew up on her family's farm on Bolanz Road in the village of Everett, Ohio. Today the house is owned by the National Park Service and operated as Hunt Farm Visitor Information Center. Helyn's mother and grandmother were also born in Everett, at the nearby property that is now called Goatfeathers Point Farm. Her great-grandfather Nathaniel Point (1826-1902) was one of the first pioneers to settle in the Cuyahoga Valley. Helyn left Everett in 1942 when she married Ernie Toth and moved to Cleveland.
---
In Her Own Words
Helyn Fiedler Toth worked with Winnetta Kennedy, a national park volunteer, to record her childhood memories. Helyn recalls many interesting details of daily life in the 1920s and 1930s, including the effects of changing technology and
the Great Depression on her community.