Local Businesses in Everett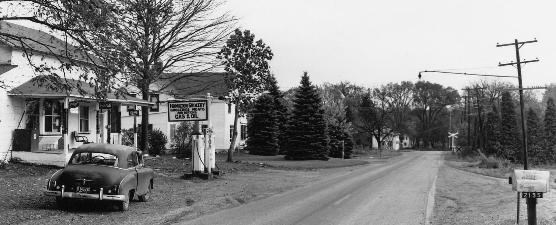 Local residents did not have to go far to meet their basic needs. Known as a "crossroads settlement," Everett's historic district is located around the intersection of Riverview and Everett roads. During the 1920s, Everett contained a post office, general store, school, church, cemetery, railroad station, and gasoline station. The gasoline station, located at Carter's General Store, may have been the first in the area. It was perhaps a harbinger of Everett's demise as cars and improved roads brought changes to rural life.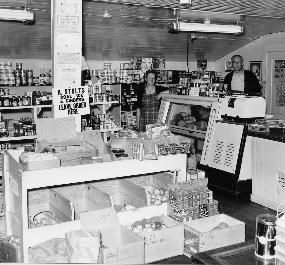 Valley Railway
In 1880, the Valley Railway established a depot near the crossroads and gave the community the name Everett, after the company's secretary-treasurer. With the establishment of rail transportation came Everett's first post office. The train provided the chief link with the outside world by bringing in mail and shipping out farm produce.
Carter's General Store
During the 1920s and 30s, Maude Carter owned Carter's General Store on Everett Road, selling mostly canned and boxed goods and gasoline. The store also had some meats and fresh produce. Bruce and Bertie Hamilton owned the business from 1944 to 1967, providing postal service from 1948 until 1953 (when service moved to Peninsula).

---
In Their Own Words

Click the topics to hear stories about Cuyahoga Valley life.
Click here to read the text file
.
Penny Candy (36 seconds)
Mudboats (29 seconds)
Marjorie Osborne Morgan, who grew up in Everett, remembers buying penny candy from the Carter's General Store during the 1930s. She also describes how her family used mudboats, a type of skid, to transport goods to and from Everett's stores.
---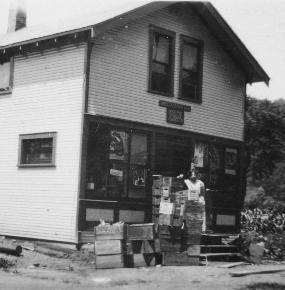 Kepner's Store
Miss Frank Ivel Kepner built her general store on the intersection's northwest corner sometime after 1920. She served as the community's postmistress from 1917 to 1948. The building is no longer standing, destroyed by fire in 1969.
Sager Gas Station and Confectionary
During the 1930s, the Sager Family ran a gas station and confectionary store on the intersection's southwest corner. As more people used automobiles, Everett became somewhat less isolated. In 1935, the railway depot was dismantled and the road leading to Akron was hard-surfaced, making driving easier.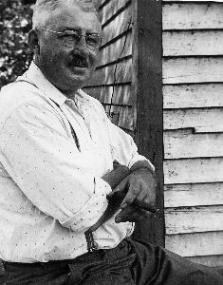 Szalay Farm Stand

Since 1931, the Szalay family has sold sweet corn to local residents and visitors at their farm stand on Riverview Road at Bolanz Road. "Big Jim" Szalay purchased 67 acres in Everett, taking advantage of the damp valley soil and of potential customers commuting between Akron and Cleveland. Today, Szalay's Sweet Corn Farm is a local attraction and its roadside market has expanded to sell diverse products.
Click on the links to discover more:
Last updated: May 13, 2020