Work With Us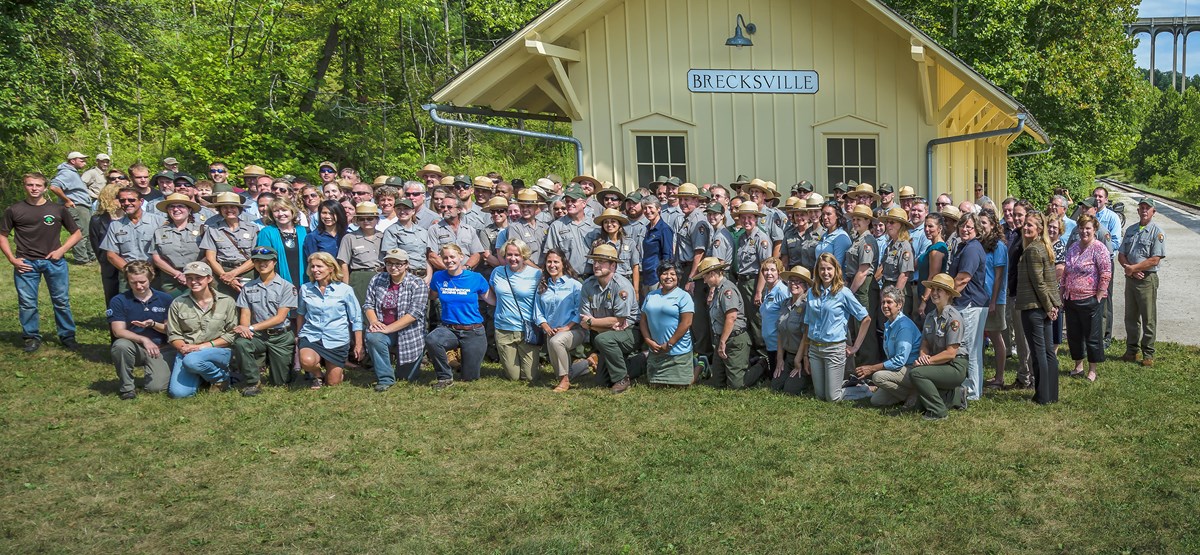 Visit any national park destination. Is there a parking lot? A trail? A restroom? Has a grassy area been mowed? Are there lights? Drinking water? Is there an informational sign? Someone to greet the public?

Wherever you look, you might notice the work of National Park Service (NPS) staff, volunteers, and partners. These prople have diverse roles and perform a wide variety of tasks. Some of their work is highly visible out in the park, while other accomplishments may be harder to recognize. Maybe they remove invasive plants and replace them with native species. Maybe they test the drinking water to ensure it's safe to consume. Perhaps they answer and relay radio calls in the Communications Center. Or maybe they remove hazardous trees leaning toward trails or buildings. Parks need a mix of employees, volunteers, and partners to make them great.
Rangers in Various Roles
The National Park Service operates in more than 400 special places across the country. We work in every state and even territories such as Guam, Puerto Rico, and the Virgin Islands.

We refer to park staff as "rangers." However, they hold dozens of different job titles and complete an array of projects and duties each season. Explore the following articles to learn about the types of work that rangers do.
More Than Park Staff
In addition to the staff who wear the "green and gray," parks get lots of help from volunteers, partners, cooperating associations, and concessionaires. Without their help, the National Park Service could not offer as many programs or serve as many visitors as we do. Learn more about some of Cuyahoga Valley's partners and volunteer opportunities.
Current Job Opportunities
Stewards VISTA: NEEF
We have a year long, full time position open with AmeriCorps Vista. The goal of this program is to increase standards-based STEM literacy in local urban students through tree planting and soil monitoring in Cuyahoga Valley National Park (CUVA) while helping develop a scientifically robust and replicable community science monitoring project.
Duties
Develop and implement programming for NPS-21stCCLC Grant Program and other Cuyahoga Valley National Park programs.
Work with staff in the preparation and submission of grant proposals to secure future funding to continue program beyond the initial grant as needed.
Work to obtain in-kind program support.
Work on digital community engagement efforts to keep community members informed on program activities and accomplishments.
Development(s) with project partners and the local community.
Serve as liaison with NPS unit while conducting outreach to 21st CCLC programs and local K-12 schools and student groups (after-school programs, out-of-school programs, clubs, etc.).
Gather ideas and opportunities for growth.
Track Performance Measures and submit quarterly and final progress reports inclusive of qualitative and quantitative data for all areas of work.
Accepting applications now until September 30, 2022, announcement may close earlier if the position is filled.
Last updated: August 15, 2022