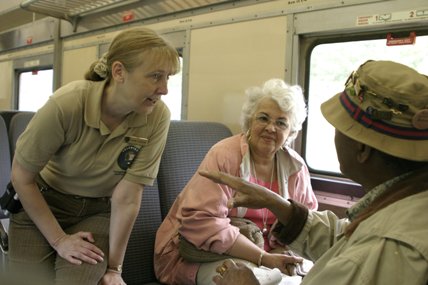 Building a Community of Park Stewards
Make a vital contribution to Cuyahoga Valley National Park (CVNP) and our community! You can help the park fulfill its mission to provide visitor enjoyment and preserve resources. The mission of CVNP's Volunteers-in-Parks Program is to engage people in the park, building a community of park stewards. The volunteer program is co-managed by the National Park Service and the Conservancy for Cuyahoga Valley National Park. Depending on the volunteer position, volunteers will work with staff from National Park Service, the Conservancy for CVNP, Countryside Conservancy, and Cuyahoga Valley Scenic Railroad.

Find a Rewarding Volunteer Opportunity
Find out how to volunteer on a Day of Service, drop-in event, seasonal or ongoing volunteer position, or for a special event like Alternative Spring Break Weekend.
View all of CVNP's current volunteer opportunities.
Apply for an Internship
Internships are a great way to gain practical experience and apply classroom learning.
Apply for the current internship positions.

Corporate Volunteerism
Volunteering with your company or organization is a great opportunity for community engagement and team building.
Find project ideas, "green" retreat experience, and the application.
Youth Volunteerism
Projects for schools, youth groups, boy scouts, girl scouts, eagles scouts, and gold awards are available and needed at CVNP.
Find project ideas and scheduling information.
Training and Enrichment Schedule
Download a copy of the Volunteer Handbook; and view dates for upcoming classes, including the Volunteer Orientation, Enrichment Series, Training in Safety, Training in Interpretation, and Online Training.
View the Training and Enrichment Schedule for more information.

Contact the Volunteer Management Office
Email volunteer@forcvnp.org, call (330) 657-2299, or visit our office at 1571 Boston Mills Road in Peninsula, 44264. Office hours are typically Monday through Friday, 9 a.m. to 5 p.m., but our hours can vary. If possible, call ahead to arrange a time to visit.