Internships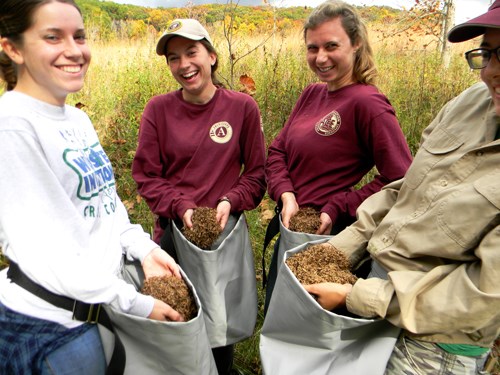 Internships are a great way to gain practical experience; apply classroom learning; explore career options related to outdoor education, park management, recreation, natural and cultural resource management, and non-profit management; gain professional skills and self-confidence; and establish connections and build a network of professional contacts.
---
Current Internships in Cuyahoga Valley National Park
There are a variety of internships available in Cuyahoga Valley National Park. Note: The application process and application form is not the same for all internships.


Public Programs and Visual Arts Assistant
Play a pivotal role in coordinating public programs, art galleries, and other exhibits held in MD Garage positioned in the center of Cuyahoga Valley National Park. Learn More.

Geoscientists-In-The-Parks Natural Resource Management Assistant: GIS
This Geoscientists-in-the-Parks Natural Resource Management Assistant will assist park staff in a variety of natural resource-based projects associated with internal scoping and data collection and management for a comprehensive river management plan (CRMP). The GIP will work across divisions using geospatial data to organize and communicate information related to the planning needs for a CRMP. They will also help park staff prioritize data collection needs, develop protocols and plans for collection, and assist with the management of volunteers to collect data. This position will use new and existing data to work collaboratively with other interns and park staff to develop science communication tools related to the Cuyahoga River and river planning. Learn more.

Thank you for your interest in becoming a CVNP intern. More positions will be posted as they become available. Please continue to check back.


Student Conservation Association & American Conservation Experience:
If you are not finding exactly what you are looking for in an internship at Cuyahoga Valley National Park, take a look at what the Student Conservation Association (SCA) and American Conservation Experience (ACE) has to offer all over the United States. Both non-profits provides individuals ages 18 and older with hands-on conservation service opportunities in virtually every field imaginable, from tracking grizzlies through the Tetons to restoring desert ecosystems and teaching environmental education at Washington, D.C.'s Urban Tree House. If you are looking for High School Programs, for ages 15-19, explore SCA's National Conservation Crews or Community Programs. Field Leader staff positions for those 21 and older are seasonal or year-round. Visit www.thesca.org or www.usaconservation.org for current positions.



For additional information, please contact Volunteer and Internship Coordinator Kevin Gross at kgross@forcvnp.org or 440.717.3847.
---
Last updated: December 9, 2019