Things To Do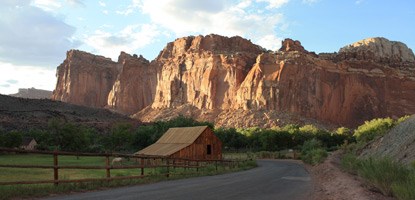 From Spring to Fall, the park offers several ranger programs at no charge. These include talks, evening programs at the campground amphitheater and occasional astronomy programs. Check the visitor center for details.
Hey kids! Learn about the park and earn a badge. Kids of all ages can participate in the park's Junior Ranger program. Booklets are available at the visitor center. Other activities may be available For Kids during the summer season.
The Fruita Schoolhouse is a restored and refurbished historic structure located on Utah Highway 24, 0.8 miles (1.3 km) east of the visitor center.
The Merin-Smith Implement Shed, 0.5 miles (0.8 km) south on the Scenic Drive, offers a recorded message about life in a Mormon pioneer community.
The Gifford House Store and Museum, 1 mile (1.6 km) south on the Scenic Drive, is typical of rural Utah farm-houses of the early 1900s and is open from March 14 (Pi Day) to October 31 (closing date can vary). Handmade sales items are available including daily fresh baked pie!
A picnic area near the visitor center provides tables, fire grills, restrooms, drinking water and shade trees.

Capitol Reef offers a variety of Outdoor Activities, including lots of great hiking trails.
Bicycles are restricted to maintained roads open to vehicular traffic. A handout available at the visitor center identifies and describes recommended routes.
Fishing is permitted in the Fremont River with a valid Utah fishing license.
Our Trip Planner can help you to prepare for your visit.


Last updated: December 18, 2017