Orchards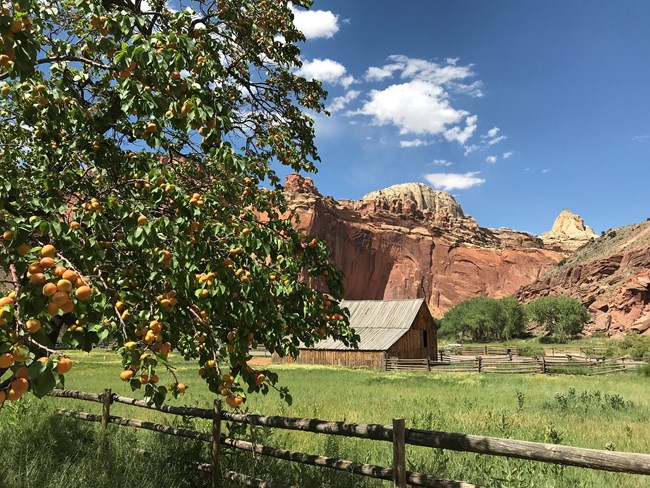 The orchards that lie within a mile or two of the visitor center are evident remnants of the pioneer community of Fruita, settled in 1880. Many varieties of heirloom fruit are found in Capitol Reef's historic orchards.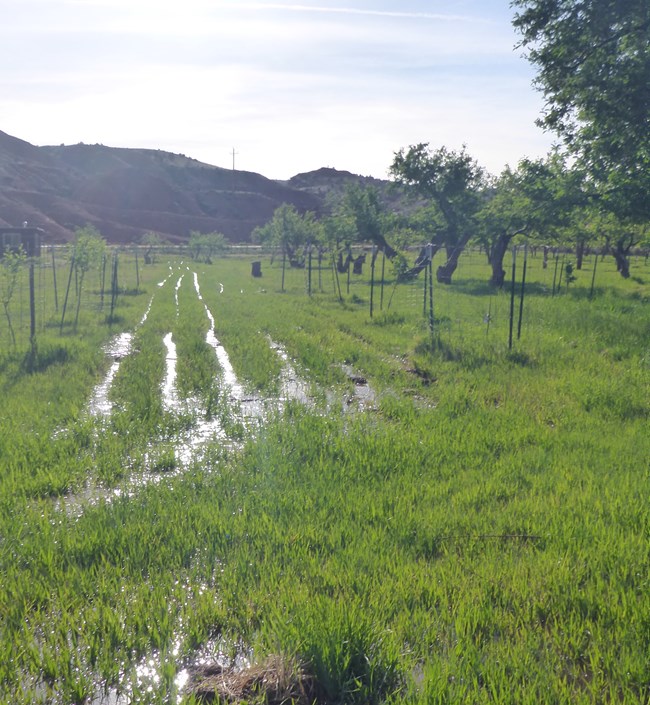 History
Latter-Day Saints pioneers planted thousands of fruit trees in the fertile Fremont River Valley. From the 1880s to 1960s, these trees provided food and income to the families who called Fruita home. Apples, apricots, cherries, peaches, pears, and plums dotted each family's orchards.

Today, the orchards are preserved and protected as part of the Fruita Rural Historic Landscape listed on the National Register of Historic Places. The orchards contain approximately 1,900 trees.
Orchard Management Today
Park staff maintain the historic character of these extensive orchards using heritage techniques. The same flood irrigation ditches pioneers dug in the 1880s water the trees today. Pioneers sometimes lost trees and entire orchards to floods and droughts. Today, the climate poses challenges for managers. Warmer temperatures may cause trees to bloom early or out of sync with pollinators, which could reduce the harvest. The National Park Service maintains the orchards year-round with historic cultural irrigation practices, pruning, mowing, pest management, planting, mapping, and grafting. Preserving healthy orchards remains a central goal for Capitol Reef National Park. For both regional neighbors and international visitors, Fruita will continue to be the "Eden of Wayne County."

Capitol Reef National Park is undergoing a pilot orchard rehabilitation project in the historic Fruita orchards starting in 2021 and continuing until 2025. The project will initiate much-needed orchard re-planting to maintain the quality and character of the area. This initial project will grade, aerate, fertilize, and plant historically appropriate fruit trees on 4.6 acres of the Guy Smith and Cook orchards. Future projects will include similar treatments in the Mott, Merin Smith, and Carrell orchards in the coming decade.

Most of these orchards were planted by Fruita residents from the turn of the 20th century up to the 1950's. Until the 1990's, other Fruita orchards were planted with modern commercial varieties to support a popular U-pick operation at the park. The Fruita area features a prime example of a historic agrarian landscape, including 100 acres of orchards and pastures.

Heirloom fruit trees are generally less resistant to drought and disease compared to contemporary varieties. Since designation, park orchards have lost nearly 1,000 trees due to age, disease, and poor soil conditions. Properly preparing orchard soils will improve furrow irrigation, soil structure and nutrient conditions. This will enable young fruit trees to establish vigorous root systems enhancing survival and longevity.

This project is a 'pilot' because knowledge gained during implementation will be used to inform future orchard replanting projects. This approach will permit staff to incorporate lessons learned during the replanting process and adjust to the vagaries of weather, drought, and pests.

Proposed Timeline:

February-March 2021: Public meetings to present project and solicit input

May 2021: Complete compliance for pilot replanting project; Contract for grading orchards

September 2021: Regrade orchard soils, add 1 inch of composted manure, till soil, re-establish irrigation ditches and furrows, and seed with orchard grass mix

Spring 2022: Initial planting of 200 saplings in Guy Smith orchard

Spring 2023-25: Continue planting up to 100 saplings in each orchard per year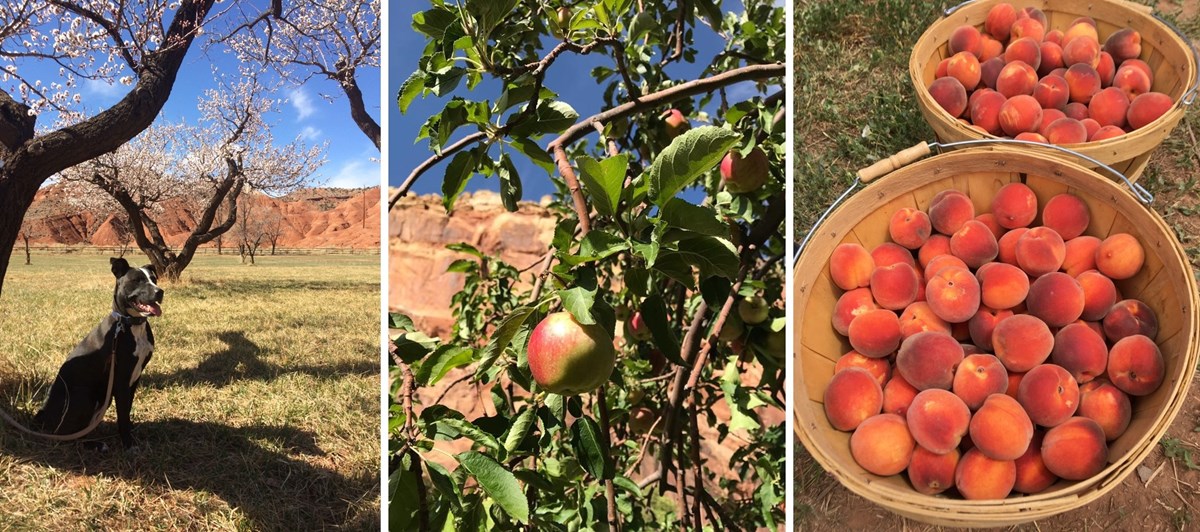 Only harvest ripe fruit from orchards that have "U-Pick Fruit" signs.
Please do not pick unripe fruit. Posted signs will indicate which type of fruit is available for picking. Fruit is ripe if it easily comes off the tree.
Fruit taken from the orchards must be paid for. A self-pay station, scale, and sign listing fruit prices is located near the entrance of orchards open for fruit harvest.
Fenced orchard hours: 9:00 am to 5:00 pm.
Unfenced orchard hours: Dawn to dusk.
Never climb these historic trees. Use provided hand pickers and ladders to reach ripe fruit, and return pickers to weigh station when done.
Never use hammocks or slacklines in the orchards. Never attach anything to the trees. Fruit trees are easily damaged.
Leashed pets are permitted inside the orchards.
Do not touch the objects hanging from branches. Pheromone disruptors and traps for insect control should not be handled.
Your safety is your responsibility.
All money collected from fruit sales supports the preservation of these historic orchards. Non-payment of orchard fees may result in a citation and fine.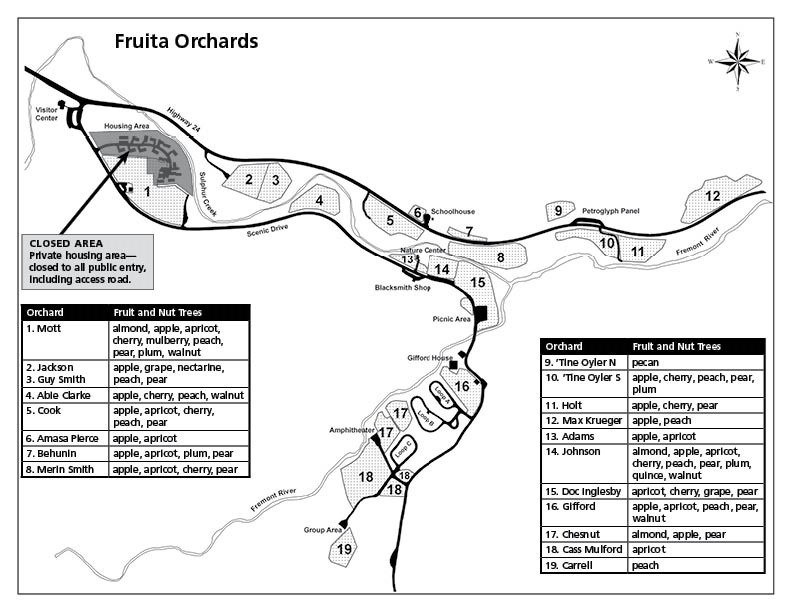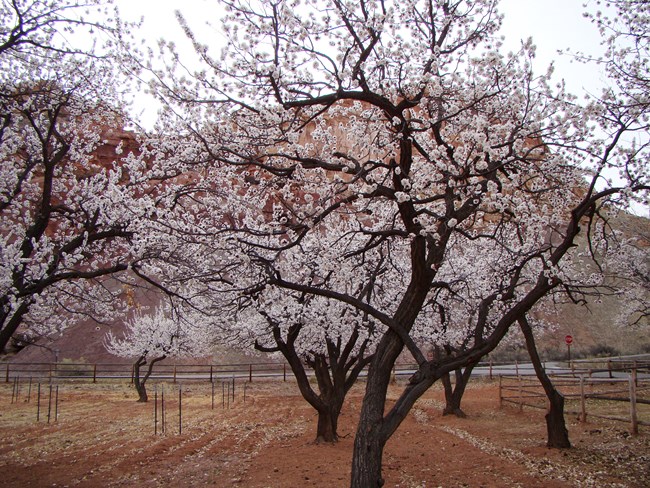 Flowering
Cherries: March 31 - April 19
Apricots (early): February 27 - March 20
Apricots (regular): March 7 - April 13
Peaches: March 26 - April 23
Pears: March 31 - May 3
Apples: April 10 - May 6

Harvest
Cherries: June 11 - July 7
Apricots (early): June 27 - July 22
Apricots (regular): June 28 - July 31
Peaches: August 4 - September 6
Pears: August 7 - September 8
Apples: September 4 - October 17

Depending on how cold (or warm) winters are, blossom and harvest times can vary up to a few weeks earlier or later than the ranges given above. For updated fruit blossom and harvest times, call the park's information line at (435) 425-3791. After the introduction, press #1 for visitor information, and then press #5 for the fruit hotline.

Fruit blossom and harvest times will also be updated on the park's Facebook and Twitter feeds.

A PDF of the Fruita Orchard information can be downloaded and printed, or check out this detailed article on the fruit varieties in the park!

Information on the individual fruit and nut varieties can also be downloaded.
Last updated: June 11, 2021