Fruita Schoolhouse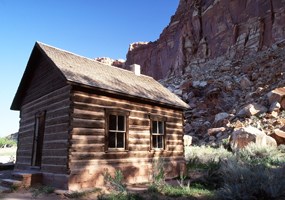 Classes had been conducted for two years before the Fruita Schoolhouse was built, when Elijah Cutler Behunin donated land for a school building in 1896. He and other early Junction settlers constructed the building. Even though only eight families lived in Junction, these farmers had large families. The Behunins raised thirteen children themselves, one of which, Nettie, became the first schoolteacher at age twelve. She taught children in the Behunin home before the schoolhouse was built. Nettie's first class had 22 students, three of whom were her siblings.
Originally, there was a flat, dirt covered roof on the school. A peaked, shingled roof was added in 1912 or 1913. The interior walls, originally bare and chinked logs, were plastered in 1935. The first desks were homemade, constructed of pine, and seated two students each. These were sometimes used to quiet unruly students. The teacher would seat a troublesome boy with a girl, and the resulting blow to his ego would often bring him under control.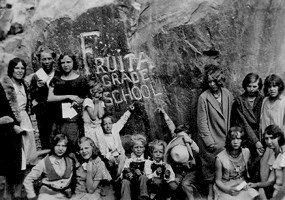 Teachers taught the "three-Rs" to the eight grades at the one-room school. If a teacher felt qualified and had enough textbooks, other subjects such as geography, were added.
Students were full of pranks. To delay the start of class, they often hid the teacher's alarm clock in the woodpile. Lanterns used during night meetings were stored in the school, and a few enterprising students found that dropping a small piece of calcium carbide, taken from a lantern, into an inkwell produced a reaction that would cause the ink to overflow. If the inkwell was tightly capped, it would explode and spatter ink all over the room. The log building also served as a community meeting house and church. Desks were not bolted to the floor, so the room could be cleared for different needs. As late as 1924, the building was also used for dances, town meetings, elections, church youth activities, box suppers, and celebrations.
In 1900, the building was loaned to the Wayne County School District for the first county approved classes. Nettie, then 22, was the first authorized teacher. She was paid $70 a month while her male counterparts received $80 per month. Classes of varying sizes, continued until 1941 when the school was discontinued for lack of students. In 1964, the National Park Service nominated the school to the National Register of Historic Places and subsequently restored the structure to the 1930s period. Today, the school stands in its original location alongside Utah Highway 24. Visitors may peer through the windows into the furnished structure and imagine what school was like, so long ago. Those with a good imagination can still hear that old school bell ring.
Click here for more on Historic Fruita.
Last updated: February 24, 2015