North (Cathedral Valley) District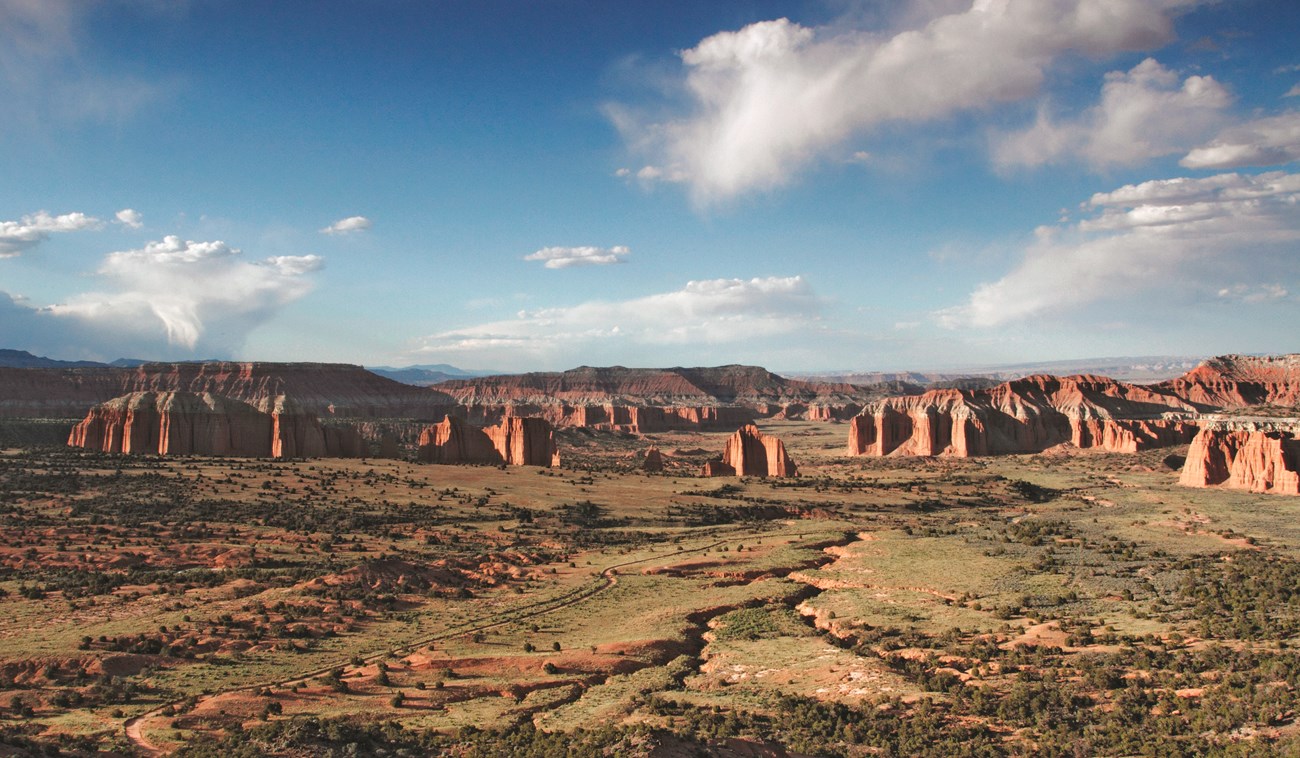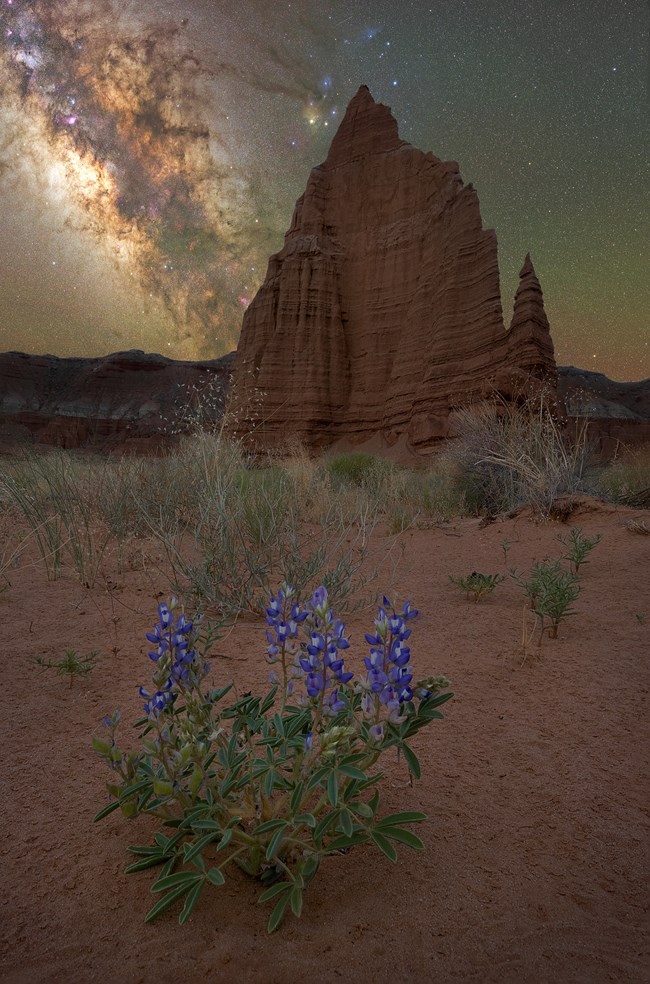 Trip Planning and Safety

The Cathedral Valley District of Capitol Reef National Park is a remote, rugged region. Vehicles with high ground clearance, even those without four-wheel drive, can usually negotiate the roads without difficulty. However, road conditions can vary greatly depending on recent weather conditions. Spring and summer rains and winter snows can leave the roads muddy, washed out, and impassable to the best high-clearance four-wheel drive vehicle, so check at the visitor center, or call 435-425-3791. Press #1 for information, and then #4 for current road conditions. For weather conditions press #3.
Foot and vehicle travel in the Cathedral Valley area is light, so be prepared for the unexpected. If you have problems, help may not arrive for hours or even days, depending on the time of year. Carry plenty of water, food, gas, adequate clothing, a shovel, and emergency supplies. No potable water is available in Cathedral Valley, although there is one primitive campground that has a pit toilet. Cell phone reception is usually poor to nonexistent. Cool or cold temperatures will accompany sudden storms or an unexpected night out in the backcountry. Daytime temperatures in the summer may reach the upper 90s°F (30s °C) and winter highs may stay below freezing, so prepare accordingly. Check this weather forecast specifically for Cathedral Valley.

You are responsible for your own safety. Please leave no trace of your visit.

ATV/UTVs are prohibited in Capitol Reef National Park, including street legal ATV/UTVs.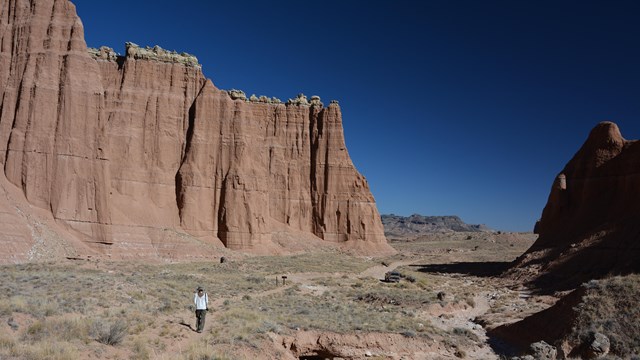 Hiking in Cathedral Valley
Explore Cathedral Valley's hiking trails, in the northern part of the park.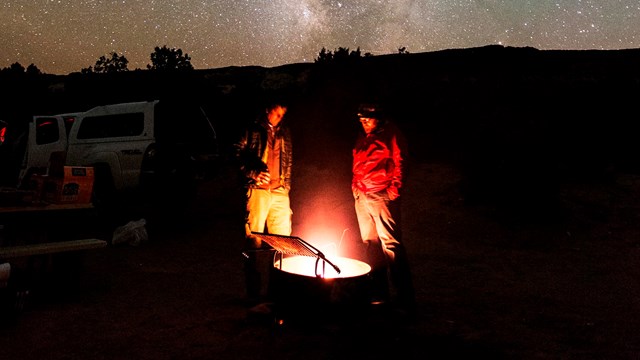 Primitive Campgrounds
Capitol Reef offers two free primitive campgrounds in more remote parts of the park.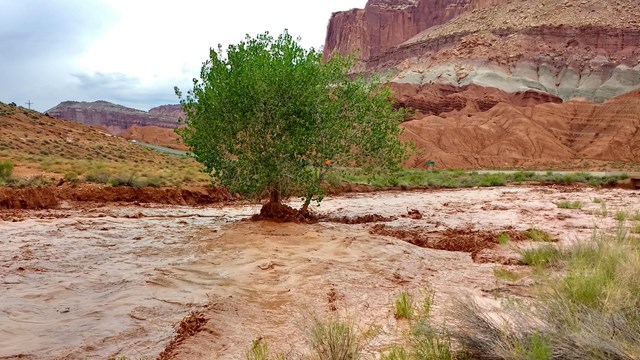 Your Safety
Your safety is your responsibility. Ask about the latest weather conditions at the visitor center.
The Cathedral Valley Driving Loop Tour
This driving loop takes about 6-8 hours to complete. Most visitors to Cathedral Valley drive the 57.6 mile (92.7 km) loop clockwise, beginning on the Hartnet Road located 11.7 miles (18.8 km) east of the visitor center on Highway 24 and continuing on that for 27.8 miles (44.7 km) to Hartnet Junction. Turn right (north) onto Cathedral Road and driving 29.9 miles (48.0 km) back to Highway 24 will complete the loop. There are many side trips and hiking opportunities along the way.
The south end of the Hartnet Road near Highway 24 requires fording the Fremont River; there is no bridge over the river. Do not attempt to cross the river during floods or other periods of high water. Ask at the visitor center about river ford conditions or call 435-425-3791. The ford has a hard packed, rocky bottom and water levels are normally a foot or less deep. The access road to the River Ford crosses private land. Please honor the posted no trespassing signs along the road near the ford by not parking off-road or camping in the vicinity.

The River Ford Map can be downloaded and printed.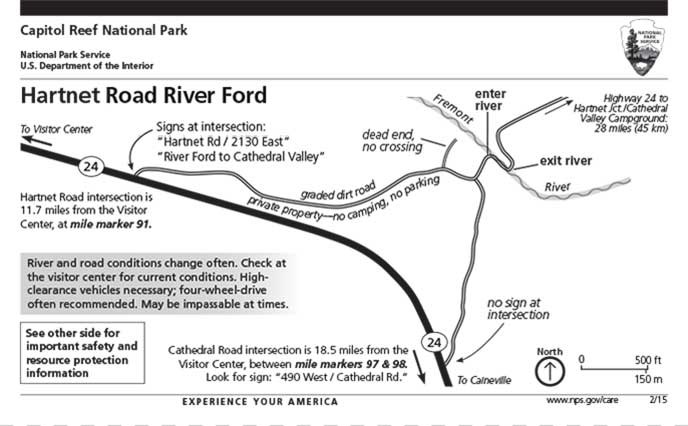 Hartnet Road
The drive from Highway 24 to the junction with Cathedral Road affords expansive views of the Blue Flats and the South Desert. The northern end of the loop nears Thousand Lake Mountain, and the geology and topography change greatly with the subsequent gain in elevation.
Distances from Highway 24 starting on the Hartnet Road (traveling clockwise)
Hwy 24 junction to Lower South Desert Overlook................................................15.2 miles (24.5 km)

Hwy 24 junction to Upper South Desert Overlook................................................27.2 miles (43.7 km)

Hwy 24 junction to Cathedral Road Junction........................................................27.8 miles (44.7 km)

Hwy 24 junction to Cathedral Valley Campground................................................28.1 miles (45.2 km)

Hwy 24 junction back to Hwy 24 via Cathedral Rd...............................................57.6 miles (92.7 km)
Cathedral Road
Massive monoliths, Temple of the Sun and Temple of the Moon, rise from the desert floor along the Cathedral Road. Further north in Upper Cathedral Valley, columns of spire-like formations dominate the landscape.
Distances from Highway 24 starting on the Cathedral Road (traveling counterclockwise)
Hwy 24 junction to Temple of the Moon...............................................................17.1 miles (27.5 km)
Hwy 24 junction to Oil Well Bench Road junction.................................................20.5 miles (33.0 km)
Hwy 24 junction to Gypsum Sinkhole...................................................................25.6 miles (41.1 km)
Hwy 24 junction to Baker Ranch Road junction...................................................24.6 miles (39.6 km)
Hwy 24 junction to Cathedrals trailhead...............................................................27.4 miles (44.1 km)
Hwy 24 junction to Morrell Cabin trailhead...........................................................28.1 miles (45.2 km)
Hwy 24 junction to Hartnet Junction.....................................................................29.9 miles (48.0 km)
Hwy 24 junction back to Hwy 24 via Hartnet Rd..................................................57.6 miles (92.7 miles)
---
Polk Creek Road
This scenic route through Fishlake National Forest is noted for its panoramic views of the surrounding desert country. The unpaved road climbs steeply through ponderosa and aspen forests, from 6,800 feet (2,073 m) at Hartnet Junction to 9,500 feet (2,896 m) on Thousand Lake Mountain, then drops to 7,000 feet (2,134 m) at Highway 72. The mountain road is normally open from mid-June to late October. The road is closed during the winter and spring due to deep snow and muddy conditions.
Distances from Hartnet Junction:
0.8 mile (1.3 km) to the USFS boundary
7 miles (11.3 km) Polk Creek and Elkhorn junction
12 miles (19.3 km) Hwy 72
19 miles (30.6 km) Fremont
24 miles (38.6 km) Hwy 24 at Loa
---
Baker Ranch Road to I-70
This graveled, dirt road crosses an extensive expanse of open, level terrain with views of colorful sculpted cliffs and canyons. The road provides access to several remote ranches and is open year-round. The road is usually in good shape, but muddy conditions may exist in low areas following storms or as snow melts in the spring.
Distances from the Baker Ranch Road junction:
2 miles (3.2km) North Park Boundary
4 miles (6.4 km) Junction with Oil Well Bench Road
5 miles (8.0 km) Junction with Baker Ranch Road
19 miles (30.6 km) Junction with Mussentuchit Road
27 miles (43.5 km) I-70 at Fremont Junction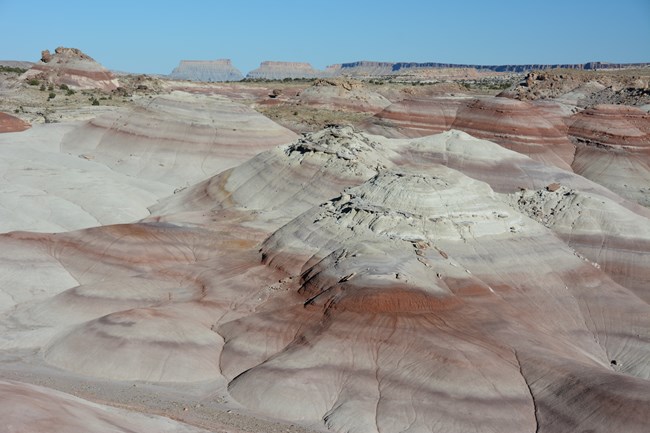 Geology of Cathedral Valley
Cathedral Valley presents another chapter in the story of Capitol Reef's geology. The geologic layers and eroded features here are different than those seen in other sections of the Waterpocket Fold. Cathedral Valley was named in 1945 by Frank Beckwith and Charles Kelly, the first superintendent of Capitol Reef. The upward-sweeping, tapering lines, and three dimensional surfaces reminded the men of Gothic and Egyptian architecture.
Bentonite Hills
The Bentonite Hills among the Hartnet Road and the Painted Desert on the Cathedral (also known as the Caineville Wash) Road appear as softly-contoured, banded hills in varying hues of brown, red, purple, gray, and green.

The hills are composed of the Brushy Basin shale member of the Morrison Formation. This layer was formed during Jurassic times when mud, silt, fine sand, and volcanic ash were deposited in swamps and lakes. Bentonite clay (altered volcanic ash) absorbs water and becomes very slick and gummy when wet, making vehicle or foot travel difficult or impossible.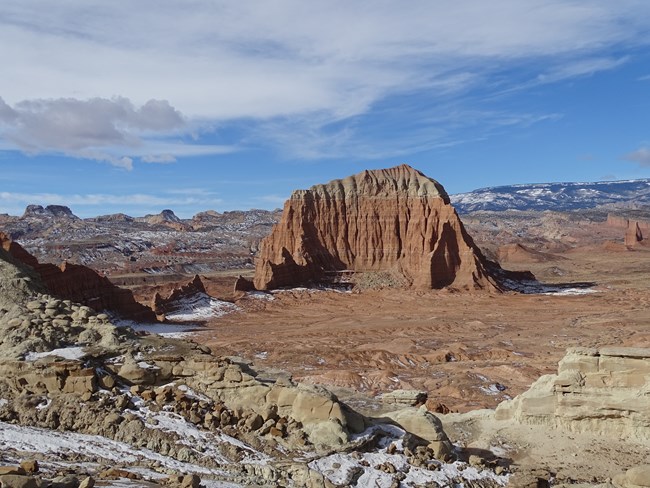 South Desert
South Desert is a long, narrow valley that runs parallel to the strike of the Waterpocket Fold monocline. The valley extends 20 miles (32.2 km) from the Upper South Desert Overlook southeast to Hwy 24. From Lower South Desert Overlook (located midway through the valley) viewers can see rock layers ranging from the gray, ledgy Morrison atop the cliffs to the east to the white Navajo Sandstone slickrock and domes high on top of the Fold. In the near distance, Jailhouse Rock, composed of Entrada Sandstone, rises 500 feet (152 m) from the valley floor.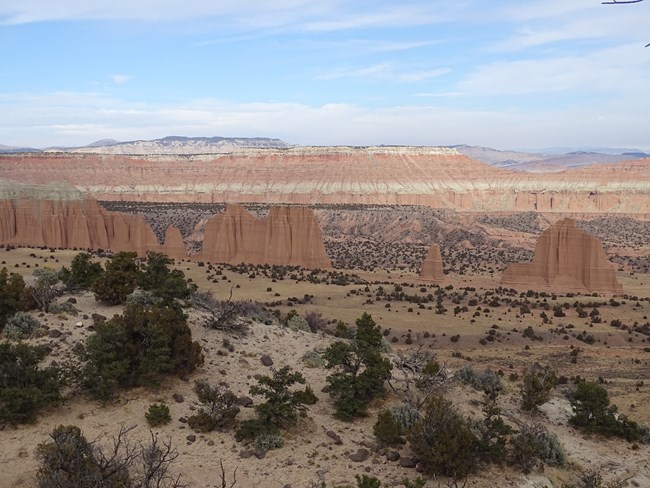 Upper and Lower Cathedral Valley
Upper and Lower Cathedral Valley offer exquisite views of sculptured monoliths with intriguing names such as the Walls of Jericho and the Temples of the Sun, Moon, and Stars. The monoliths are composed of the earthy, buff-pink Entrada Sandstone. Deposited 160 million years ago in the Jurassic period, this fine- grained sandstone formed by the deposition of sand and silt in tidal flats. It crumbles easily to a fine sand which is rapidly removed by water; therefore, talus (debris) slopes do not form and Entrada cliffs tend to rise sheer from their base. Above the Entrada, the grayish-green sandstone and siltstone of the Curtis Sandstone forms a hard cap rock on some of the monoliths and higher cliffs and buttes, protecting them from erosion. Above the Curtis is the thinly-bedded, reddish-brown siltstone of the Summerville Formation.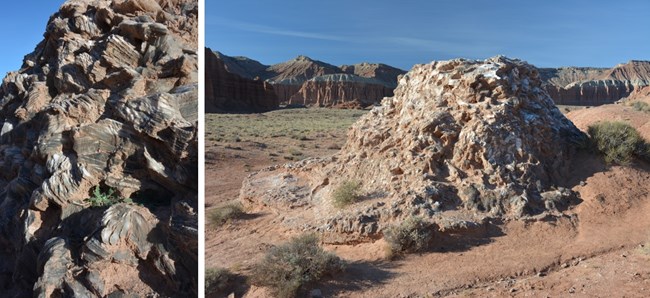 Glass Mountain
Glass Mountain is a large, exposed mound of selenite crystals. Selenite is a variety of gypsum (CaSO4•2H2O) in the form of glassy crystals. Gypsum is a common mineral found in the sedimentary rocks of this area. The crystals of glass mountain are somewhat unusual in size and in the massiveness of the deposit. Glass Mountain formed as a result of groundwater flowing through the Entrada Sandstone. This water carried dissolved gypsum, which started to crystallize, forming what has been called a "gypsum plug." This plug is now being exposed as the soft Entrada Sandstone erodes away. As you visit Glass Mountain, please remember that collecting of any kind is prohibited in all national parks.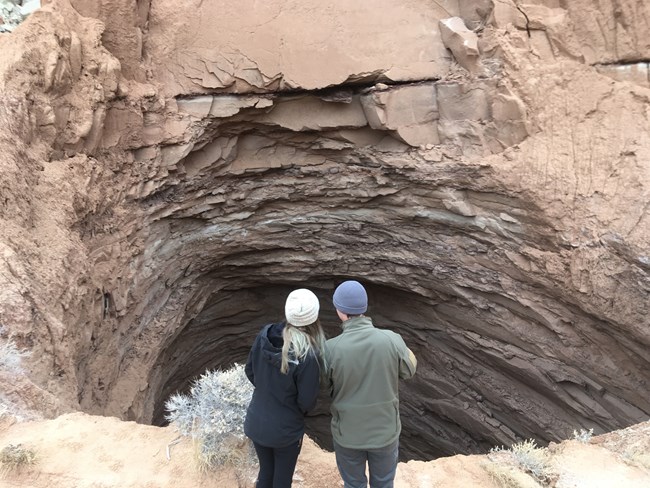 Gypsum Sinkhole
The Gypsum Sinkhole is an occurrence formed by the reverse of the process that created Glass Mountain. Here groundwater is dissolving a buried gypsum plug. The cavity left behind has collapsed under the weight of overlying rock layers. This collapse has created a large sinkhole nearly 50 feet (15 m) in diameter and 200 feet (61 m) deep.
Stay away from the edge of the Gypsum Sinkhole. The rocks here are very soft and unstable, and can collapse at any time.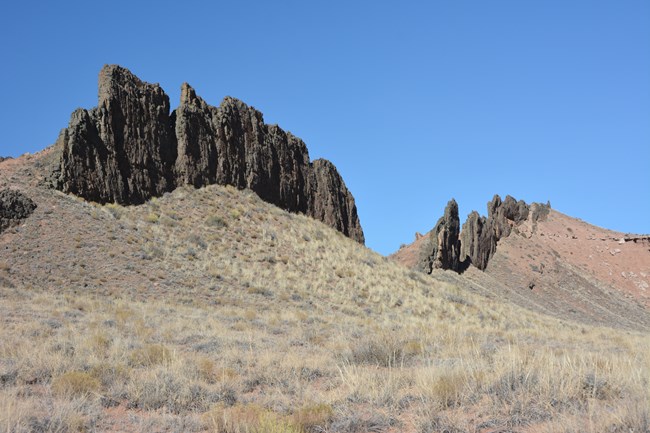 Volcanic Dikes and Basalt Boulders
The dikes and sills seen in Cathedral Valley formed as recently as 3-6 million years ago. Dikes and sills are the result of molten lava flowing into vertical joints (dikes) or between horizontal layers of sedimentary rocks (sills), then solidifying. More resistant to erosion than the surrounding layers, the lava rock outcrops provide a stark and rugged contrast, forming jagged ridges and pointed outcrops.

Black basalt boulders strewn across the landscape are remnants of lava flows that capped Boulder and Thousand Lake Mountains about 20 million years ago. Short glacial periods on these peaks broke up the underlying basalt. Glacial outwash and mudslides, along with the natural process of erosion, helped move the boulders far from their original location.
Last updated: February 22, 2023