Farmville, Virginia
One of the few public high schools available to African Americans in the state was Robert Russa Moton High School in Prince Edward County. Built in 1943, it was never large enough to accommodate its student population. Eventually, hastily constructed tar-paper-covered buildings were added as classrooms. The gross inadequacies of these classrooms sparked a student strike in 1951. Organized by sixteen-year-old Barbara Johns, the students initially sought to acquire a new building with indoor plumbing. The NAACP soon joined their struggles and challenged the inferior quality of their school facilities in court. Although the U.S. District Court ordered that the plaintiffs be provided with equal school facilities, they were denied access to the white schools in their area. This class action case was named for Dorothy Davis.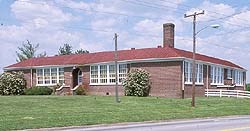 National Historic Landmark designation
On August 31, 1998, Robert Russa Moton High School achieved National Historic Landmark designation for its significance to the Brown v. Board of Education U.S. Supreme Court case.
Additional information about Robert Russa Moton High School.
African American Experience Fund
The mission of the African American Experience Fund of the National Park Foundation is to preserve African American history by supporting education programs in National Parks that celebrate African American history and culture. There are 26 National Parks identified by the African American Experience Fund:
Last updated: May 24, 2023