Backcountry Camping
A Primitive Camping Experience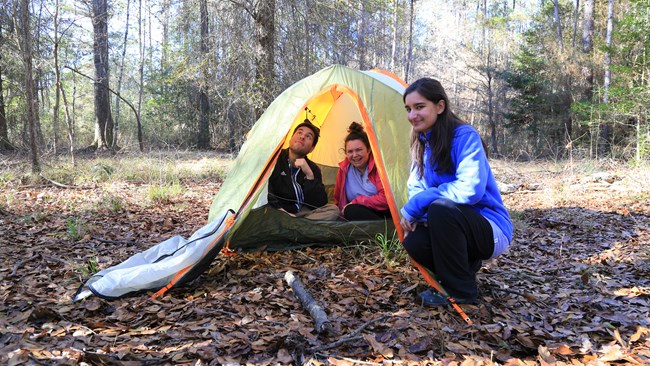 Whether you want to hike or paddle, Big Thicket National Preserve offers primitive, backcountry camping throughout much of the park's lands and waterways.

What does "primitive" camping mean? There are no developed campgrounds or designated campsites in the preserve. You must bring all of your supplies with you and be willing to hike in a minimum of 200 feet from your vehicle. If you're paddling, you'll need to be able to carry all of your camping supplies in your boat.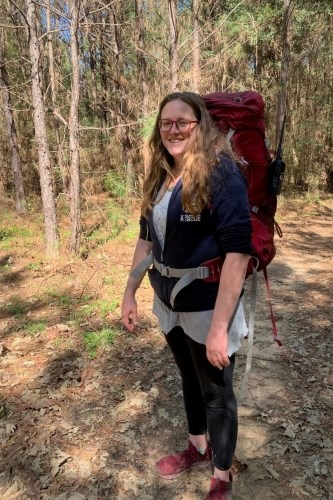 Year-Round
Camp here any time of the year! These areas do not allow hunting:
Spring and Summer Only
Camping between March 1 and September 30? Camp in these areas as well as the year-round ones above.
Restrictions
Camping is prohibited in some areas of the preserve. These include:
Within 350 yards of the Pitcher Plant Trail;

the Kirby Nature Trail and all areas south of the bridge over Village Creek in the Turkey Creek Unit;

the Little Pine Island-Pine Island Bayou Corridor Unit, the Loblolly Unit, the Menard Creek Corridor Unit, and the Hickory Creek Savannah Unit, including the Sundew Trail;
sites posted as Day-Use Areas; and
areas open to hunting during hunting season.
Camping Regulations
Campsites must be at least 200 feet from all roads, trails, and preserve boundaries, and at least 100 feet from water. Campsites on sandbars on the Neches River or Village Creek may be within 25 feet of the water.
Human waste must be buried 6" to 8" deep and at least 50 feet from water and trails. All trash must be packed out.
Pack out all trash. Burying or burning trash is prohibited.
Campfires are allowed, except during established burn bans. Cutting trees or branches is prohibited.
Group size is limited to 8 people.
Motorized vehicles are prohibited on trails. Bicycles are allowed only on the Big Sandy Trail.
Possession of glass containers is prohibited on all waterways and sandbars.
Campfire Safety
A campfire can enhance your camping experience, but if not properly tended and fully extinguished, it can lead to catastrophic and deadly consequences. Please follow these guidelines for campfire safety.
Frequently Asked Questions
Last updated: April 5, 2021