Neches Bottom and Jack Gore Baygall Unit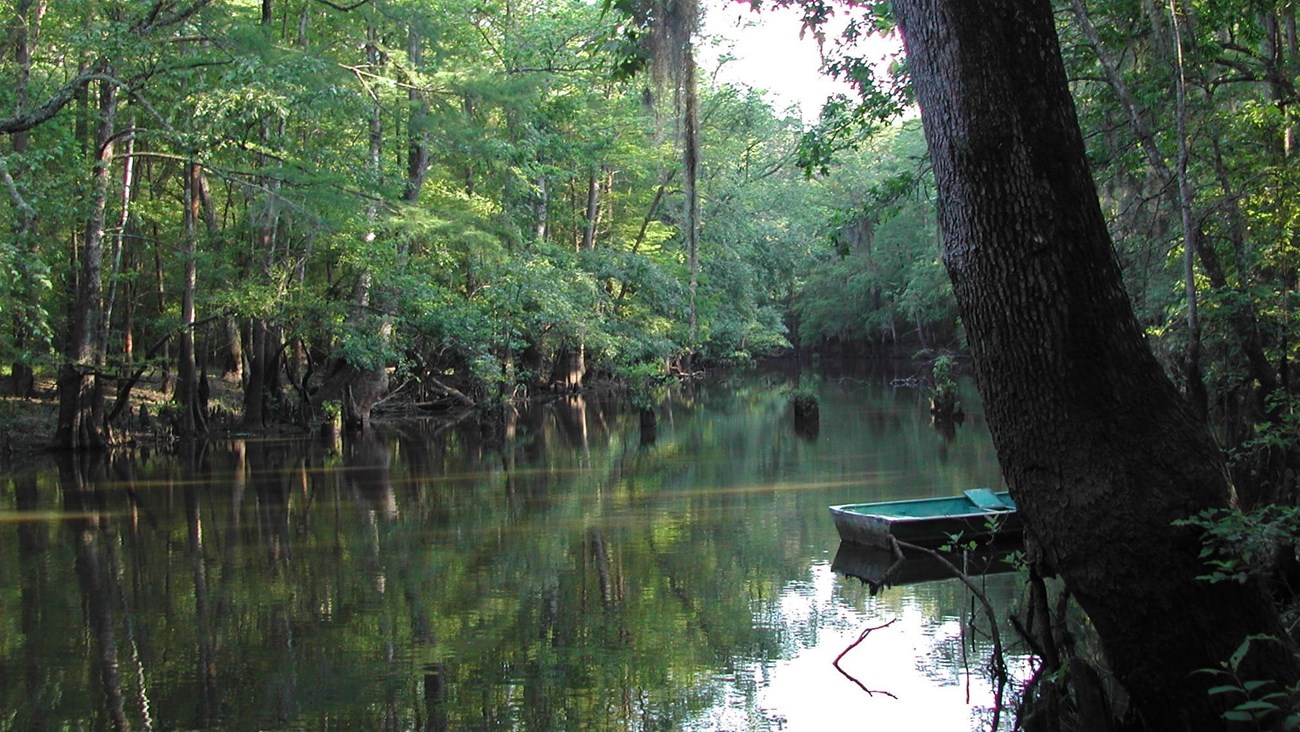 13,735 acres
Hardin and Jasper Counties
Opportunities
Backcountry camping (March-September on land; year-round on Neches River sandbars)
Fishing
Hunting (October-February)
Paddling
Overview
The Neches Bottom and Jack Gore Baygall Unit preserves a large section of the Big Thicket along the Neches River. A jungle-like place, the Jack Gore Baygall is one of the largest known baygalls. This lowland area floods when the Neches River overflows its banks. Hidden in the woods are many oxbow lakes waiting to be explored.

The preparation needed to safely explore this rugged, undeveloped unit is not to be taken lightly. This unit can be difficult for experienced backcountry explorers and locals alike.

There are no facilities or maintained trails here. All hiking in the unit is off-trail. Adventurous hikers enjoy camping in the backcountry in spring and summer. Paddlers can camp year-round on sandbars along the Neches River. Hunting is allowed in the unit in fall and winter. Both camping and hunting require a free permit from the visitor center in Kountze.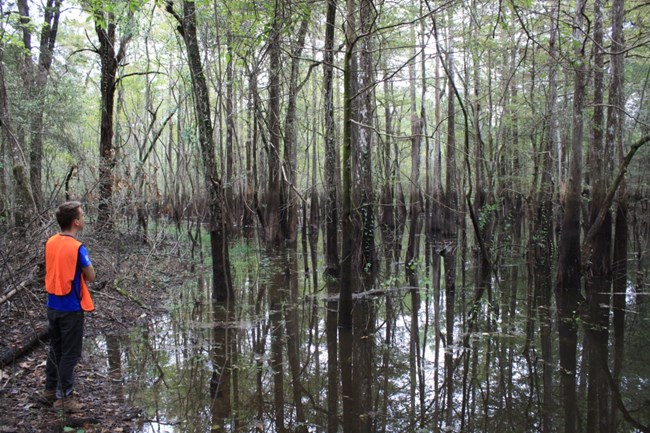 Ecology
The Jack Gore Baygall is one of several baygall plant communities found within this unit. Baygalls usually contain shallow standing water and are home to many water-loving plants, like the sweetbay magnolias and gallberry hollies after which they are named. As plant debris seeps into the standing water, it causes the water to lose oxygen and become more acidic. Bald cypress and swamp tupelo are other common trees found in baygalls.
Trails
There are no established trails in the Neches Bottom and Jack Gore Baygall Unit. Hikers are welcome to explore off-trail. Old, unpaved roads provide opportunities for hiking in the unit. Hikers should be self-reliant and carry a GPS device for off-trail navigation. Use the hunting maps below for more detail.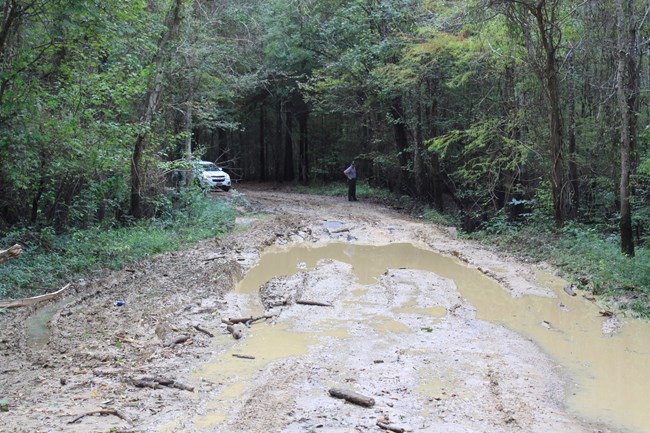 Location
The Neches Bottom and Jack Gore Baygall Unit is north of Silsbee and can be reached from FM 2937 (Old Spurger Highway). Timber Slough Road starts on FM 2937 and passes through the baygall, past oxbow lakes, and ends at the Neches River. Franklin Lake Road starts on Craven Camp Road and leads to Franklin Lake.
Visitors should be prepared for muddy, washed-out roads. Following heavy rains, roads could be impassable. Timber Slough Road is often washed out and muddy.

GPS-enabled devices are essential for traveling in and around the unit; road signs may be missing or not visible.
Lat./Long. Coordinates for Points of Interest:
Franklin Lake

30.471795, -94.115874

Ard Lake

30.498758, -94.119184

Clear Lake

30.496516, -94.114405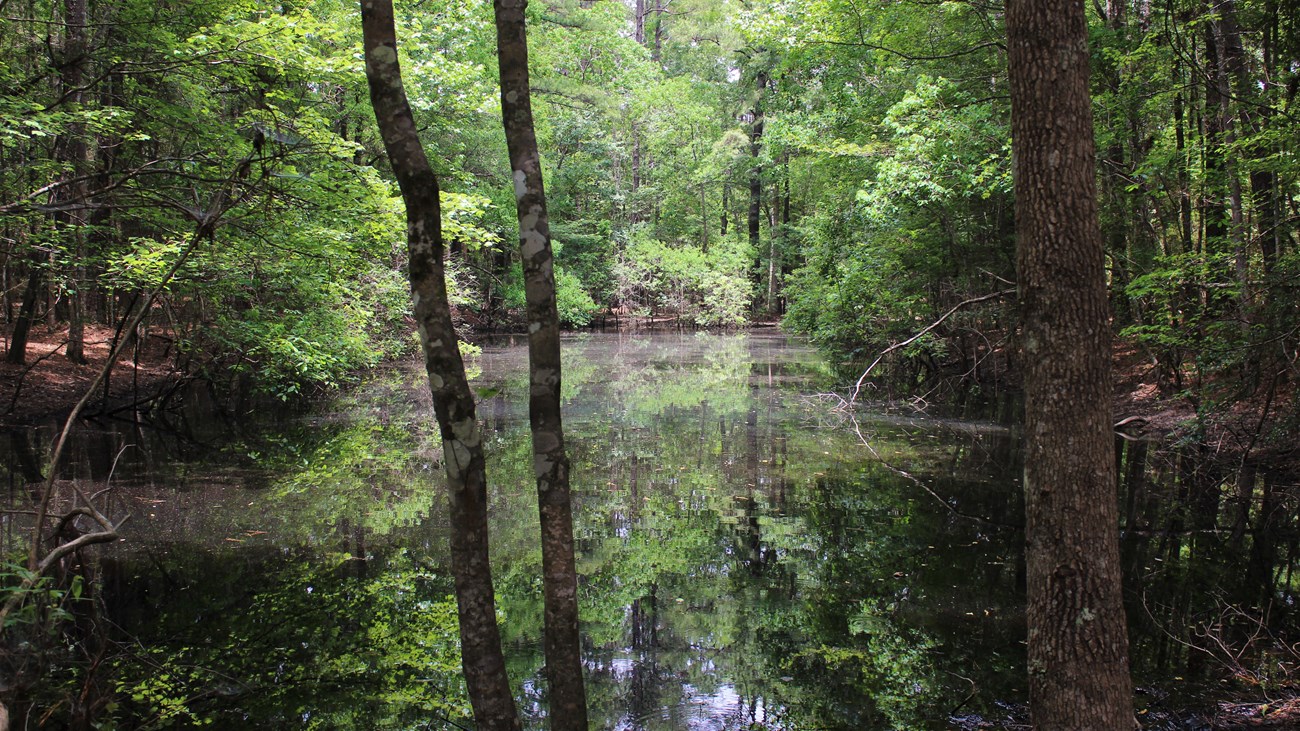 Last updated: August 10, 2022