Paddling
See the Big Thicket by Canoe or Kayak
The many miles of creeks, bayous, and rivers flowing through Big Thicket National Preserve make it an ideal place to explore by canoe and kayak. Numerous access points provide many different trip options for paddlers of all experience levels. Three official Texas Paddling Trails offer clearly-defined routes to explore and experience the beauty and diversity of the Big Thicket. Paddle on your own or join a free ranger-led paddle trip!

Always wear a life jacket—also known as a personal flotation device (PFD)—when paddling.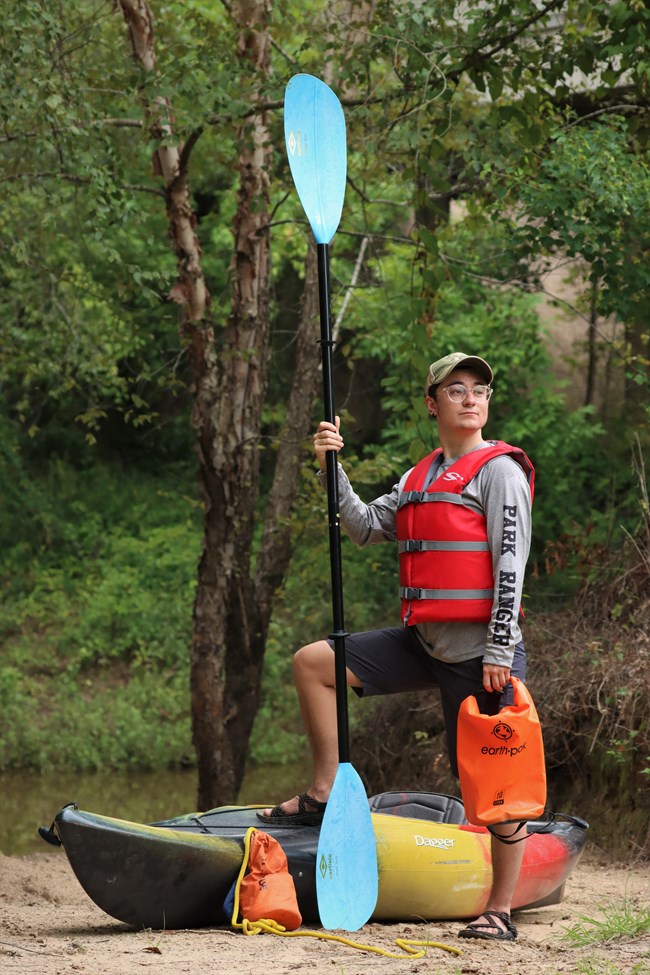 Paddling Safety Tips
Check the water level and weather before planning your trip. Hazards of high water include rapids and hidden obstructions that could cause you to capsize. Hazards of low water include dry passages and exposed limbs that can create treacherous obstacles. Prepare accordingly for the temperature. Know the signs of heat exhaustion and hypothermia.
Wear a life jacket, regardless of the water level and your swimming ability. What kind of life jacket is right for me?
Look at a map to plan your trip. Always leave a float plan with someone you trust in case of emergency. Include where you will start, where you will end, and your estimated time of return. Keep your map with you.
Double check to make sure you have all the supplies you may need. Always bring extra water! Never drink directly from the river or creek.
Camping
Make it an overnight paddle trip and camp on a sandbar along the river! A free permit is required for camping. Pick one up at the preserve's visitor center in Kountze.

Camping is allowed on sandbars along Village Creek and the Neches River year-round. It is allowed in the Beaumont Unit during spring and summer; it is not allowed during the fall/winter hunting season. While the sandbars along the Neches River in the Neches Bottom and Jack Gore Baygall Unit are open to camping year-round, campers should use caution venturing beyond the sandbars during hunting season.
Boat Rentals
Need to borrow a boat? Several local outfitters in nearby cities are available for kayak, canoe, and gear rentals. Some companies are able to provide shuttle service.

Big Thicket National Preserve does not provide rentals, nor are we able to recommend or endorse any particular rental company.
Last updated: October 2, 2022