Paddling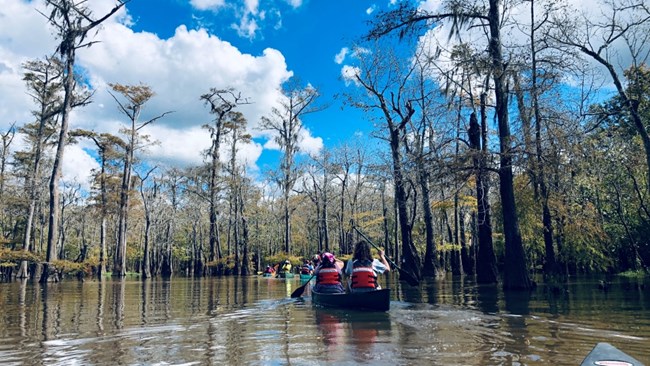 The many miles of creeks, bayous, and rivers flowing through Big Thicket National Preserve make it an ideal place to explore by canoe and kayak. Numerous access points provide many different trip options for paddlers of all experience levels. Three official Texas Paddling Trails offer clearly-defined routes to explore and experience the beauty and diversity of the Big Thicket. Paddle on your own or join a free ranger-led paddle trip!

Always wear a life jacket—also known as a personal flotation device (PFD)—when paddling.

Read more about the Big Thicket's waterways.
Paddle with a Park Ranger
Big Thicket National Preserve offers FREE ranger-led paddling trips. We provide the canoes/kayaks, paddles, and life jackets (PFDs) along with instruction. See below for the types of paddle programs that we offer.

Due to public health concerns, we are not able to offer any ranger-led paddle trips at this time.
Paddle Clinic
Great for anyone interested in learning how to paddle a kayak or canoe with a certified instructor. You'll learn the basics of paddling and get to try it for a short distance on the river. No reservations required. Check our calendar to see upcoming paddle clinics.
Canoe Trip
Great for families! Rangers will lead canoers along scenic rivers in the heart of the Big Thicket. Reservations required: Please call (409) 951-6700 to schedule a ranger-led canoe trip for your family or group. Check our calendar to see upcoming trips.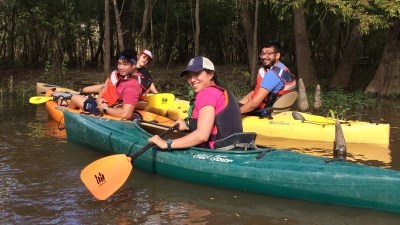 Youth Group or College Club Kayak Trip
Trip lengths vary based on age and paddle experience, but no experience is required to participate! Programs include a stewardship activity to teach participants how to care for and protect public lands. We can accommodate up to 12 paddlers per reservation. If your group includes more than 12 paddlers we will try to accomodate with multiple reservations on the same day. Groups under 18 years old must be accompanied by 2 adult chaperones. Please call (409) 951-6700 to schedule a kayak trip. Please leave a message with your name, phone number, organization, group size, preferred date(s), and email address.
Paddle Trails
Enjoy a different kind of trail—on the water! Each paddle trail is marked with signs to help you navigate the route.
This 4.8-mile paddling trail begins and ends at the LNVA Saltwater Barrier boat ramp, located at the end of Bigner Road in Beaumont. The trail goes north up the Neches River, left into Pine Island Bayou, north into Cooks Lake Bayou, then east through a marked maze of bald cypress and tupelo trees to Scatterman Lake. From there it goes south down the Neches River to the boat ramp. Take a map and the GPS coordinates for this trail, and look for signs on trees marking the route.
From Collier's Ferry Park in Beaumont, the paddling trail goes downstream a short distance on the Neches River to the confluence with Lake Bayou, a quiet slow-moving channel lined with bald cypress and tupelo trees. The entire round-trip distance is 7 miles. Paddlers should be aware that waterfowl hunting is allowed in the Lake Bayou area during hunting season.
The 21-mile Village Creek Paddling Trail winds past beautiful white-sand beaches and high banks lined with bald cypress, river birches, and other shade trees. Several access points along the creek allow paddlers to make trips of varying lengths, from 2.1 miles to all 21 miles. Camping is allowed on sandbars.

While generally very calm, Village Creek is a free-flowing waterway with no dams, so water levels can vary considerably. During low water levels, paddlers should expect to encounter exposed sandbars and logs. High water can create hazardous conditions. Check the water level before setting out on your trip.
Be-Four You Go: Paddling Safety Tips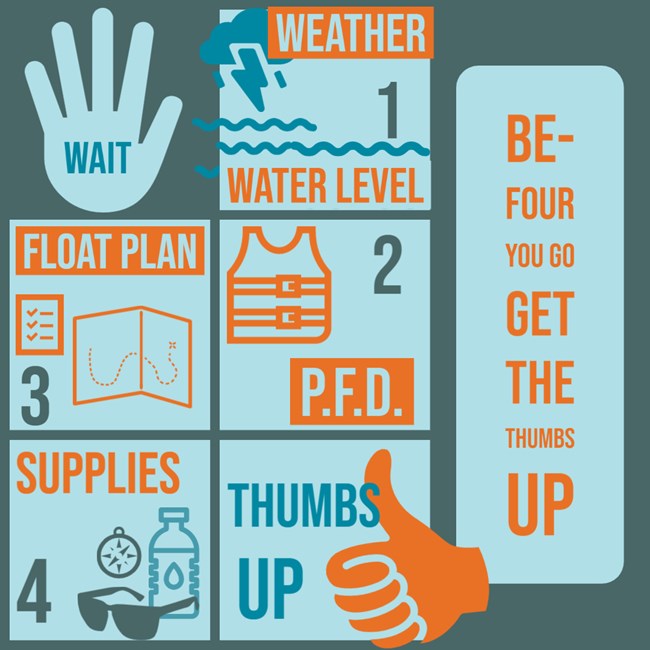 Always check the water level and weather before planning your trip. Hazards of high water include rapids and hidden obstructions that could cause you to capsize. Hazards of low water include dry passages and exposed limbs that can create treacherous obstacles. Prepare accordingly for the temperature. Know the signs of heat exhaustion and hypothermia.
Always wear your PFD (life jacket), even if the water level is low. Even if you are a good swimmer, always wear your PFD. What kind of life jacket is right for me?
Look at a map to plan your trip. Always leave a float plan with someone you trust in case of emergency. Include where you will start, where you will end, and your estimated time of return. Keep your map with you.
Double check to make sure you have all the supplies you may need. Always bring extra water! Never drink directly from the river or creek.
Camping
Make it an overnight paddle trip and camp on a sandbar along the river! A free permit is required for camping. Pick one up at the preserve's visitor center in Kountze.

Camping is allowed on sandbars along Village Creek and the Neches River year-round. It is allowed in the Beaumont Unit during spring and summer; it is not allowed during the fall/winter hunting season. While the sandbars along the Neches River in the Neches Bottom and Jack Gore Baygall Unit are open to camping year-round, campers should use caution venturing beyond the sandbars during hunting season.
Boat Rentals
Big Thicket National Preserve does not provide rental equipment. Local outfitters are available to rent canoes and kayaks. Some companies provide shuttle service. Check with outfitters for more information.
Last updated: September 6, 2020