Calendar Of Events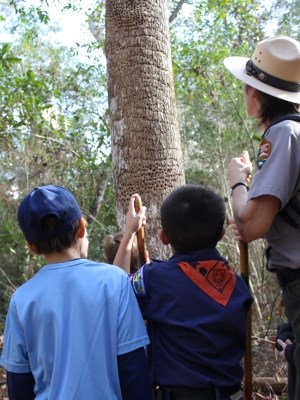 Big Thicket park rangers lead different programs and events throughout the year. Some programs are limited to 10 people and require reservations.

Check the calendar below for dates and times. Questions? Contact us!
Canoe Trips
FREE. Join park rangers for a guided canoe trip on the waters of the preserve. The program targets the casual and novice paddler. Canoes, life jackets, and paddles are provided. Visitors are asked to bring water, snacks, and water shoes. Canoe trips start at 10:00 am and take 3-4 hours.
Nature Walks
FREE. Come take a short 1-mile walk with a ranger and learn what makes Big Thicket so unique, from the plants and animals to the history of the people who live in this area. Nature walks start at 9:30 am and last 1 hour. Locations vary.
Night Hikes
FREE. Engage your senses and learn about nocturnal animals on a full moon night hike! Night hikes start at a variety of times due to seasonal changes to sunset and moonrise times. The hikes are 1 hour long.
Special Events
FREE. We occasionally host special events where you can learn how to fish, become a junior ranger, plant a tree, and more.
Search Filters
By Park
By State/Territory
By Event Type


Last updated: August 29, 2021