Advice for Busy Times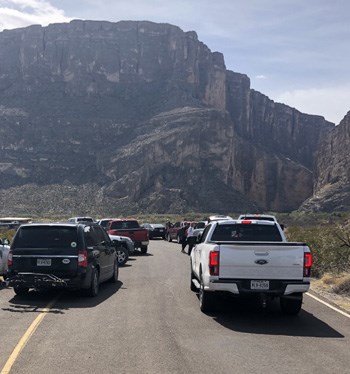 When is Big Bend busy?
Once relatively unknown, Big Bend National Park is now experiencing a major increase in visitation and with it a greater demand for both frontcountry and backcountry camping.

The park is busy during the weeks of the Thanksgiving, Christmas and New Years holidays, as well as extended holiday weekends. The busiest period of the year spans mid-January through mid-April, and especially the month of March (which includes Spring Break for Texas schools and colleges).

During these time, it is highly advised to make camping or lodging reservations to ensure that you have a place to stay before driving all the way to Big Bend.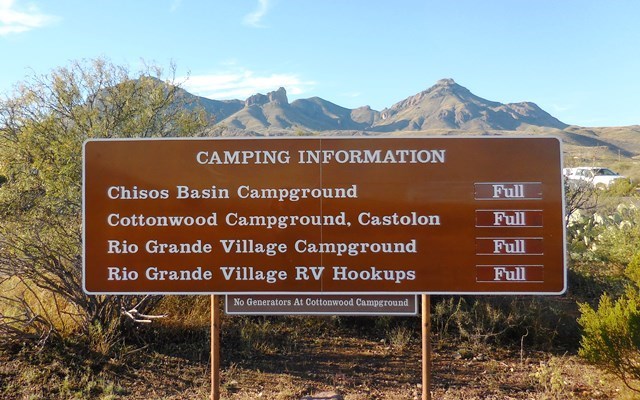 Be Prepared For Full Campgrounds
At these times the Chisos Mountains Lodge and all of the park's three frontcountry campgrounds will be full every night (typically by late morning).
During this time, the park's primitive backcountry campsites also fill to capacity most nights.

There are NO overflow campsites in Big Bend National Park, and no nearby public lands outside the park.

If you plan on visiting Big Bend during these times and do not have reservations, it is best to come prepared with alternative plans for lodging or camping outside of the park. If you camp in parking lots or along park roadsides you will be cited.
What should I do if the park is full when I arrive?
There are several options for staying in private campgrounds outside of the park near both park entrances.
For a listing of area lodging options, visit the VisitBigBend.com website.
Frontcountry vs. Backcountry Camping
Frontcountry camping refers staying in any one of the park's three developed campgrounds: Chisos Basin, Rio Grande Village, and Cottonwood.
Backcountry camping is any overnight trip to the park that is not spent at either the Chisos Mountains Lodge or one of the park's three developed frontcountry campgrounds. All overnight trips including river trips, backpacking, or staying at a roadside site on the park's unimproved roads require a backcountry permit.
How does backcountry permitting work?
Permits for backcountry camping, river use or using stock animals in the park must be obtained before the intended backcountry use. Permits are issued in person only during normal visitor center hours, and may be obtained up to 24 hours in advance of the trip. If all the backcountry campsites are full for the night you arrive in the park you may still be able to receive a permit for backcountry camping beginning on the second night of your trip.
Some things to know about backcountry permits:
Backcountry Permits are issued in person during normal visitor center hours, and may be obtained up to 24 hours in advance of the trip at Panther Junction and Chisos Basin Visitor Centers.
Permits are written for specific designated backcountry campsites for specific nights.
During peak visitation periods permits are in high demand, and most sites will be taken, so please plan alternative itineraries and campsites.
As of February, 2020, a selection of the most popular backcountry campsites (both Chisos Mountains Backpacking and Primitive Roadside Campsites) are now available for online permitting up to 180 days in advance through www.recreation.gov or calling 1-877-444-6777.
Most backcountry roadside campsites in the park are only accessible to high clearance vehicles, and four-wheel-drive may be required depending on weather conditions in the park. Visitors traveling with large RV's or camping trailers should be aware that very few backcountry sites can accommodate these vehicles and that generator use is prohibited in the backcountry.
Backcountry Permits cost $10/night for overnight use ($5 with a Senior or Access pass). There is no charge for day-use river or stock permits.
Permits may be written for up to 14 consecutive nights. Day-use river and stock permits may also be written for multiple consecutive days.

Between January 1 and April 15, visitors are limited to a total of 14 nights in the park.

Plan carefully. No refunds are issued for unused nights.
Backcountry use regulations, stay limits, and group size limits apply. Please visit the backcountry use page for more information.
Backpacking Group Size Limit
An organized group or individual party may not exceed a 15 person limit.
In the Chisos Mountains: There is only one Chisos backpacking campsite that can accommodate a group this size: it may be necessary to split the group to other campsites. Groups may split into separate campsites however the 15 person size limit cannot be exceeded.
In the desert: Groups over 15 people will also need to split up and backpack into separate, non-adjacent zones.
Last updated: March 31, 2020