Advice for Busy Times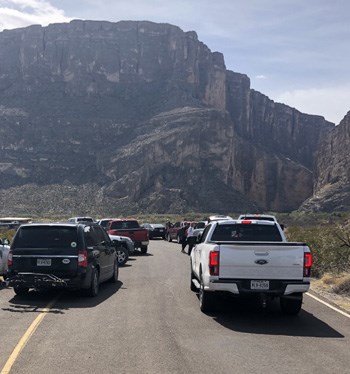 When is Big Bend Busy?
Once relatively unknown, Big Bend National Park is now experiencing a major increase in visitation and with it a greater demand for both frontcountry and backcountry camping. The COVID-19 pandemic has resulted in even more visitors seeking out the qualities of this special place.

In addition to an annual increase in visitors, Big Bend is seeing RECORD VISITATION due to the Pandemic (+25%).
Spring 2021 will be EXTREMELY BUSY in Big Bend National Park and the surrounding areas. Please be patient and tolerant.

The park is busy during the weeks of the Thanksgiving, Christmas and New Years holidays, as well as extended holiday weekends. The busiest period of the year spans November through mid-April. Expect all lodging and camping options to be full every night during this time of the year.

Currently there is no first come-first serve campgrounds in Big Bend. All available campsites require reservations.
During these time, it is highly advised to make camping or lodging reservations to ensure that you have a place to stay before driving all the way to Big Bend.
Camping outside of the park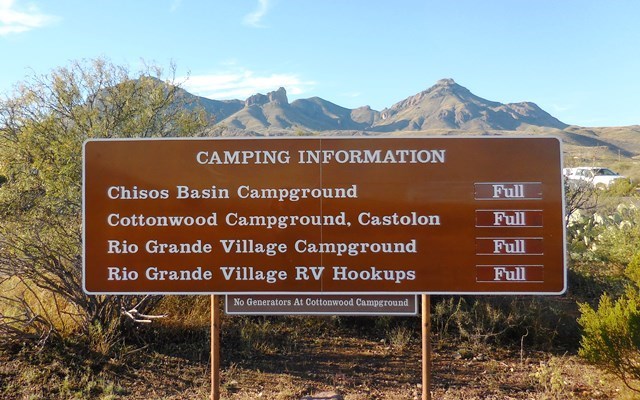 Be Prepared For Full Campgrounds
At these times the Chisos Mountains Lodge and all of the park's four campgrounds will be full every night.
During this time, the park's primitive backcountry campsites also fill to capacity most nights.

There are NO overflow campsites in Big Bend National Park, and no nearby public lands outside the park.

If you plan on visiting Big Bend during these times and do not have reservations, it is best to come prepared with alternative plans for lodging or camping outside of the park. If you camp in parking lots or along park roadsides you will be cited.
What should I do if the park is full when I arrive?
There are several options for staying in private campgrounds outside of the park near both park entrances.
For a listing of area lodging options, visit the VisitBigBend.com website.
Last updated: February 24, 2021