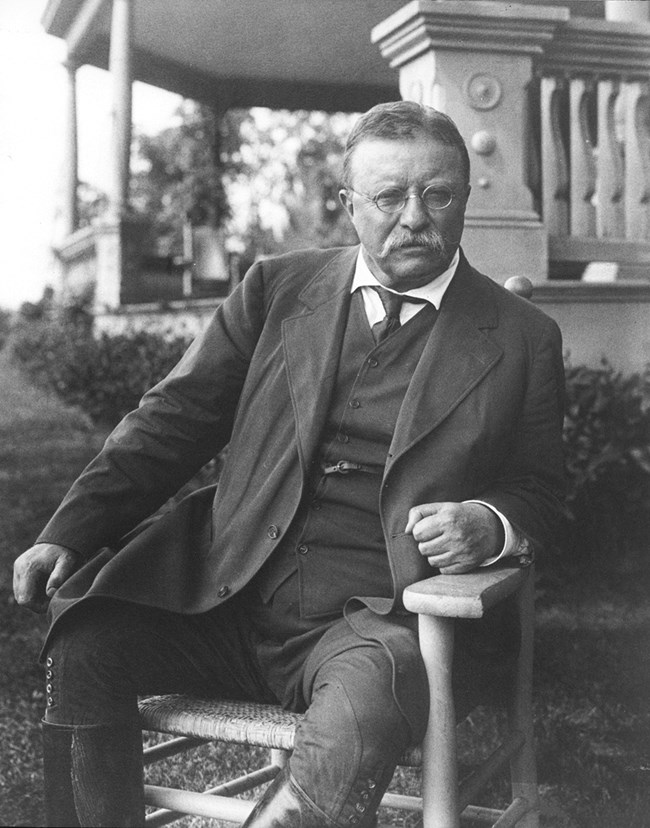 Theodore Roosevelt was born in 1858 to
Theodore Sr.
and
Martha "Mittie" Roosevelt
in New York City. The Roosevelts were a wealthy family of Dutch descent who belonged to the highest social circles of New York. From a young age, Theodore, called "Teedie" by his family, suffered from severe asthma, which his father sought to remedy by taking his son for brisk carriage rides and trips to the countryside to provide fresh air. As a boy Theodore read books well beyond his age and became very interested in explorers, adventure tales, and the natural world. Theodore Sr. encouraged his intelligent but sickly son to "make his body" through regular exercise. Young Theodore vowed to devote time to developing his physical strength through exercise while continuing his intellectual pursuits.
Roosevelt began his studies at Harvard in 1876 while challenging himself physically by playing sports, hiking, and going on hunting trips during school breaks. During his sophomore year, Roosevelt was dealt his first major tragedy with the death of his beloved father from cancer at age 46. Roosevelt had said his father was the "best man he ever knew." During his time at Harvard, Roosevelt began to court
Alice Hathaway Lee
, and the two married in 1880. As a newlywed, Roosevelt began purchasing acreage in Oyster Bay, New York, where generations of his family had vacationed, and planned to build a home that would eventually become
Sagamore Hill
, his main residence for the remainder of his life. Roosevelt's political career also began during this period, as he was elected to serve his Manhattan district in the New York State Assembly.
On Valentine's Day in 1884, Roosevelt suffered the double loss of his mother and his wife, who had given birth to his first child,
Alice
, two days earlier. Leaving his daughter in the care of his sister
Anna
, Roosevelt traveled to the badlands of the Dakota Territory to live and work as a rancher, believing the hard work would keep him from depression. He had acquired the
Maltese Cross
and
Elkhorn Ranches
outside the small town of Medora where he rounded up cattle while working alongside his hired help. Residents were initially wary of the Harvard-educated easterner, but Roosevelt endeared himself to the people by keeping up with the tiring labor of ranching. For the first time in his life, the elite Roosevelt mixed regularly with common folk and the experience humbled him. "Had it not been for the years spent in North Dakota and what I learned there," Roosevelt later told a crowd during a speech in Fargo, North Dakota, "I would not have been President of the United States." While in the west, Roosevelt began to publish a trilogy of popular books about his experiences including
Hunting Trips of a Ranchman (1885), Ranch Life and the Hunting Trail (1888),
and
The Wilderness Hunter (1893)
, which cemented his reputation as an author. In all, he wrote about 30 books over the course of his life. Roosevelt's life as a western rancher ended due to devastating blizzards that would cost him the majority of his cattle herd and forced him back to New York year-round.
During a trip home from the Dakota Territory, Roosevelt had a chance meeting with family friend and childhood sweetheart,
Edith Kermit Carow
, and the two rekindled their relationship, marrying in London in 1886. After their honeymoon, the pair took up residence at Sagamore Hill in Oyster Bay and between 1887 to 1897, Edith gave birth to five children:
Theodore Roosevelt Jr.
,
Kermit
,
Ethel
,
Archie
, and
Quentin
. During this period, Roosevelt held several public offices, including US Civil Service Commissioner, New York City Police Commissioner, and Assistant Secretary of the Navy, while delighting in his role as a father.
When
war with Spain
was declared in 1898, Roosevelt resigned his position in the Navy Department to raise a division of volunteers to fight in Cuba. Roosevelt was appointed lieutenant colonel of the First US Volunteer Calvary Regiment, who came to be known as the Rough Riders, and experienced what he called his "crowded hour" when he led a charge up Kettle Hill during the Battle for San Juan Heights on July 1, 1898. Roosevelt returned home a popular war hero and was elected governor of New York the same year. After nearly two years of instituting reform policies and challenging state Republican party bosses as governor, Roosevelt was suggested as vice-presidential running mate to President
William McKinley
in the election of 1900 and the pair won over democratic candidate William Jennings Bryan.
President McKinley was shot while attending the Pan American Exposition in Buffalo, New York and died from his wounds two weeks later. Roosevelt would be sworn in as the 26
th
President of the United States on September 14, 1901 at the home of his friend, Buffalo lawyer Ansley Wilcox. The home is preserved today as the
Theodore Roosevelt Inaugural National Historic Site.
Roosevelt served as president from 1901 to 1909, winning an election in his own right in 1904. His time in office was characterized by modernizing the presidency, viewing the role of president as the chief steward of the country who could take any action not explicitly forbidden by the Constitution. Roosevelt is best remembered for expanding the role of the United States in world affairs, taking on large businesses known as trusts, conserving natural resources, and preserving unique landscapes of national significance. In foreign affairs, Roosevelt would oversee the building of the Panama Canal, expand American naval might, and help negotiate an end to the devastating Russo-Japanese War, for which he was awarded the Nobel Peace Prize in 1906. At home, Roosevelt worked towards securing what he called a "square deal" for all Americans by inserting himself into business affairs that affected nearly all Americans. He took action to break up J.P. Morgan's Northern Securities railroad trust, placed regulations on producers of food and drugs, and brought feuding parties together to solve the potentially disastrous Anthracite Coal Strike of 1902. Roosevelt's presidency is perhaps best known through his conservation legacy, as he created the
United States Forest Service
and 150 national forests, the first federal bird reserve at
Pelican Island
, which would lead to the
National Wildlife Refuge system
, and using the power of the Antiquities Act would name 18 national monuments, including
Devil's Tower
,
El Morro
,
Muir Woods
,
Petrified Forest
, and the
Grand Canyon
. Additionally, the Roosevelt administration would add five national parks, including an expansion of
Yosemite National Park
, totaling in a preservation of approximately 230 million acres of land for what Roosevelt remarked was for "the benefit and enjoyment of the people."
Roosevelt chose not to run again in 1908 and instead supported the candidacy of his Secretary of War and close friend
William Howard Taft
for president. Soon after Taft's inauguration, Roosevelt departed on a year-long trip to Africa and Europe, during which he hunted and collected specimens for the Smithsonian National Museum of Natural History, lectured at the Sorbonne in France, and represented the United States at the funeral of King Edward VII of Britain. He returned to a parade welcoming him home in New York City.
Feeling that President Taft had abandoned his policies, Roosevelt sought the presidential nomination in 1912. Running against a sitting Republican president caused a split in the party and resulted in Roosevelt running as a third-party candidate on the Progressive Party ticket. While Roosevelt's votes outnumbered Taft's, both candidates were defeated by Democrat Woodrow Wilson.
In 1913 Roosevelt and his son Kermit traveled to Brazil and joined Colonel Cândido Rondon on an expedition to survey the uncharted Rio da Dúvida (River of Doubt), a tributary of the Amazon. The expedition was met with many problems and several of the party died. Roosevelt contracted malaria, badly injured his leg, and lost a great deal of his body weight leaving Kermit and the party to fear for his life. The expedition reached the confluence with the Aripuanã River and met a relief party in April of 1914. The river would be renamed "Rio Roosevelt" in the former president's honor.
At the outset of the
first World War,
Roosevelt publicly voiced his criticism of President Wilson's policy of neutrality, believing that the United States was ill-prepared to enter the fighting in Europe. When the United States did enter the war in 1917, Roosevelt's four sons joined the military. Roosevelt himself offered to raise a regiment, but was denied by Wilson and instead aided the war effort by speaking on behalf of Liberty Loan drives on the homefront. In July 1918, Roosevelt suffered the loss of his youngest son, Quentin, who was killed in action during a flying mission in France.
After Quentin's death, Roosevelt's health greatly deteriorated. He died of a pulmonary embolism at Sagamore Hill on January 6, 1919 at the age of 60. In the days after his death, a funeral service was held at Christ Church in Oyster Bay and Roosevelt was buried at the nearby
Young's Memorial Cemetery
.
There are several sites dedicated to Theodore Roosevelt that the public can visit today including
Theodore Roosevelt Birthplace National Historic Site
,
Sagamore Hill National Historic Site
,
Theodore Roosevelt National Park
,
Theodore Roosevelt Inaugural National Historic Site
,
Theodore Roosevelt Island
, and
Mount Rushmore National Memorial
.