Person
Edith Carow Roosevelt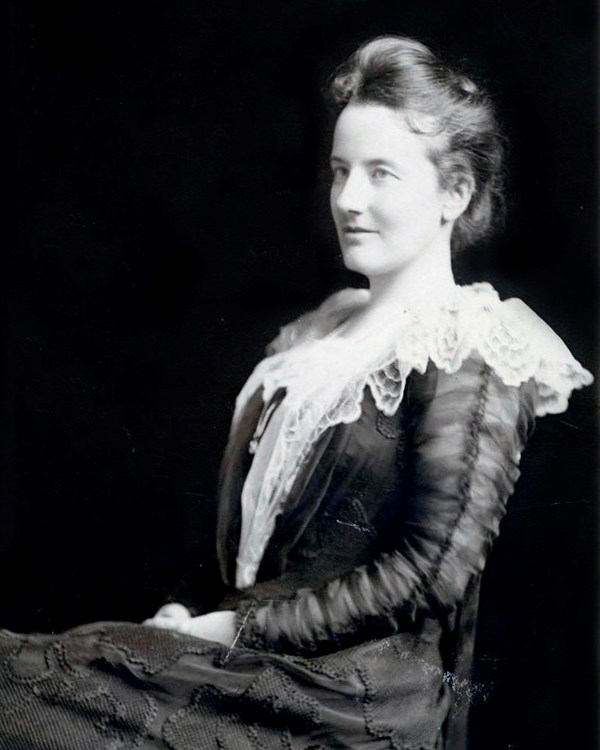 Significance:
Second wife of Theodore Roosevelt, Mother of 5 children, First Lady, Philanthropist
Place of Birth:
Manhattan, NY
Date of Birth:
August 6, 1861
Place of Death:
Oyster Bay, NY
Date of Death:
September 30, 1948
Place of Burial:
Oyster Bay, NY
Cemetery Name:
Youngs Memorial Cemetery
Edith Kermit Carow Roosevelt was Theodore Roosevelt's second wife and served as First Lady during his presidency from 1901-1909. She was step-mother to Alice Roosevelt Longworth, and mother to Theodore Roosevelt, Jr., Kermit Roosevelt, Ethel Roosevelt Derby, Archibald Roosevelt, and Quentin Roosevelt.
Edith Kermit Carow Roosevelt was born August 6, 1861 in New York City to Charles Carow and Gertrude Tyler. Although originally born into wealth, the family fell on hard times. The Carows then moved into Edith's mother's aunt's home in New York City, where Edith quickly became friends with neighbors Corinne Roosevelt, who was her age, and Corinne's older brother Theodore. Corinne and Theodore's mother, Mittie Roosevelt, enjoyed Edith, and invited her to be tutored alongside her children in their early years. Growing up, Edith became an extended member of the Roosevelt family, often being invited along for family vacations out in Oyster Bay. Many in the Roosevelt family believed that when Edith was old enough to marry, she and Theodore would become a couple, as the pair would often write letters to one another when apart and had a close friendship. 
At the age of eighteen, Theodore moved to Boston to attend Harvard University. It was during this time that Edith and he experienced a falling out and no longer corresponded. Around that same time, Theodore met Alice Lee who he would marry in 1880. Alice would die from complications due to childbirth and soon after, a heartbroken Theodore retreated to his ranch in the Dakota Territory. Upon his return to New York, Theodore rekindled his relationship with Edith after a serendipitous meeting at his sister Anna's home. Edith and Theodore would eventually marry on December 2, 1886. While they spent much of their early marriage apart, Edith in Europe and Theodore embarking on his political career, both corresponded often.
Edith and Theodore moved into their home in Oyster Bay in 1886, which they named Sagamore Hill and kept it as their permanent residence throughout their entire lives. Edith was fully in charge of running the household affairs, which included managing finances and creating menus, while simultaneously raising six rambunctious children: Ted Jr., Kermit, Ethel, Archibald, and Quentin, along with her stepdaughter Alice. From Ted Jr.'s birth in 1887 to Quentin's birth in 1897, Theodore held various public offices and was often apart from the family, leaving Edith and the children to continue on in their activities at Sagamore Hill. Edith was an avid reader and loved to take a book or two out to a rose arbor she had built near her home, whenever she needed a quick break from her many responsibilities.
During her tenure as First Lady of the United States, Edith expanded the West Wing of the White House and updated much of the furniture, which she financed using part of her husband's salary. From 1901-1909, she continued to manage the family affairs so Theodore could fully focus on the presidency. While remaining uninvolved publicly in political matters, she was an important advisor to her husband. She was known for having an excellent judge of character, and Theodore claimed that "whenever I go against her judgement, I regret it." Edith Roosevelt was a positive force in Washington D.C., where statesmen, foreign dignitaries, socialites, and politicians of both parties greatly enjoyed the company of the First Lady.
When Theodore and Edith returned home to Oyster Bay after the presidency, the family had expanded. New sons- and daughters in-law, and grandchildren would dominate Edith and Theodore's life for the next ten years. Both Edith and Theodore delighted in their grandchildren, who would visit or stay with them often at Sagamore Hill, but they continued to travel, write, and entertain. Edith resumed her role of president of the household, while Theodore remained as adventurous as ever.
Theodore died on January 6, 1919 at Sagamore Hill. While it was difficult for Edith, she continued her lifelong passions of reading and traveling. With the help of her family she published books and wrote for a political journal. Towards the end of her life, Edith continued to support various philanthropic organizations (including financially supporting some Rough Riders who had fallen on hard times) and would frequently visit her family's ancestral home, Mortlake Manor, in Brooklyn, Connecticut, which she had purchased in 1927.
Between 1909 and 1948, Edith traveled to over thirty countries including trips to Italy to visit her sister, Emily, a train journey across Asia with her son Kermit and his wife Belle, and a stay in Puerto Rico with her son Theodore Jr. who was serving as governor there. During this time, Edith co-wrote "Cleared for Strange Ports," a book that was an account of her travels as well as reflections on motherhood and the legacy she hoped to leave behind. She also researched and wrote a genealogy of her mother's family, the Tyler's, titled "American Backlogs: The Story of Gertrude Tyler and Her Family."
Edith Roosevelt had an air of confidence and strength, but was also kind, gracious, and welcoming. She saw that her husband followed his career and that her children grew up to be successful. When Edith was nearing the last years of her life, she wanted to be remembered by one line. The line she had engraved on her tombstone; "Everything she did was for the happiness of others."
After a long and full life Edith died at the age of 87 on September 30, 1948 at Sagamore Hill. She is buried next to Theodore at Youngs Memorial Cemetery in Oyster Bay, NY.
Last updated: May 22, 2023