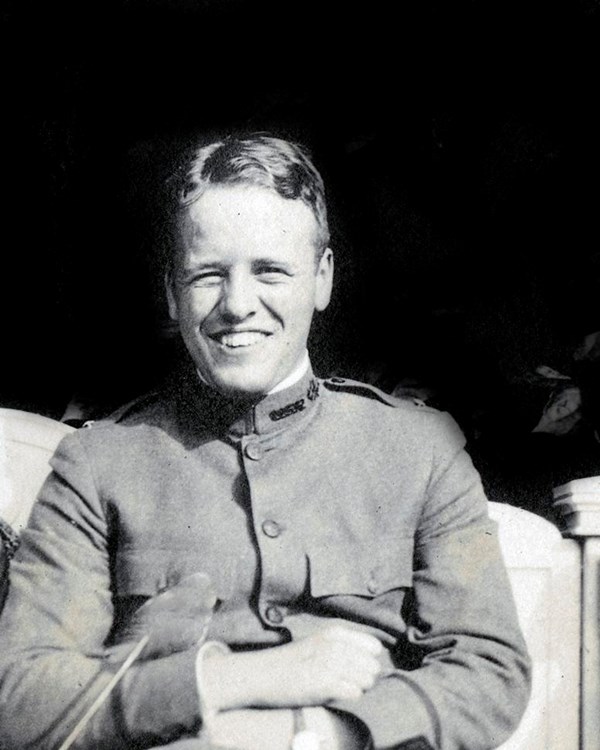 Significance:
Youngest son of Theodore Roosevelt, killed in action WWI
Place of Birth:
Washington, DC
Date of Birth:
November 19, 1897
Place of Death:
Chamery, France
Date of Death:
July 14, 1918
Place of Burial:
Colleville-sur-Mer, France
Cemetery Name:
Normandy American Cemetery and Memorial
Quentin Roosevelt was born on November 19, 1897 and was the youngest child of Theodore and Edith Roosevelt. He was best known for his humor and charming personality.
Quentin was four years old when his father was sworn in as president and he took every advantage of living in the White House. Quentin and friends such as Charlie Taft (son of the Secretary of State and future President and Chief Justice of the Supreme Court William Howard Taft) and Roswell Pinckney (son of the White House Steward, Henry Pinckney) comprised the group of rambunctious youths that would be known as the "White House Gang." Together they carved a baseball diamond on the White House lawn without permission, defaced official presidential portraits in the White House with spitballs, and threw snowballs from the White House roof at unsuspecting Secret Service guards. One of his most memorable antics was to sneak his pony, Algonquin, up the White House elevator up to cheer up his sick brother, Archie.
Due to his playful actions, his father to nicknamed him "Quinikins" while his mother, Edith, labeled him a "fine bad little boy."  Quentin began his education at Force Elementary School in Washington, D.C. and then at the Groton School in Massachusetts. Quentin was an excellent student and was admitted to Harvard University in 1915. At age 19, while attending Harvard, Quentin met Flora Whitney and soon after the United States entered World War I, they became engaged but never married.
At the onset of World War I, inspired by the models of his father and older brothers, Quentin dropped out of Harvard and joined the United States Army Air Service where he eventually became a pursuit pilot. Quentin was killed in aerial combat over France on Bastille Day, July 14, 1918. As an honor to his father, Quentin was originally buried by German soldiers where his plane fell in Coulonges-Cohan, France. A few days later, American soldiers replaced the cross with their own and the French enclosed the area. In 1955, he was exhumed and later reburied with his oldest brother Theodore Roosevelt Jr., in Normandy, France.
As of 2020, he is the only child of a United States President to die in combat. In addition to be awarded the Purple Heart posthumously, Quentin was also granted a degree from Harvard in 1919, the year he would have graduated with his class.
Quentin is buried at the Normandy American Cemetery and Memorial in France.
Last updated: June 11, 2021