Person
William Howard Taft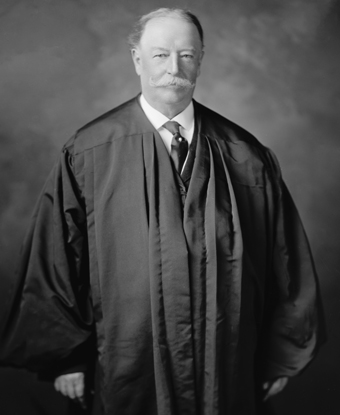 Significance:
27th President & 10th Chief Justice
Place of Birth:
Cincinnati, Ohio
Date of Birth:
September 15, 1857
Place of Death:
Washington D.C.
Date of Death:
March 8, 1930
Place of Burial:
Arlington, Virginia
Cemetery Name:
Arlington National Cemetery
"Presidents come and go, but the Supreme Court goes on forever."
- William Howard Taft
William Howard Taft spent much of his adult life as a dedicated public servant to his local community in Cincinnati, to his home state of Ohio and to the nation as well.
He began his judicial career when he served in various appointments as a county prosecutor and state judge in the 1880s. His federal career began in 1890 when he was appointed U.S. Solicitor General by President Benjamin Harrison. In the 1890s he served as a judge on the U.S. Sixth Circuit Court of Appeals. Taft's political career essentially began when he was appointed Governor General of the Philippines by President William McKinley in 1900. At the conclusion of his tenure in the Philippines, he returned home to serve as President Theodore Roosevelt's Secretary of War in 1904.  (Roosevelt took over the Presidency after McKinley's assassination in 1901).
After being annointed by Roosevelt to succeed him, Taft ran for and easily won the Presidential election in 1908. During Taft's presidency, he would alienate many over his policies, including his mentor Roosevelt. This would result in Roosevelt re-entering politics to oppose Taft. Unsuccessful in his attempt to win the 1912 Republican nomination, Roosevelt broke away from the Republican party to form his own party. The 1912 election saw three parties competing for the presidency. Due to Roosevelt and Taft splitting the Republican votes (Roosevelt won 27% of the popular vote and Taft won 23%), the election was essentially handed to the Democratic challenger Woodrow Wilson who won 82% of the Electoral votes and 42% of the popular vote. After failing to win re-election in a bitter and devisive election, Taft returned to his alma mater, Yale University, and taught law. In 1921, President Warren G. Harding called upon Taft for one final appointment, the position that Taft had always dreamt about, Chief Justice of the US Supreme Court. He wrote of his coveted appointment as Chief Justice; "I don't remember that I ever was President." Taft would hold this position from 1921 until his death in 1930.  
William Howard Taft has the distinction of being the only person in history to have been President and Chief Justice of the United States. After his death, his funeral was the first presidential funeral to be broadcast over the radio. He is also the first President to be buried at Arlington National Cemetery in Arlington, Virginia, just across the Potomac River from the city where he reached the pinnacle of the judiciary and executive branches.
Learn more about how William Howard Taft followed in his father's footprints.
Visit the William Howard Taft National Historic Site website for additional facts and information on William Howard Taft and to plan your visit to the site.
Last updated: March 4, 2021