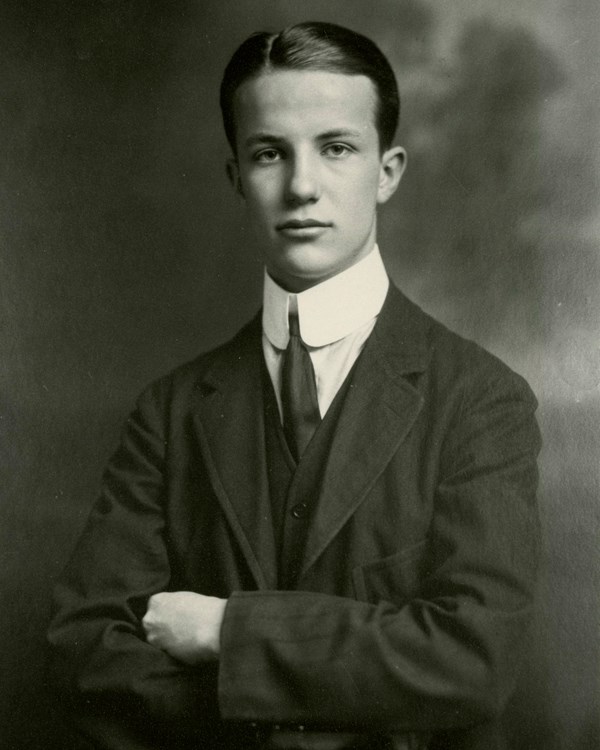 Significance:
Second son of Theodore Roosevelt, author, soldier, adventurer
Place of Birth:
Oyster Bay, NY
Date of Birth:
October 10, 1889
Place of Death:
Fort Richardson, AK
Date of Death:
June 4, 1943
Place of Burial:
Anchorage, AK
Cemetery Name:
Fort Richardson National Cemetery
Kermit Roosevelt was born on October 10, 1889 at Sagamore Hill. He was the second child of Theodore and Edith Roosevelt.
Quiet yet inquisitive, Kermit is best known for his writing and travels. He accompanied his father to Africa in 1909 and Brazil in 1913. Like his father, he was a keen adventurer and had a knack for storytelling. Like his mother, he had a subdued nature.  Similar to both, he was an avid reader and writer.
Kermit grew up in both Oyster Bay and Washington, D.C. attending schools in both areas before being accepted to the prestigious Groton School in Massachusetts. From Groton, he attended Harvard University. During his freshman year at Harvard in 1909, Kermit accompanied his father during his famed Africa expedition. Kermit's storytelling and musical abilities brought joy to the sometimes bleak moments the hunting party faced. After the expedition, Kermit returned to Harvard and graduated in 1912.
In 1913, Kermit joined his father on another expedition on the uncharted River of Doubt in Brazil. During his time in Brazil, Kermit emerged as an important figure in the mission, especially as his father's health deteriorated. Though Kermit battled with his own ailments during the journey, he would not leave his gravely ill father behind, regardless of his father's wishes. Throughout his life, Kermit continued to travel and published several books about his travels.
In 1914, Kermit married Belle Wyatt Willard, daughter of the U.S. Ambassador to Spain and together they would raise four children. Kermit took jobs in the banking industry and other business endeavors. When World War I broke out, he joined the British military and was awarded the British War Cross before joining the American Expeditionary Force in 1918. He was a successful captain in the US Army and made it through the War uninjured.
Kermit was affected by the Great Depression and experienced economic hardship like many other Americans. Prone to heavy drinking, Kermit's family life began to deteriorate along with his business ventures. Upon the outbreak of World War II, Kermit served again with the British Army in Norway and Egypt. When he returned to the United States after a medical discharge, it was clear that Kermit was suffering from the effects of alcoholism. Kermit's wife Belle and his brother Archie lobbied their cousin President Franklin D. Roosevelt to get Kermit a post in the U.S. Army in hopes that it would bring his alcoholism into remission. Cousin Franklin acquiesced and Kermit was stationed at Fort Richardson in Alaska. This did not have the desired effect on Kermit's alcoholism, and he was soon medically discharged from the Army. Shortly after, Kermit took his own life.
Kermit is buried at Fort Richardson National Cemetery in Alaska.
 
Last updated: October 13, 2020