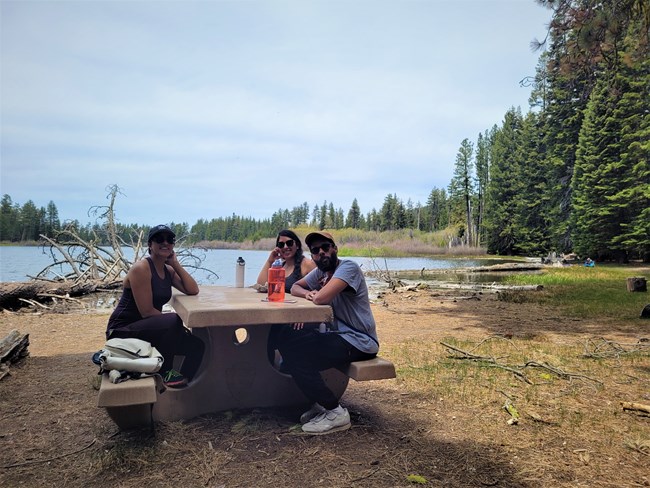 There is no timed entry, reservations, or pre-paid entry for Lassen Volcanic. An entrance fee or valid pass is required to enter the park.

Be prepared for a busy summer season including crowds, limited parking, and waiting lines at stores and cafes, especially on weekends. Make the most of your visit by making a plan, coming prepared, and being flexible.

Note that the high elevation of the park (5,500 to 10,500 feet) means conditions are very different than most visitors expect (think snow in July). View current conditions immediately before your visit to be prepared for high and low temperatures, patchy snow, and potential wildfire smoke impacts.
Top 10 Tips For Visiting Lassen Volcanic
The 30-mile park highway contains many of the most popular viewpoints and destinations in the park. Most highlights correspond to numbered posts along the park highway, which are described in the park guide (provided at park entrance stations).
There are eight hydrothermal areas in the park. Sulphur Works is located off the park highway and offers an up-close view of boiling mud pots and steam vents from a short, paved walkway. More distant features at Little Hot Springs Valley and Pilot Pinnacle are also visible from the park highway. 

Other hydrothermal areas can be accessed by easy or moderate hikes and include Bumpass Hell (opens mid-summer due to snow hazards) and Devils Kitchen, Terminal Geyser, and Boiling Springs Lake in Warner Valley Area.
More than 150 miles of trail in Lassen Volcanic offer access to waterfalls, hydrothermal areas, mountain meadows, alpine lakes, and volcanic summits. Which day hike(s) are right for you? A few imporant factors can help you choose from dozens of options: 
How challenging of a hike are you prepared for: easy, moderate, or strenuous?

How much time do you have?

How flexible are you on when you start your hike? Parking at trailheads along the park highway are often full mid-morning to mid-afternoon.
What do you most want to see? A hydrothermal area, lake, panoramic views, a waterfall?
Finding a campsite at the last minute is unlikely. Most campsites in the park are reserved months in advance. Dispersed camping (camping outside of campgrounds is not permitted in the park) except for backpacking.

The are numerous campgrounds in the surrounding Lassen National Forest, although these campgrounds are often full in the summer months. Dispersed camping is permitted in some areas of the Forest, but fire restrictions often prohibit campfires outside of designated campgrounds to reduce wildfire danger.

Drakesbad Guest Ranch is the only in-park lodge and is usually reserved by spring. Area Chambers of Commerce can be helpful for finding accomodations near the park.
Cell service and WiFi are extremely limited in Lassen Volcanic. A map on page 2 of the Park Guide identifies a few areas where cell service may be available. WiFi is available at the Kohm Yah-mah-nee Visitor Center, however speed is extremely slow, especially during the busy summer and fall season. Learn how to connect to the visitor center WiFi on page 4 of the Park Guide.
All visitors can help protect the park's black bears and themselves by staying with or storing food and scented items. Bears have recently obtained food from hikers and backpackers and these events have and may again result in temporary closures. Allowing animals to obtain human food often results in agressive behavior. Aggressive wildlife are a threat to human safety and will most likely be euthanized. Learn more about storing food and scented items and black bear safety.
The remote areas of Butte Lake, Warner Valley, and Juniper Lake offer their own unique highlights that are worth a day trip (at least). It takes at least 1 to 2 hours from northwest or southwest entrances of the park highway to reach each remote area. All three access roads are undeveloped and are all or partly dirt. These areas have minimal services, but offer excellent opportunities for adventure for those who arrive prepared. It's best to travel with everything you need (including water, food, and gas) for your day or overnight trip to these remote areas. Cell service is extremely limited to non-existent.
Lassen Volcanic National Park welcomed a record number of visitors in 2021. As more visitors discover the natural and cultural wonders we all enjoy, it's important to leave the park as we found it. That means practicing Leave No Trace principles including:
Packing out what you pack in (including toilet paper and "natural" food waste)
Never feeding wildlife
Walking and parking on hard surfaces (and off flower, plants, and delicate shorelines)
Keeping noise to a minimum to respect other visitors and their enjoyment of the sounds of nature
The new NPS App offers tools to explore more than 400 national parks...interactive maps, tours, accessibility information, and more. To use the app to explore Lassen Volcanic, it is important to download the park for offline use. Since there is little to no Internet connection in the park, you'll want to save all the information before visiting so you can access your favorited places, hikes, and more to use while you're in the park.
This one's for the dogs. Pets are welcome in developed areas in the park including parking areas, roads, campgrounds, and picnic areas. Pets are prohibited in all other areas to protect the park including the rare Sierra Nevada red fox, one of which was killed by a dog in the park. Learn more about visiting Lassen Volcanic with your pet.