The NPS App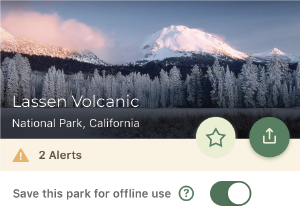 Download the NPS App Before You Visit
Download the app for your iOS device from the App Store or for your Android device at Google Play.
Use Find a Park to open Lassen Volcanic National Park.
Toggle the button next to Save this park for offline use to download the park's app content before you visit.
WiFi is available only at the Kohm Yah-mah-nee Visitor Center. Internet speeds are slow and even slower during periods of high use. Cell phone service is available at a very limited number of locations in the park. Data service is limited to 2G or 3G, if available at all.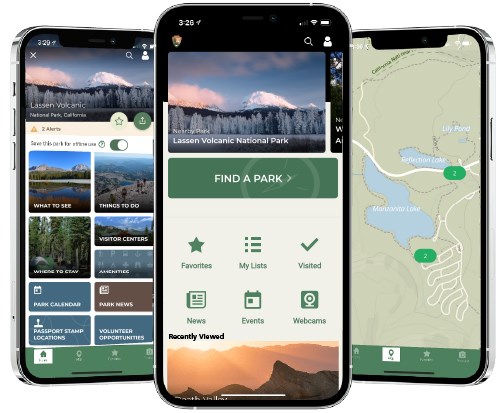 How to Use the NPS App to Enjoy Lassen Volcanic
Download the app on your iOS or Android device prior to your visit.
Download the Lassen Volcanic content before your visit to use the app while offline in the park. Toggle the button next to Save this park for offline use.
Enjoy an audio tour featuring 16 stops along the park highway.
View current hours for the park visitor centers.
Find passport stamp locations.
Browse the park's seven campgrounds and follow a link to Recreation.gov to reserve a site at least four days before your visit.
View amenities by location, such as gas, good, restrooms, souvenirs and supplies, and accessible facilities.
Find out what to see within the five park areas: Manzanita Lake, Southwest, Butte Lake, Warner Valley, and Juniper Lake.
Mark items as favorites to revisit later when conditions allow, such as Hike to Bumpass Hell or visit Loomis Museum in summer or fall.
About the NPS App
The NPS App is the new official app for the National Park Service with tools to explore more than 400 national parks nationwide. Find interactive maps, tours of park places, on-the-ground accessibility information, and much more to plan your national park adventures before and during your trip. Learn more on the NPS App webpage.
Rangers are Continually Adding Lassen Volcanic Content
Park content currently focuses on park highlights and popular activities. This includes:
Up-to-date information on park Where to Stay including campgrounds and lodging.
Hours and information for park Visitor Centers.
Locations of Passport Stamps.
General information about What to See in each are of the park.
Information on popular Things to Do including Snow play, snowshoeing, fishing, hiking, scenic driving, and self-guided walking tours.
Park news releases.
Calendar events (there are no events scheduled at this time due to COVID-19 mitigations).
App Includes Activities for Distinct Winter/Spring and Summer/Fall Seasons
Lassen Volcanic is currently snow-covered. Vehicle access is limited and activities are limited to oversnow recreation (snowshoeing, skiing, snow play) and hiking or biking cleared sections of the park highway.

The app includes many Things to Do that are not currently possible due to snow depth. This includes most fishing, hiking, scenic driving, and self-guided walking tours.

You can mark items as a Favorite to find them easily again later. For example, the Bumpass Hell Trail is closed to snow/ice hazards. However, you can mark Hike to Bumpass Hell as a favorite and use it in the summer/fall season when the trail is open.
Last updated: June 12, 2022