Thing to Do
Visit Sulphur Works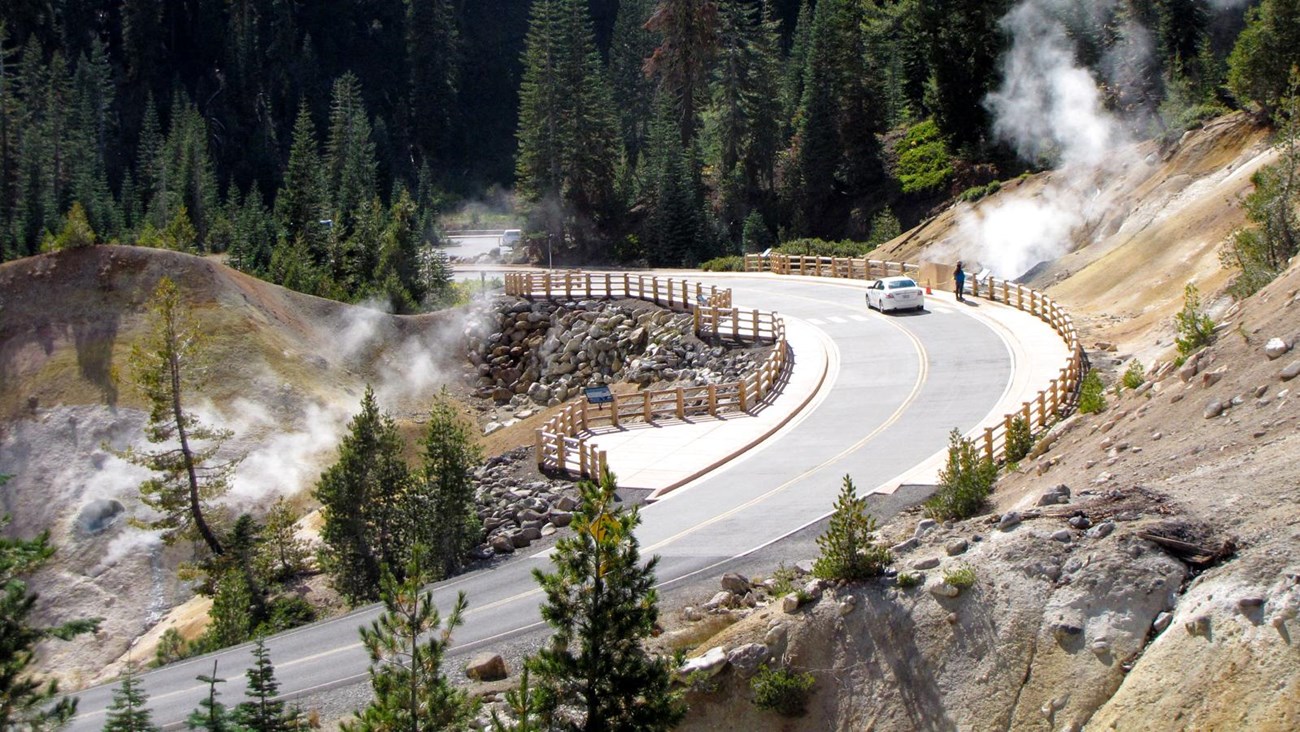 Located along the park highway and accessed by a short walk along a paved sidewalk, Sulphur Works is the easiest of the park's hydrothermal areas to access. This hydrothermal area is an otherworldly place of vibrant colors, pungent scents, and shifting ground that is both ancient and new. . A series of waysides at the viewing area provide details about the hydrothermal area and the ancient volcano that once filled this wide basin. Learn more about Sulphur Works or view 360-photos of the area.
Get Here
From the Southwest Entrance, continue two miles north on Lassen Volcanic National Park Highway to Sulphur Works parking area. Follow the sidewalk to the viewing areas on both sides of the highway. Please note that parking is limited and may unavailable during busy times including holidays and weekends. Please use the sidewalk at the center of the viewing area to cross the highway. 
View from Ridge Lakes Trail
The first few hundred feet of the Ridge Lakes Trail offers a view of additional hydrothermal features along Sulphur Creek above the sidewalk viewing area. Follow the trailhead near the restrooms up the hillside and look down into the creek on the right. A short boardwalk once traversed this area, however the features changed so frequently and dramatically that park staff were unable to safely maintain it. You may see monitoring equipment in this area. Sulphur Works has an continues to be an excellent research site for scientists studying volcanoes, hydrothermal systems, astrobiology, and more.
Hydrothermal Area Safety
For your safety, stay on established trails and boardwalks. Ground in hydrothermal areas can look solid but may actually be a thin crust hiding pools of acidic boiling water or mud. Visitors have been severely injured when traveling off-trail in this area. On May 5, 2012, a visitor was air-lifted to a regional burn unit after stepping off the sidewalk at Sulphur Works. The ground appeared solid, but she easily broke through a one-inch crust, exposing her foot and ankle to boiling acidic water and mud.
Activity
Self-Guided Tours - Walking
Enjoy a short walk along a paved sidewalk to Sulphur Works hydrothermal area. Explore the sights, sounds, and smells of this otherworldly area. Learn more about this hot spot at the center of a disappeared volcano from waysides on this self-guided walk. 
People of all ages can enjoy this walk.
Pets Allowed
Yes with Restrictions
Pets are permitted on the paved sidewalk and in the parking area. Pets are not permitted on trails.
Additional pet regulations:
Pets must be on a leash less than six feet long at all times.

Pets can be left unattended in vehicles. However, if hazardous conditions exist, such as hot weather, owners can be cited for endangering an animal.

Pets can not be left unattended AND tied to an object, except in designated areas or under conditions which may be established by the superintendent.

Owners are responsible for their pets behavior and for cleaning up after them.
Location
Sulphur Works hydrothermal area
Sulphur Works hydrothermal is located on Lassen Volcanic National Park. The parking area is located two miles north of the Southwest Entrance and one mile north of the Kohm Yah-mah-nee Visitor Center.
There are no reservations to enter the park or to visit Sulphur Works.
Sulphur Works is accessible by vehicle only in the summer and fall seasons. The park highway is closed to through traffic due to snow approximately November through April. Sulphur Works can be accessed in winter and spring via oversnow travel. Learn more about visiting Sulphur Works in the winter.
Accessibility Information
The sidewalk to Sulphur Works is paved and accessible to wheelchairs. There is a slight incline between the parking area and viewpoint. Two vault toilets in the parking area are wheelchair accessible.
Last updated: August 21, 2023