THING TO DO
Drive Lassen Volcanic National Park Highway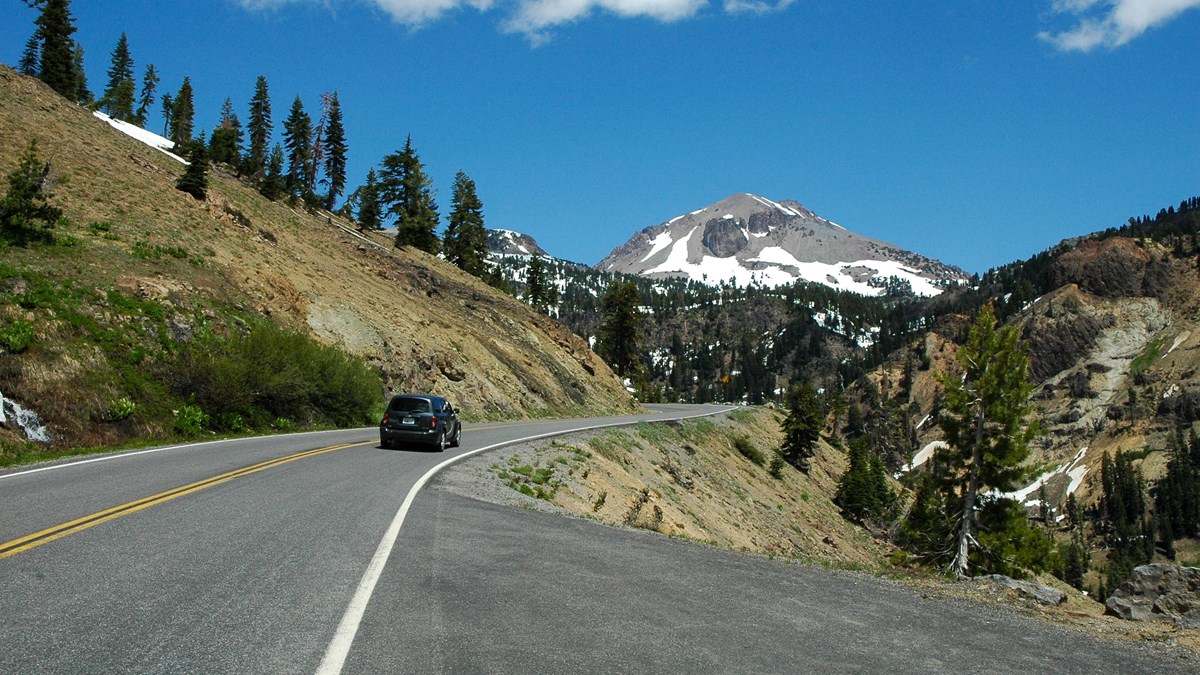 The 30-mile Lassen Volcanic National Park Highway winds around the east side of Lassen Peak and connects the northwest and southwest entrances of the park. Plan for a one-hour drive time, without stops. Travel the highway in either direction and enjoy numerous roadside highlights.
Roadside Audio Tour
Delve into park history with a roadside audio tour. Download the MP3 files or Lassen Audio Tours podcast before your visit. Or, purchase an audio CD at park stores in the Kohm Yah-mah-nee Visitor Center and Loomis Museum or online.
Printed Road Guide
For a more in-depth auto tour, you can purchase a printed park road guide Lassen Volcanic National Park: Auto Tours, Trips, and Trails at park stores in the Kohm Yah-mah-nee Visitor Center and Loomis Museum or online.
Highway Highlights
The highlights below match numbered markers on the map below and posted along the highway. The highway markers also correspond to stops in the audio tour and road guide. View 360-degree photos from the highway.
Sulphur Works
Surround yourself in the gurgling symphony of boiling mudpots and hissing steam vents at the most easily accessed hydrothermal area.
Bumpass Hell Parking Area and Overlook
Can you spot the rim of the former Brokeoff Volcano, also known as Mt. Tehama, in the volcanic remnants that surround you? The nearby boulder tells the story of this massive volcano's slow disappearance. The parking area also serves as the Bumpass Hell Trailhead and is often full. 
Lassen Peak Parking Area and Viewpoint
Experience the majesty of Lassen Peak from the highest point on the park road at 8,512 feet. The Lassen Peak Trail begins here.
Kings Creek Meadow Scenic Pull-out
Get your camera ready for this scenic spot where Kings Creek meanders through an expansive meadow at the foot of Lassen Peak.
North Summit Lake Picnic Area and Loop Trail
This perfect picnic spot invites you to take a dip in Summit Lake or hike to Echo Lake. Parking is available in pullouts outside the North Summit Lake Campground entrance.
Hat Creek
Don't miss this area's fantastic fall colors. Use the crosswalk to access hidden Hat Creek meadow. Can you tell what animal used to live here?
Devastated Area 
Discover the story of devastation and forest recovery following Lassen Peak's 1915 eruption on this short, accessible trail.
Hot Rock
Snap a photo with this several-ton rock that photographer B.F. Loomis reported was too hot to touch after it was ejected from the crater of Lassen Peak in 1915.
Nobles Emigrant Trail
Step foot on a spur of the California National Historic Trail. The wagon tracks have since faded but the story is forever etched on the landscape. This route welcomed a portion of the more than 250,000 emigrants who traveled to the gold fields and rich farmlands of California during the 1840s and 1850s in the greatest mass migration in American history.
Chaos Crags and Jumbles Scenic Pull-out
Imagine a rock slide racing nearly 100 miles an hour down Chaos Crags at this pullout on the north side of the highway about a mile from the Loomis Museum.
Plan for at least one hour to travel the 30-mile highway. Add additional time for other activities from the highway including stopping to view highway highlights, picnicking, and hiking. 
Pets Allowed
Yes with Restrictions
Leashed pets are permitted anywhere a car may go. This includes roads and road shoulders (not snow-covered), campgrounds, picnic areas, and parking lots. Pets are not permitted on any hiking trail, in any body of water, or inside visitor centers or other park facilities*. Please clean up after your pet and take responsibility for its behavior.

Additional regulations include:
Pets must be on a leash less than six feet long at all times.
Pets may be left unattended in vehicles. However, if hazardous conditions exist, such as hot weather, owners can be cited for endangering an animal. 
Pets can not be left unattended AND tied to an object, except in designated areas or under conditions which may be established by the superintendent.
*These regulations do not apply to service dogs that perform a specific tasks that assists a person with a disability. Emotional support or comfort animals are not service animals.
A fee or valid pass is required to enter the park. There is no additional fee to drive the park highway once you have entered the park.
Location
Lassen Volcanic National Park Highway
Lassen Volcanic National Park Highway is a 30-mile segment of Highway 89 in northern California. The park highway is accessed via Highway 36 E to the south and Highway 44 to the north. 
Reservations are NOT required or accepted to enter Lassen Volcanic. You may enter the park and drive the highway at any time, 24 hours a day.
The park highway closes to through traffic at one mile from both the Northwest Entrance and Southwest Entrance in the winter and early spring seasons (approximately December through May) due to snow. Vehicles can access the Kohm Yah-mah-nee Visitor Center from the Southwest Entrance and the Loomis Plaza from the Northwest Entrance when the highway is closed for the winter/spring snow season. 
The scenic highway is best enjoyed during the day when the sights are visible.
Accessibility Information
The park highway is primarily used for vehicle travel for non-commercial vehicles. There are no guardrails on the highway, including across steep slopes. Restrooms provided along the highway are wheelchair-accessible and most pullouts are flat and paved.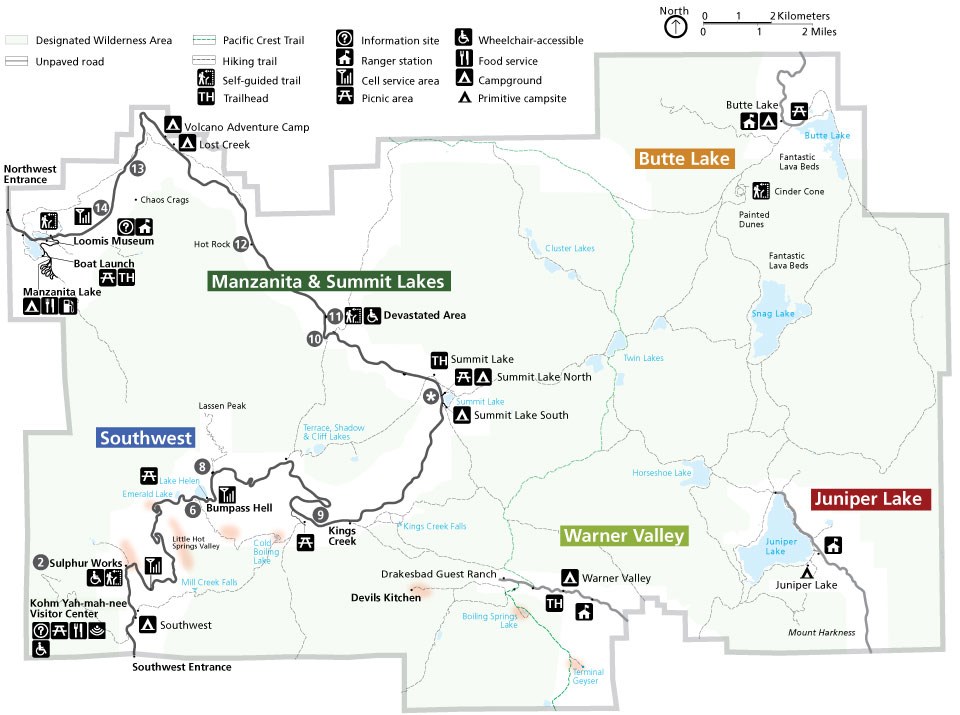 Last updated: June 28, 2021